We often hear that a dog's mouth is cleaner than a human's, but just how strong are those teeth? Turns out, a dog's bite is more powerful than you probably thought.
The average dog has a jaw pressure of about 250 pounds per square inch (PSI), stronger dogs can reach a pressure of over 700 pounds per square inch,which makes the force about the same as that of a lion or tiger. Humans typically only have a bite force of 120 PSI, while alligators have 2,000 PSI.
A dog's bite is stronger than their chew. That strength comes from their short jaws, which give them more force when they bite down on something.
Since they can't chew their food as thoroughly as we do, they swallow it in larger chunks. This means that if your dog eats something he shouldn't have, it could get stuck in their digestive tract and cause problems later on.
But dogs, not only win on biting. Dogs also have around 300 million olfactory receptors in their noses, compared to our paltry 6 million.
That means they can smell things at concentrations up to 100 million times lower than humans can.
The reason we think we smell pretty well is because we're not relying on the same sense of smell that dogs are. We're overcompensating with our other senses — sight, sound and touch — to fill in the gaps that our poor smelling leaves.
Dogs can hear things at four times the distance of a human with normal hearing. In addition, dogs' brains process sound direction much better than us humans do.
Dogs also have a special organ, called the Jacobson's organ or the vomeronasal organ, in the roof of their mouth. This lets them "taste" smells in a way we humans cannot.
While it might be difficult to train your dog to understand English commands, it is possible for them to learn up to 165 words, according to research conducted by Animal behaviorists at the University of British Columbia in Vancouver, Canada.
---
---
What dog has the highest PSI bite?
Dogs have deadly bites, and the strongest of all dog breeds are the Kangals, Cane Corso and American Bandogges. The jaws of these dogs possess strength that's over 700 pounds per square inch. That is more than the bite strength of a large tiger or lion, both of which are known to have up to 700 pounds per square inch of pressure in their bite force.
A wolf will have about 300 pounds per square inch while a domestic dog only has around 200 pounds per square inch.
There are several factors that determine a dog's biting power: the size and strength of the dog, the size of its jaw and the thickness of its teeth. Some of these factors can be measured precisely, while others can only be estimated.
The force needed to break or bite through something depends on two things: how much pressure is exerted by the jaws and how big an object is being bitten.
As long as a dog has enough teeth in proportion to the size of its head, it can bite with great force. A larger dog would not have to exert greater pressure to bite with the same force as a smaller dog if both had sufficient numbers of teeth.
A German shepherd has 42 permanent teeth. By comparison, a boxer has 42 teeth, too. In general, bigger dogs have more teeth than smaller dogs, but there are exceptions to this pattern.
For instance, bull terriers have fewer teeth than Dobermans do. The average number of teeth for dogs is 32.
Tests have shown that powerful bites are not only useful for hunting or fighting with other animals but also for helping domestic dogs to hunt prey as well.
For example, larger breeds of dogs are known to be able to hunt down small wild animals like rabbits. A strong bite means that they do not need to worry about injuring their mouth on bones while they rip apart their prey.
---
Are Humans Stronger than Dogs?
Are humans stronger than dogs? Well, it depends on how you look at it.
Humans have an average of 700 muscles, while dogs — depending on their size — have anywhere from 320 to 600.
But that doesn't mean that your dog is weaker than you are; they just use their muscles differently.
While humans use their muscles for a variety of applications, like standing, walking and moving around, dogs use theirs mostly for pulling and running.
This is why sled dogs like Siberian huskies are so strong: Their whole lives depend on their muscles.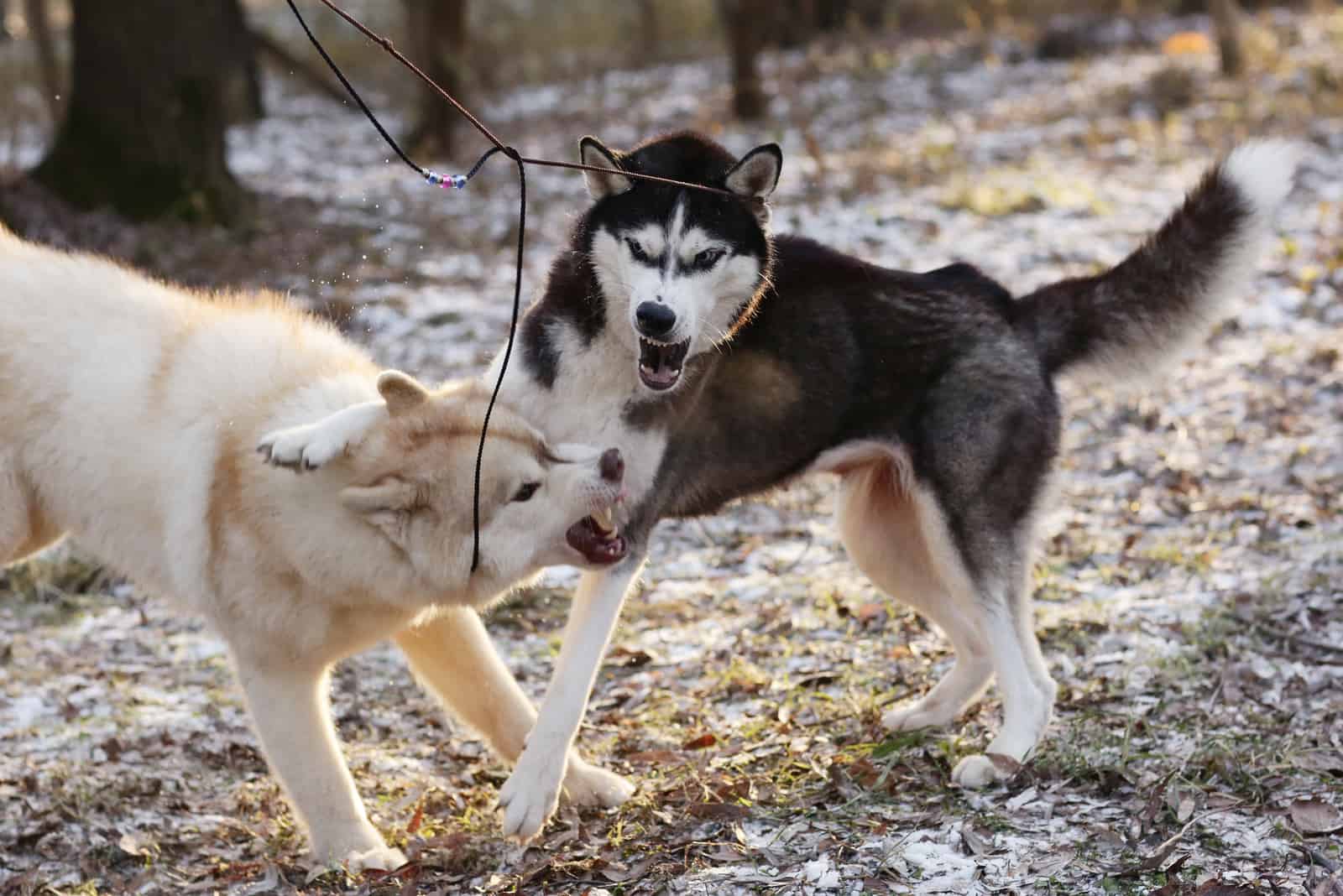 Most sled dogs can pull about twice their own body weight. Humans can usually pull or carry about 10% of their body weight without difficulty and 20% of their body weight with some effort.
However, once you start going higher than that, people start to struggle. In fact, the average person can't even lift one-fifth of their own body weight.
There are so many animals that are stronger than humans in both absolute and relative terms, think of: Elephants, gorillas and rhinos are all stronger than any human that ever existed, but i guess you already knew that.
But at least humans have many capabilities that dogs, or other animals, can't match. We can speak, we can write and read, we can use technology and tools.
But not only that, humans are also the best runners among all species. We may not be the fastest, but thanks to our signature ability to sweat, we are the best on the long run because we can basically run without stopping, while all the other mammals need to stop and pant in order to cool down.
---
Can a human defeat a dog in a fight?
Trying to defeat a dog in a fight is extremely risky, because it can seriously injure or even kill you. If you're attacked by a dog, whether it's aggressive or just frightened, the best thing to do is to stay calm and try to get away from it as quickly as possible.
There are documented cases of humans defeating their canine counterparts in a fight. However, the circumstances surrounding each occurrence are different, and many experts cite a dog's superior strength and weight as the main reasons for their victories.
Trying to determine who'd be the winner in a fight between a human and dog is like trying to predict the outcome of an actual fight between Mike Tyson and Muhammad Ali; there no telling who would win because it's hard to predict exactly how it would go down.
The majority of people can't defeat a dog in a fight. It requires a person to have some sort of formal training or experience with hand-to-hand combat, or at least a good basic strenght.
Additionally, an instigator must be very careful when provoking a fight with such an animal.
If attacked by one, the person should try to remain calm and avoid running away, because that will only incite the animal further. Instead, try to stand tall and look as big as possible while protecting any vital organs with your arms.
The reason dogs are able to win most fights with humans is simply because they're stronger than we are – more specifically, they have more muscle mass than we do.
A dog is naturally better-equipped for a fight than the average human. It has powerful jaws and sharp teeth, as well as claws and speed. A strong dog can theoretically kill a human with ease.
---
Which dog breed can kill?
Theoretically, every dog can kill. It might be surprising to learn that the Chihuahua is also a possible killing machine.
However, it's not the breed that's dangerous, it's the level of aggression and the size of the dog that makes it dangerous.
If you have a small, aggressive dog, like a Chihuahua, it can actually be more dangerous than a large, aggressive dog.
The reason is quite simple: if an angry Chihuahua attacks a human or another animal, its teeth are so tiny that only its canines will really do any damage.
In comparison, a large breed with powerful jaws and sharp teeth can easily cause severe injuries or even kill someone or another animal.
Pit bulls are regularly cited as one of the most dangerous dog breeds. Between 2005 and 2016, Pit bull attacks led to 64.8 percent of all dog-related deaths. Over this decade, this type of dog caused 254 deaths.
Rottweilers — the second most deadly dog breed — caused 45 deaths over that same 10-year period.
German shepherds, like pit bulls and Rottweilers, accounted for some of the highest rates of dog bite-related fatalities between 2005 and 2017, according to research.
In the United States, more than 4.5 million dog bites occur each year. The American Veterinary Medical Association states that 25% of all dogs will bite at least once in their lifetime.
Though many of these are just warning bites, in the U.S. about 800,000 people require medical treatment for their bites each year. Of those bitten, half are children and nearly one-third of them are bitten on the face or neck.
The most common victims of dog bites are children because they often do not know how to interact with dogs and may tease or bother them or startle them while they're eating or sleeping.
---
How often do dog bites happen?
Not all dog bites are reported, but it seems clear that millions of people are bitten by dogs each year in the United States. The CDC doesn't have an exact number because so many of these incidents go unreported.
However, we just saw they estimate more than 4.5 million dog bites occur in the U.S. annually.
It's also a lot more than the number of human bites reported each year, which is around 11,000, if you are wondering.
According to the Insurance Information Institute (III), approximately one-third of homeowners' insurance liability claims paid out in 2017 were for dog bites and other dog-related injuries totaling about $700 million.
Whatever the actual number, it's safe to say that thousands of children and adults are treated for dog bites and related injuries every day in U.S. hospital emergency rooms — tens of thousands per month and hundreds of thousands per year.
An estimated 70 percent of all dog bites occur on the owner's property
Dog owners should take their responsibility seriously when it comes to preventing dog attacks.
Allowing aggressive dogs to roam freely — even if you believe they would never bite anyone — is irresponsible behavior that could cause serious injury or death to others.
Dog bites can be scary and even dangerous — especially if the dog that bites you is a stray or wild animal. But there are lots of things you can do to prevent yourself from being bitten, as well as steps you should take if you are bitten.
There are about 80 million pet dogs in the U.S., and most of them live with their owners as part of the family. Dogs are great pets for kids and adults alike, but any dog can bite if it feels threatened or scared or if it gets too excited.
---
Are some breeds more likely to bite?
Small dogs usually don't attack adults, but they can be very protective over their owners and may bite the legs of children or adults who seem threatening.
Dog bites are a common injury among children who tease or provoke dogs by pulling on their tails or ears, hugging them too tightly or crawling on top of them — all behaviors that young children often engage in before being taught better dog safety techniques.
Because of this, it's not surprising that small dogs make up a large proportion of the dog bites reported among children younger than 5 years old — 66% from 2013-2014 — according to a study published in Pediatrics in 2016.
But only 22% of dog bites requiring medical attention among all age groups involved small dogs, indicating that small dogs are less likely to cause severe injuries than larger ones.