In our dog-loving culture, we often see dogs as the "ideal" pet – the loving, loyal companion that is always happy to see us and will do anything to please us.
Cats, on the other hand, are more independent and mysterious. They ignore us when we want their attention and then demand our attention at inopportune times. And sometimes they don't even seem to realize how important we are in their lives.
The dog-versus-cat debate has been going on for years. Dogs are loyal companions and playmates that we bring into our homes to be part of the family.
Cats, on the other hand, are more independent and seem to want to be involved only when they want to be. We don't often think of cats as jealous, but they do have their moments.
When it comes to the argument about whether dogs or cats are better pets, there's no clear winner — unless you're a dog person or a cat person.
Dogs know that cats have it easy compared to them. They're allowed to spend hours a day doing nothing but grooming and sleeping.
They don't have to run around like maniacs just to get the chance to pee outside, and they can even use the toilet. They basically live an idyllic life of leisure, with zero responsibilities beyond making sure they look their cutest at all times.
Sure, they get freaked out by balloons and cucumbers. But so would you if you were one-tenth your size and had no defense against terrifying "monsters" that can easily kill you!
If you live in a house with both a dog and a cat, chances are you've wondered about this at some point.
Are dogs jealous of cats? Do they feel any different about them than they do other animals or people?
Are they even capable of feeling jealous? The short answers to all these questions is yes, but the real story is a bit more complicated than that.
---
How do you know if your dog is jealous of a cat?
If your dog and cat get along, it's probably because you've taken time to introduce them slowly to each other so neither one feels threatened or overwhelmed by the other one's presence.
If your cat or dog has been around other cats before, they may already know how to behave around new felines without any problems at all!
So, how do you know if your dog is jealous of a cat? The same way you know if your dog is jealous of a person: based on his behavior. And that behavior can be quite different from dog to dog. Some dogs get physically aggressive, others whine and bark, and still others just look sad.
If you have a dog who's jealous of people, he's probably always been that way; you may even have picked him for his possessiveness.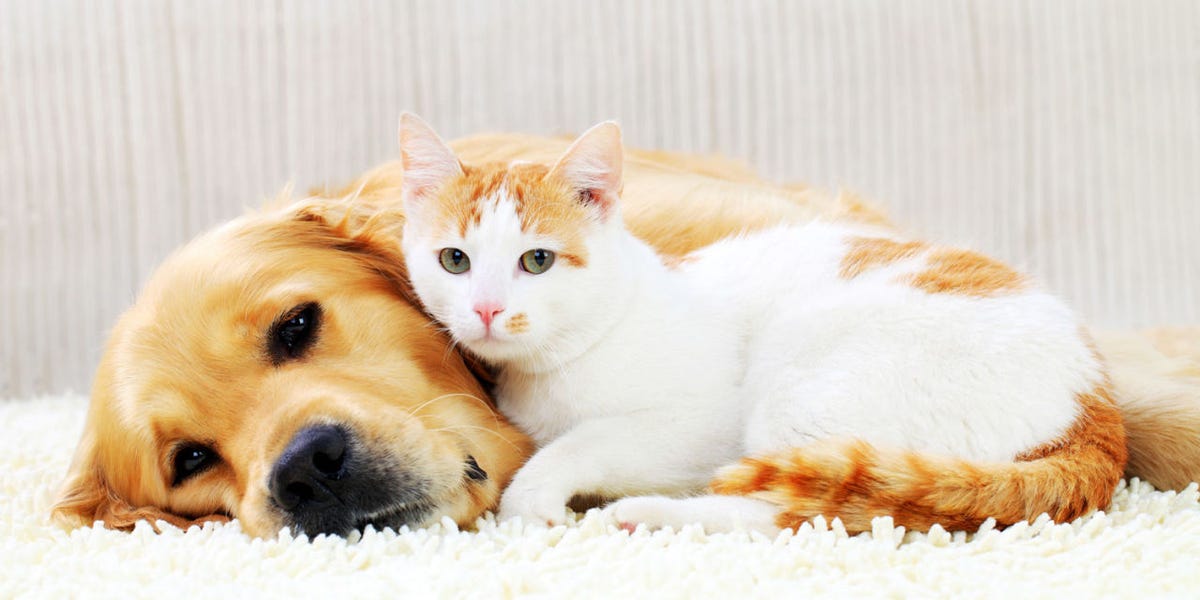 But if your dog isn't normally jealous of people — say he's generally okay with visitors or with family members who aren't the primary caregiver — then something about the cat is changing the environment.
If you get a new cat, dog or other pet and your dog starts acting aggressive toward the newcomer, that's a good indicator that the pooch is jealous.
Other signs include barking and growling when you're playing with the new pet or ignoring you altogether.
Dogs like to be the center of attention, so it may be hard for them to adjust when a new kitty gets some of their playtime and attention. If your dog is trying to keep his place as top dog in the house, he might be envious of your new feline companion.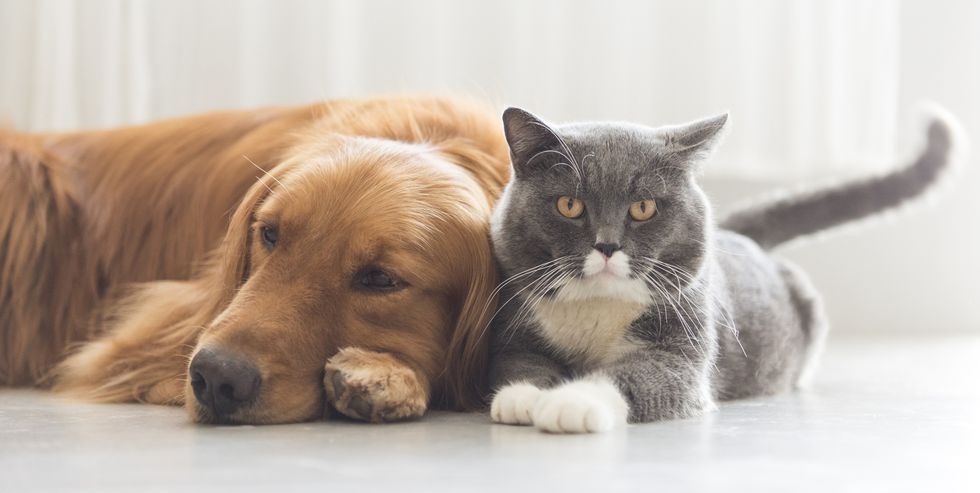 Some dogs are more likely to be jealous than others, dogs who are insecure and anxious tend to be more likely to show jealousy than those who are confident and comfortable in their environments.
Don't worry, though. There are pretty simple ways you can use to curb your dog's jealousy and make sure he knows his rightful place in your life.
The most important thing you want to do is to make sure everyone has the same basic needs met — and that goes for both pets! Your dog should get at least 30 minutes of exercise a day, but don't neglect your cat either.
Cats need exercise too, and playing with them for about 15 minutes each day will help.
Exercise, of any kind, helps decrease stress, which can help prevent aggression from both pets.
---
How do I get my dog to stop being jealous of my cat?
We all have experienced some form of jealousy, even if we don't care to admit it. When it comes to our pets, jealousy can be a real problem for both the pet and the owner.
If your dog is jealous of your cat and you want to know how to deal with it, we've got you covered!
Your pup needs lots of attention, but if he is getting jealous of your cat, there are ways to help him cope with the situation.
It may be difficult to tell if your dog is jealous of your cat at first. He might show signs of aggression towards the cat or try to get its attention by barking or whining.
It could also just be that he doesn't like the fact that cats are around him all day long without any human contact from you!
To help your dog get over his jealousy, try giving him extra attention when they are together so they feel loved and appreciated.
If that doesn't work then maybe it's time for some training sessions together on how not to be aggressive with other animals in the house!
One way we can help our dogs deal with jealousy issues is by making sure they have plenty of time outdoors playing fetch or going for walks in nature.
Dogs are pretty simple creatures if you think about it, they are not really made to carry a grudge for that long, they just want to be loved and feel important.
Another thing you might want to do is to ignore the behavior. This might seem extreme, but if your dog is acting out in an attempt to get attention, ignoring it will teach it that negative behavior does not result in positive attention.
If you're worried about how this will affect your relationship with your dog, try spending more quality time with it when it's being well behaved.
The cat should also have a room or rooms where it can go to escape from the dog if it wants to. This gives the cat a safe place where it can relax without the dog around, especially when it is first adjusting to living with a dog.
When introducing your cat and dog, keep the dog on a leash so you can keep it under control at all times. Allow them to sniff each other and explore each other at their own pace under your supervision until they are comfortable with each other.
Last suggestion i'm feeling to give you is to reinforce positive behavior towards the cat.
When you see your pup acting friendly towards the kitty, reinforce that nice behaviour by giving him a treat, a toy or also a cuddle if you want.
Positive reinforcement is the best and most natural way to teach a dog how to behave in certain situations and jealousy makes no exception.
---
How do you tell if a dog likes a cat?
You won't always be able to tell. The dog may have been taught that cats are not friends and not allowed to play with them.
Many dogs will chase a cat after they have been given the "Okay" to do so. It is more likely that the dogs will accept the cat into their home than cats accepting the dog.
If you're wondering how to tell if your dog likes a cat, the first thing to look at is all the things that are happening when they're together.
If they are playing and your dog is not being too rough, or if they're just sitting next to each other, this is usually a good sign.
If your dog is growling or seems aggressive, or if the cat is hissing or backing away, things might not be going so well.
Anyway, here's a list of some intuitive behaviors that may indicate that a dog likes a cat:
Dogs wag their tails for many reasons. A tail that is wagging more to the right side of the body indicates positive feelings.
Dogs smile by showing their teeth. The amount of teeth and the position of the mouth indicate different emotions. Showing front teeth with a relaxed jaw is a sign of friendliness.
The eyes can show if someone is feeling happy, sad, or scared. When dogs are happy, they tend to pull their eyelids back and widen their eyes.
When someone feels happy or excited, they breathe faster than normal. Dogs who are pleased may take bigger breaths than usual and pant more often.
The ears can show how a dog is feeling in many ways. If the ears are forward and relaxed, that indicates happiness. If the ears are pulled back against the head, this could be an indication of fearfulness or sadness.
Dogs and cats can be best friends. But sometimes they need some time to get used to each other first.
It depends on many factors, including the animals' personalities, their histories and whether they've been introduced appropriately.
---
How long does it take for a dog to get used to a cat?
The answer is not that simple and depends on a lot of factors. It can be very easy or it could be very difficult. The first thing you need to do is assess whether your dog is a good candidate for living with a cat.
If your dog has been around cats before and he has no history of being aggressive towards them then you are off to a good start.
If you know for sure that your dog will be fine with the cat then you can just bring him straight home and start the introduction process.
However, if your dog has never been around cats before or he has shown aggression towards them in the past then there are some things you can do to prepare him for this transition in his life.

For example you can put both animals together in a large room with each one on a leash held by two different people. Let them sniff each other from a distance. If either one gets too excited or scared, separate them for 5 – 10 minutes and then try again.
Once they are calm together, feed them treats within 10 feet of each other. Increase the distance a little bit every day or two until they are eating treats side by side without any problems.
After a week or so, you should be able to have them in the same room together without any leashes or crating, but don't leave them alone at first until you know it will be safe.
The length of time it takes a dog to get used to a cat will vary with the individual dog and the cat. It can be anywhere from a couple of days to several weeks or more. Some dogs never accept cats as regular companions.
The truth is, you can't really know how long it will take until you actually introduce the two animals. In fact, even if your dog has been fine around other cats in the past, that's no guarantee he won't react negatively to your new cat.
The best way to handle this is to take things slow and let the animals work things out at their own pace.
---
How do I know if my dog and cat are playing or fighting?
Dogs and cats can play together, but you should supervise them until you're sure they will get along safely.
Many dogs and cats can live together happily, especially if they are raised together from a young age. But there are potential dangers in allowing them to interact unsupervised, especially at first.
When dogs and cats are getting to know each other for the first time, it's important to keep an eye on their interactions so that any problems can be addressed quickly.
It's often difficult to tell whether dogs and cats are playing or fighting because their body language is similar. However, there are some key differences:
Dogs tend to take turns more than cats, who may continue attacking even when their opponent is trying to get away.
Dogs tend to have play faces — open mouths with relaxed jaws and a "smile" — whereas cats' faces may be tighter and more intense looking.
When playing, dogs tend to make more noise than when fighting — although barking is not always a sign of playing nicely!
Dogs usually have a much more fluid body shape during play than when they are fighting. Cats tend to crouch low while playing with each other but stand much straighter during an actual fight.
Another thing to look for is vocalizations. Dogs and cats will often make different sounds when they play than when they fight.
For example, if your dog growls and barks while chasing the cat, it's probably not playing because barking and growling are signs of aggression in dogs.
On the other hand, if your dog makes high-pitched noises as it chases the cat around the house and then rolls over on its back to invite playtime wrestling, it's probably playing since that behavior indicates affection in dogs.
Cats are more difficult to read. Some people think that cats don't play at all. But that's not true! Cats do play and it can be very similar to how dogs play with each other: running around, chasing each other, pouncing… But there are also some key differences between cats playing and fighting:
– If it's play – they will both be batting at toys or objects (not at each other), they will take turns chasing/being chased and pouncing/being pounced upon
– If it's play – they will both be relaxed in their body language (loose posture)
– If it's fighting – they may have flattened ears or an arched back.
–If it's fighting – it's very likely to warn you and your dog with hissing.