Dogs bark for many reasons. Some dogs bark at every sound they hear, no matter how faint. Other dogs vocalize only when they want something, like food or a game of fetch.
Most dog owners will agree that excessive barking can be very annoying. Some dogs bark repeatedly when people come to the door, when the phone rings, or when you get out of bed in the middle of the night and go to the bathroom.
Other dogs bark at objects, animals or people who pass by the house or apartment. Still other dogs bark because they are bored and need more exercise and attention from their owners than they are currently receiving.
Many of us have had the experience of being kept awake by a neighbor's dog barking in the middle of the night. It can be a frustrating and irritating experience, but one that many pet owners are familiar with.
While it might seem like your dog is barking for no reason at all, dogs bark for lots of different reasons and at different times, just like us.
Some breeds are more prone to barking than others. Smaller dogs tend to be more vocal than larger dogs, but all breeds can bark if they want to or have something to say.
Barking is one of many forms of vocal communication for dogs. People are often pleased that their dog barks, because it alerts them to the approach of people to their home or it tells them there's something that the dog wants or needs.
However, sometimes a dog's barking can be excessive. Because barking serves a variety of functions, you must identify its cause and your dog's motivation for it before you can treat a barking problem.
Dogs can absolutely get tired of barking, just like how we can get tired of talking. A tired dog just wants to rest and may bark when it's exhausted or trying to communicate that it needs a break.
---
---
What does Dog Barking mean?
Dog barking is a very common behavior, and it can be triggered by a variety of factors, including boredom, loneliness, playfulness, attention-seeking, territoriality and more.
In addition to the factors that trigger dog barking, there are several different types of barks. These might include alarm barks, warning barks,play barks or more.
The 'alarm' bark means they are letting you know something is there.
The 'I'm bored' bark means they want some attention and aren't getting it.
The 'I want something' bark means they want something like food or water but aren't getting it at that moment in time.
The 'I'm afraid' bark is usually short and high pitched with rapid movements in between each sound as if trying to make themselves look big and scary so whatever threatens them will back down before things get too far out of control for either party involved!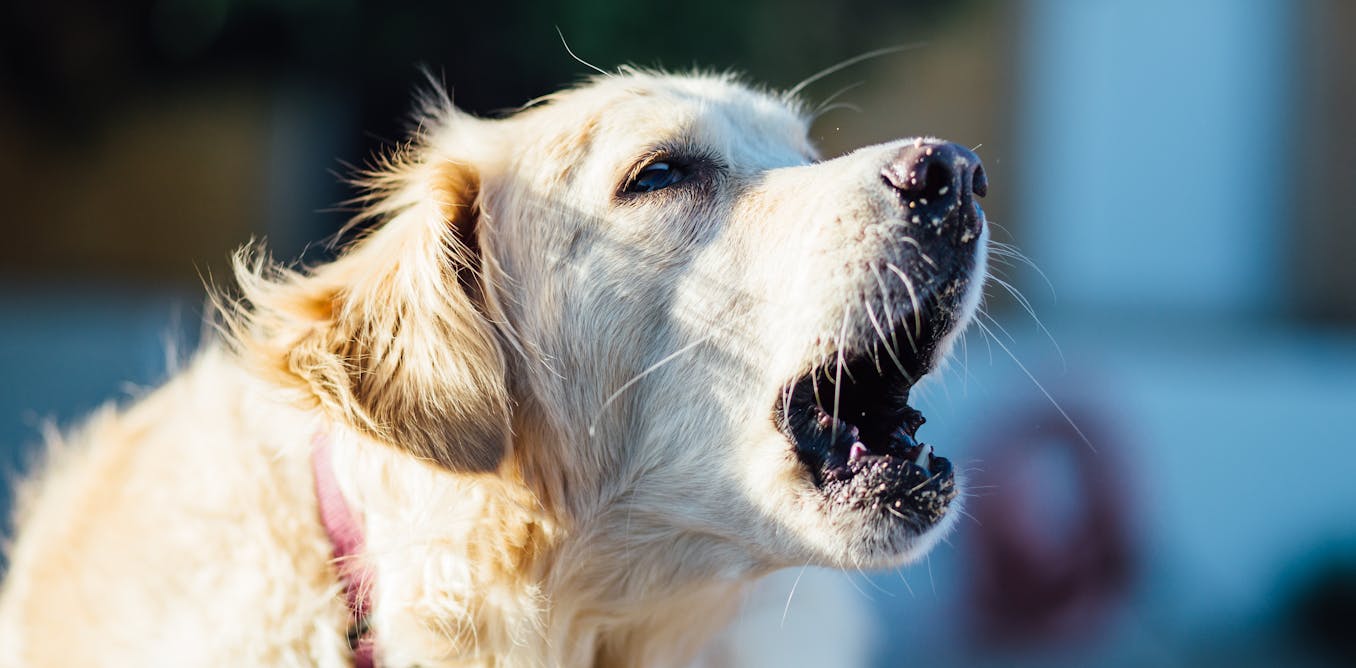 In some cases, dogs may bark out of frustration with a situation or because they're not feeling well.
For example, if you put your dog in the yard and he can see or hear you but can't reach you to interact with you, this could cause him to bark out of frustration. And if your dog is ill or in pain, he may also communicate this condition through barking.
Some breeds of dogs are more prone to barking than others. The Basenji does not bark, for example, while Beagles and Shetlands sheepdogs often bark a great deal.
When dogs bark excessively it can be annoying to the owners and also to neighbors. Therefore it is important for owners to take steps to control excessive barking.
One thing an owner can do is make sure the dog is well exercised so he doesn't have excess energy that could be released through barking.
Sometimes excessive barking can result from separation anxiety or boredom and in these cases it is especially important for the dog to have companionship and/or suitable toys to help him relax.
---
Can a Dog get Sick from Barking too much?
Some dogs may exhibit barks that are so excessive that it may feel like the dog is sick.
Dogs bark for a reason, and the barking is usually a symptom of something else going on. Excessive barking can be a symptom of other behavioral problems, but it can also indicate medical problems.
As a responsible pet owner, it's important to understand why your dog barks so you can address the underlying problem.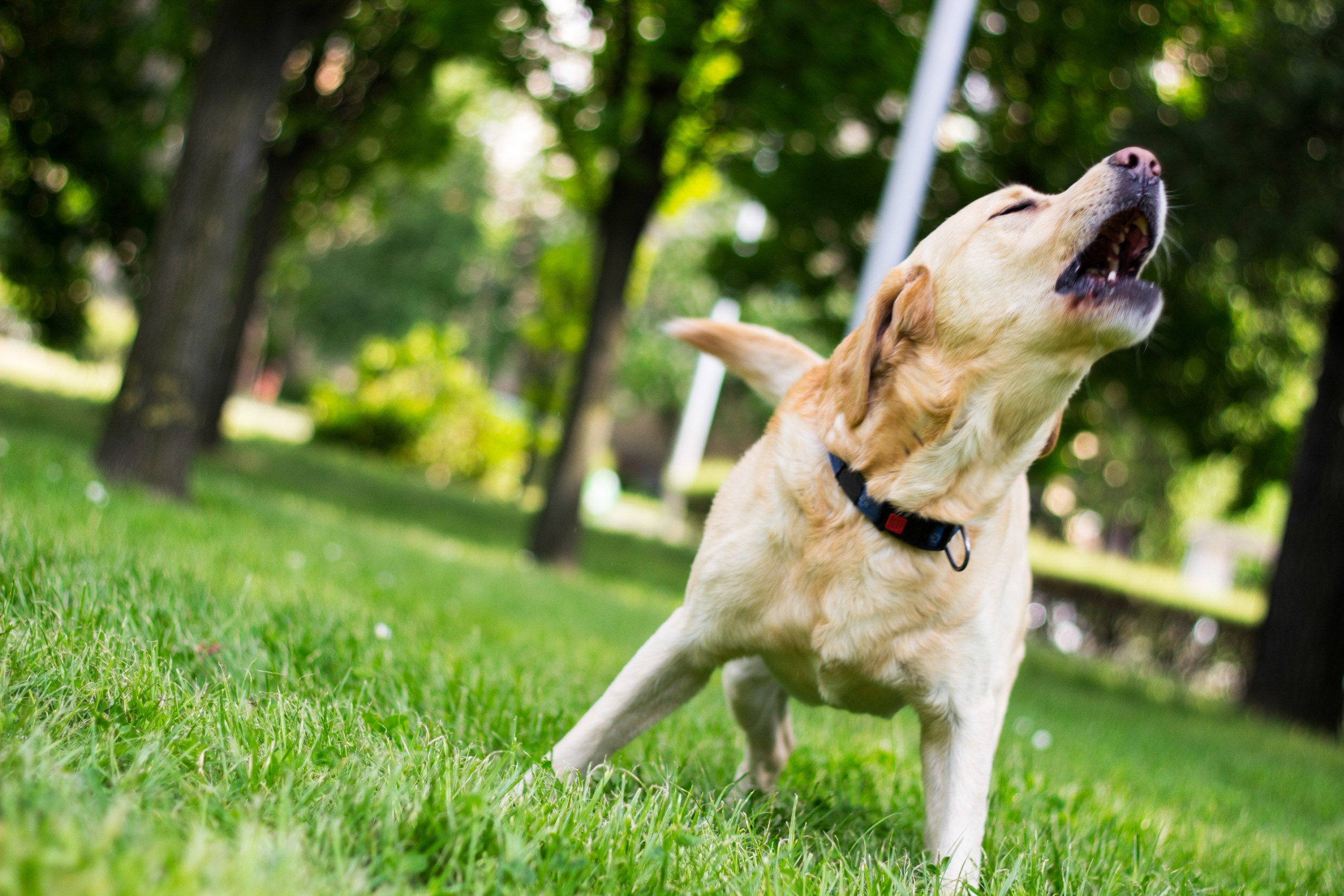 If your dog has a medical condition causing excessive barking, such as an upper respiratory infection or laryngeal paralysis, take him/her to the vet for treatment.
In other cases, your dog may bark due to separation anxiety or boredom.
You can attempt counterconditioning (training your dog to do something else when he/she feels the urge to bark) or desensitization (gradually getting your dog used to the thing that causes him/her to bark).
Dogs can get sick from barking, but it's a minor matter. A dog won't get sick as long as it has plenty of exercise and is generally healthy. It's not a reason to stop your dog from barking, and it's not a reason to consider spaying or neutering, if you are wondering.
---
Should I let my dog bark it out?
This is one of the most frequently asked questions by dog owners. The answer is no, you should never let your dog bark it out. Here's why:
Your dog will assume that if he barks long enough, he will get what he wants. He will continue barking until he gets what he wants, or until you stop him with a correction.
There are many reasons dogs bark: fear, frustration, boredom, and lack of attention to name a few. Different types of barking require different solutions. The first step is to determine what causes your dog to bark in the first place and address that issue.
For example, if your dog is barking at passing cars because she thinks they will hurt her if she goes outside, you need to teach your dog that cars are safe and not a threat.
If your dog barks for attention when you are on the phone, then ignore her until she stops barking.
Dogs who bark excessively can be a nuisance to their family and neighbors. But there are many ways to minimize a dog's barking.
One answer is to have the dog wear an anti-bark collar, which automatically releases an unpleasant scent or sound when the dog barks. Another solution is behavioral training.
Dogs generally bark when they're left on their own and have nothing to do, or when they're being territorial.
Here are some tips for you to start fixing behavioural problems and reducing lawn and garden barking:
Make sure your dog has plenty of toys and treats in the yard so he'll be less likely to feel bored.
Keep your dog indoors as much as possible. If he must stay outside for long periods of time, make sure his area is well-designed with shelter from wind and rain, water, toys and other diversions.
When your dog barks at passing cars or people walking by the house, distract him with treats or a toy before.
Be consistent with training and socialization sessions so that your dog learns when it's appropriate to bark and when it isn't.
Try not to give too much attention to your canine companion when they're barking, since this reinforces their behavior as positive reinforcement. If they're not getting what they want by barking they will eventually stop doing it altogether.
Use positive reinforcement techniques such as clicker training or treats in order to reward good behavior instead of punishing bad behavior with negative reinforcement techniques like yelling at them or hitting them with rolled up newspapers (this may make matters worse).
Make sure not to let your dog bark too long without stopping because then he/she might start associating this behavior as acceptable which could lead them
---
How long can a dog bark without stopping?
Dogs have been barking for centuries. Since the days of ancient Rome, people have been wondering how long a dog can bark without stopping.
The answer is not very long. It's only about half an hour before your dog starts to get tired and stop barking.
However, there have been some pretty impressive claims about this in the past. There was one report of a dog that just wouldn't stop barking, and it went on for seven hours straight.
But this has been disputed by experts who say that dogs can't bark for that long without suffering from exhaustion.
We have also all heard of dogs who have survived incredible situations due to their barking.
The most common story is that of the dog who was left home alone and started barking when a fire broke out in the house.
The commotion caused by their barking woke up a neighbor who got help before the house was destroyed by fire.
Dogs bark for various reasons, from boredom and loneliness to attention seeking behavior. Some dogs are more prone to barking than others, but all dogs can learn to control their barking with proper training and socialization.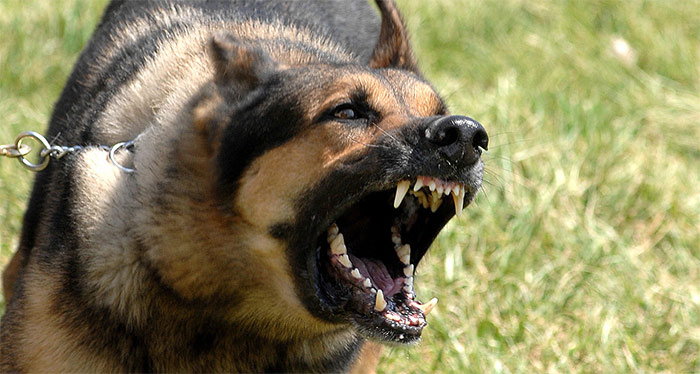 A dog can bark for many reasons, but it's usually because of boredom, to get your attention, when he wants to play or when he wants something.
It might be because he's waiting for you to take him out for a walk or because he's bored of being at home all day. Or maybe there is someone at the door who he doesn't like.
Dogs are very social animals and they need interaction with other humans and animals. If your dog is bored, you may find that he barks more often than usual. He may not be able to stay quiet even if you ask him nicely or give him treats.
---
How do you stop nuisance barking?
If you're looking for ways to stop nuisance barking, it's important to start with a clear understanding of why your dog barks.
Dogs don't bark just to annoy us. Dogs bark because they're trying to tell us something. Whether that's "Danger! There's a stranger at the door!" or "Hey, that squirrel is in my territory!" it all comes down to your dog wanting to communicate.
First and foremost, understand that positive reinforcement is the key to teaching a dog virtually anything.
Positive reinforcement means rewarding your dog for good behavior and ignoring or redirecting him when he exhibits unwanted behavior.
To successfully teach your dog not to bark, you must first determine what triggers the barking and then share that information with your neighbors in a polite but clear way.
If you can get them on board, the next step is a training plan customized for you and your dog.
A common misconception about dogs is that they bark because they want attention.
That isn't true — I mean, they may do, but dogs generally bark when they have something specific to say. And if their words are being interrupted by an unhelpful human yammering over them, they may well abandon their efforts.
If your dog is barking in response to a stimulus that they find threatening or uncomfortable, then it may be best to remove them from the situation as far as possible until they can learn how to respond more positively.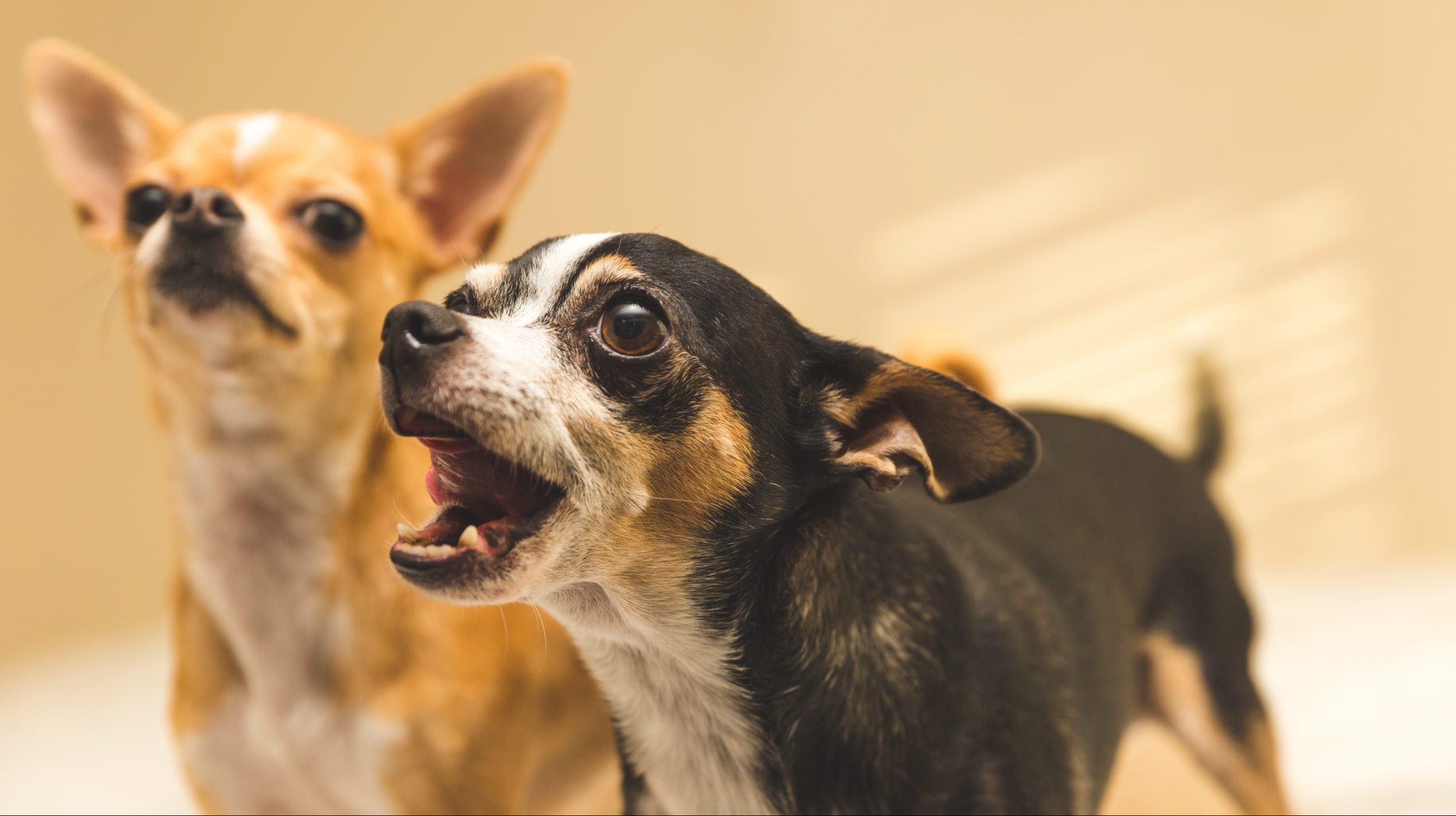 If your dog is responding to an external stimulus such as passing traffic or people walking past the house, consider whether there are ways you can reduce their visibility or contact with this stimulus.
For example, closing curtains or installing trellis in the window will reduce their visibility of passers-by.
You could also train your dog to respond well to being left alone at home by getting a friend or relative to work with you on desensitising them and rewarding calm behaviour when the stimulus is present.
If your dog barks at the phone, try training your dog to stop barking on command.
This can be as easy as saying "quiet" and rewarding them for being quiet. Then when you hear a bark that you don't like, use the quiet command and reward your dog for being quiet.
If you have a lot of nuisance barking, this might take some time, but it's a great way to teach your dog that barking isn't always necessary.
You can also train your dog to bark on command, so that you know when he or she is barking for good reason, such as to alert you if someone is at the door.
My dogs are trained to bark when they see something through the window that they want me to see (like a squirrel or a rabbit).
You can teach this by having someone ring your doorbell or knock on the door while you're away from home. When you return, tell your dog how great it was that he or she was protecting the house.
Boredom is also among the most common reasons of barking and exercise is the best way to eliminate boredom in dogs. So if your dog is constantly barking for no apparent reason, it might be because he's bored.
Take him somewhere else and let him run for a while. Encourage him when he plays with other dogs so that he can make new friends at the same time.