The average dog needs to go outside at least three to five times a day to empty his bladder and bowels.
However, this can vary depending on several factors, including the type of dog you have and his age and size.
A big dog has a larger bladder capacity and can hold it longer than a tiny puppy.
If you have an elderly dog who is having age-related accidents in the house, it may be time for more frequent visits outdoors.
Generally speaking, smaller dogs need to go out more frequently than large dogs because they have smaller bladders that fill up more quickly. For example, a Chihuahua might use the bathroom more often than a Golden Retriever.
Older dogs, in particular, may need more frequent trips outside since they often have reduced bladder control and may need to relieve themselves more frequently.
Puppies also may need more frequent visits due to their small bladders. In general, healthy adult dogs can hold their urine for up to 8-10 hours as long as they don't get too excited or drink too much water at once.
If you've got a new puppy in your home, it's important to establish potty rules as soon as possible. When you're working, training or sleeping, your puppy should be relaxing in his crate.
Otherwise, he should be by your side or playing in an approved area with his toys. If he's not where you can keep an eye on him, he may be soiling the house.
If your dog is spending most of the day alone, make sure your dog has access to a fenced yard and is let out first thing in the morning, right before bed time, and every three hours in between (more often if your dog is still a puppy).
---
---
Why do dogs need to go out frequently?
Dogs are pack animals. They're hard-wired to be in regular contact with their people, and they need that contact in order to thrive. And because dogs have some physical needs that require you to take them out of the house, it's important for you to know why is so important for your dog to go out.
Walking is good for their health and happiness.
Dogs need to exercise regularly, and walking them is a great way to do that. It's also an opportunity for them to play and socialize with other dogs and people.
They have to relieve themselves!
Unlike cats, dogs can't use a litter box indoors. They must go out in the yard or on walks for this purpose. If your dog doesn't get enough time outdoors, they might have "accidents" inside your house.
Dogs need to sniff and explore, as well as exercise.
Some people think that if their dog has a fenced yard or a doggy door, they don't need to take their dog out on walks. That's not true! Dogs are curious animals that naturally like to explore their environment and the way they naturally do it is through their noses.
Exercise their brain and senses.
Dogs need mental stimulation just as much as humans do. This can include things like playing games with you or interacting with other dogs while they're out on walks.
---
What time should I take my dog out?
Dogs need to go out early in the morning, and they'll probably want to go out after every meal. If you're not home all day, you'll need someone to come over and let your dog out.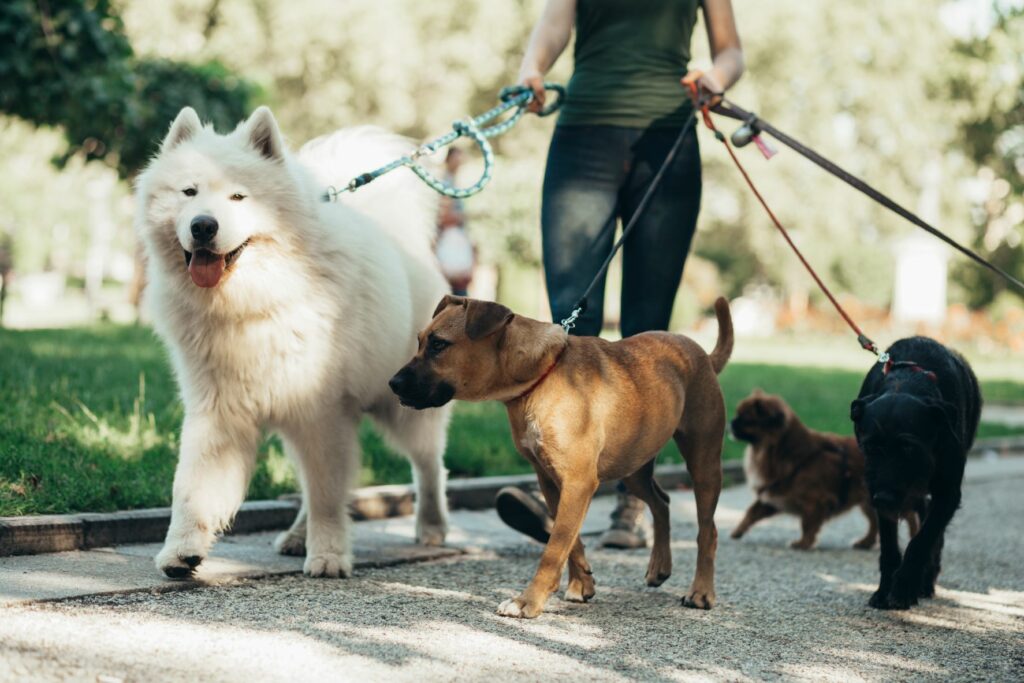 You can use a dog walker, or ask a neighbor or friend to stop by. But if your dog is older and has trouble holding it, or is really young and needs more frequent potty breaks, you might want to consider doggie daycare.
Dogs also need regular walks. For active breeds like German Shepherds, you should plan on taking them for at least an hour-long walk every day. Other dogs, like Pugs and Bulldogs, will be happy with a shorter 15-20 minute walk each day.
A good rule of thumb is to take your dog out first thing in the morning, last thing at night, after meals and maybe even after playtime.
Your dog will also need a midday break from confinement if you're not home to let him out.
Remember, he may also need to go out more frequently if he's still a puppy or has health issues that affect his bladder, such as incontinence or diabetes.
---
Can you take a dog out in the rain?
If you've ever tried taking your dog for a walk in the rain you'll know that it can be a stressful experience. If your dog doesn't like getting wet and you don't have the appropriate clothing, it can get pretty miserable for both of you.
Some dogs are happy to run through puddles and splash around, while others would rather hide at home and wait until it's passed. But on those days when you really need to take your dog out whatever the weather, there are ways to make it more bearable.
Taking your dog out in the rain doesn't have to be a stressful experience for you or your canine companion.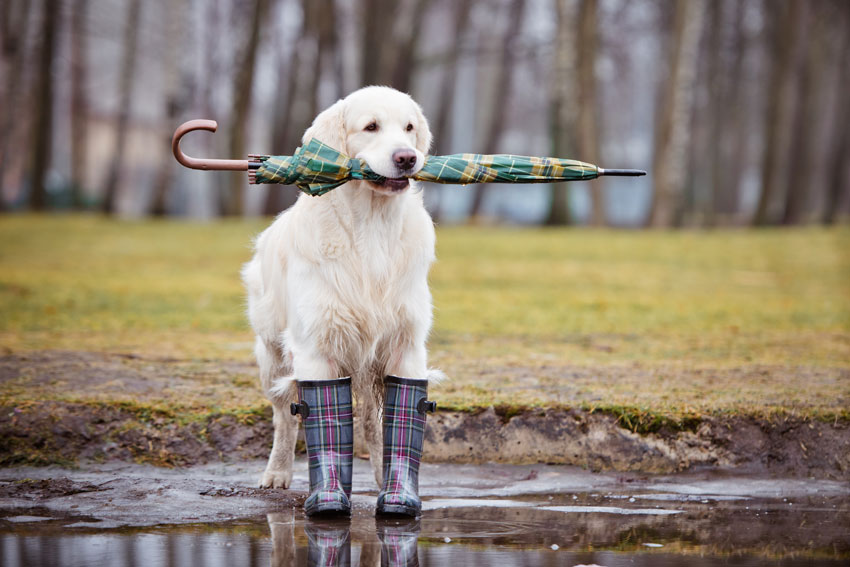 Here are a few tips to help you and your dog deal with the weather:
Plan ahead and be prepared. Be sure to prepare extra towels, blankets and water, you will need those as soon as you get back home, but you can also try use it while walking your dog out in the rain so you can both stay warm and dry on the way back home, hopefully under an umbrella.
If you have a longer-haired dog, you might want to bring a hair dryer or dog brush, too. That way, you can clear any mud from their paws and clean them off as needed.
On rainy days, it might be best to go on shorter walks because they won't enjoy being cold and wet for long periods of time.
Watch where they walk if your dog isn't wearing booties. Many dogs get used to wearing booties and don't mind them at all, but other dogs that aren't used to them might not like them as much.
If your dog is one of these, watch where they walk so they don't step in something that could injure them or make them sick — puddles are full of things like motor oil, antifreeze and road salt that can harm dogs.
If you live in rainy places, also consider buying a dog coat and see if your pooch gets used to it, make sure to pick the right type of coat!
---
Can you take a dog out in hot weather?
The summer sun can be very dangerous for your dog, especially when you live in a hot climate.
Your dog relies on being able to pant to regulate its temperature, so anytime it's too hot or humid outside, you should consider leaving your dog at home.
It's also important to remember that dogs are sensitive to heat and can easily overheat and die.
Dogs are susceptible to heatstroke, just as humans are. In fact, they may be more susceptible because of their thick coats and their inability to perspire.
The first step in preventing heatstroke is to avoid exposing your dog to extreme heat. Obviously, this can be difficult if you live in a hot climate or if it's a particularly hot summer day. But the best way to keep your dog healthy is to avoid the problem altogether, where possible.
Dogs with flat faces, like Pugs, have a harder time breathing in extreme heat and should not be taken out during summer. If you must take them out on walks, it's important to do so in the early morning or evening when temperatures are lower.
Here's some other things you want to look for!
Be aware of hot surfaces.
When the sun is out, pavements and paths can heat up quickly and become very hot on a dog's paws. If the ground feels too hot for your bare feet, it's probably too hot for your dog's paws.
Provide water and shade.
Make sure your dog has access to plenty of fresh water and can get out of direct sunlight when they need to rest.
Try investing in a cooling vest:
If your dog is like most, it has a fur coat. In the heat, it can be difficult for dogs to regulate their body temperature and avoid getting overheated. As an alternative to shaving your pet, invest in a cooling vest that helps keep your dog cool while out on a walk or at play.
Stay inside:
Whenever possible, stay inside with your dog. When you must take your pet outside, do so early in the morning or late at night when the temperature is cooler.
Get wet:
Dogs love water and will enjoy a kiddie pool filled with water. As an alternative to a kiddie pool, fill up a spray bottle with water and mist your dog as needed. You can also set up fans in front of ice cubes to cool down your pup.
Heat stroke.
Watch out for signs of heatstroke, including excessive panting, lethargy, drooling, vomiting and collapse – if you suspect your dog is suffering from heatstroke act quickly by moving them into the shade or an air-conditioned area, apply cool (not cold) water all over their body using wet towels or rags. If possible place ice packs in their groin area and between their legs at the front of their chest.
---
Can you take a dog out in the snow?
If you live in an area where it snows, you've probably asked yourself whether or not it's safe to take your dog out in the cold. As with any other activity, there are potential risks involved.
Dogs can be perfectly happy to play outside in the snow. If your dog is healthy and has a long, thick coat, you don't have to worry about frostbite and hypothermia as long as she's not out for too long. If your dog has a short coat or is small or elderly, it may not be safe to leave her out for long periods of time.
If you're just letting your dog out into the backyard to do his thing, you can let him stay outside for as long as he likes — he'll let you know when he wants back inside. If he starts lifting his paws off the ground or shivering, bring him in right away and dry his feet and belly thoroughly.
Also watch out for ice on a walkway or sidewalk is hazardous for all of us, but it can be particularly dangerous for dogs as they're less likely to notice until they're already sliding across the surface. Be cautious when walking your dog on ice, especially when the temperature is below freezing.
Be sure to dress up your dog if its coat is too short, you may not mind feeling a little chilly on an outdoor walk, but your dog definitely doesn't like being cold. Consider putting a sweater or jacket on them before you head outside into the cold weather — just make sure they're still able to move freely.
---
Taking a dog out before vaccinations
Taking a dog out before vaccinations is a big responsibility, but there's no reason to let that keep you from having fun with your new puppy. The key to success is to stick to safe, clean environments and stay away from other dogs.
If you have a young puppy that hasn't had its shots yet, do not take it to the dog park or for long walks in the park. There are too many risks of infection from diseases like parvovirus, which can be fatal for puppies.
Also, make sure your puppy has been dewormed before you take it outside at all. You can get deworming medication from your vet and treat your dog yourself or have the vet do it during a scheduled appointment.
You should also keep your puppy on a leash when you're outside. Get a retractable leash as soon as possible so that you can give your puppy more freedom of movement than you could with a regular leash.
Make sure the environment is clean and safe. If you live in an area with lots of construction or garbage, then it's probably best to wait until your dog is older before taking it out for walks.
Remember to be watchful for any dangers but also keep in mind that the most important thing you can do for your new puppy is to introduce it to the world at large.
The first few weeks of a dog's life are known as the "sensitive period," and during this time, puppies learn a whole lot about the world around them.
This is when they develop their social skills, get comfortable with humans and other dogs, and begin to explore their surroundings. If you wait until your puppy's vaccinations are complete to take it out into the world, that sensitive period has already passed — and that's bad news for your pet.