As a dog owner, you may have seen your pooch hide a bone or treat somewhere in your home. This is often a natural behavior for canines, and it's rooted in their instincts.
In the wild, animals always put food aside for later. They know they might not find more food soon. Also, they hide their food because they don't want others to eat it and steal it. Domesticated dogs do the same thing:
They know that if they keep their food somewhere safe and hidden, no one can steal it from them.
They hide their treats because they are excited about the treat, but don't want to eat it too soon (they want to enjoy it later).
They are scared of losing the treat, so they save it for later.
Dogs also like to surprise us by bringing us something that we didn't give them! This is why dogs bring us newspapers, socks, shoes and other items which we didn't give them.
Dogs are scavengers at heart. In the wild, dogs would spend their days hunting and scavenging for food. It's no surprise that they keep this instinct even when they become domesticated.
Hiding food allows your dog to come back to it at a later time. Many people think that dogs hide their food because they're ashamed of eating it in front of other people. However, this is not true; they may simply be saving it for later.
Behavioral scientists have tried to study this phenomena for years, but their findings have been inconclusive. One thing's for certain — it's not because dogs are greedy.
Dogs are natural hoarders. It's in their ancestral DNA to put away extra food for times of scarcity. When you feed your dog table scraps, he may take the food to a "safe" place, like under a bed or behind the couch.
Hiding treats might also be a way of keeping other dogs at bay; after all, dogs have been known to fight over food.
But neither one of these theories explains why your dog loves to bury balls in the garden, or hide her favorite bones under the couch cushions.
---
---
Why does my dog hide bones?
If you've been wondering to yourself, "why does my dog hide bones" — or even "why does my dog hide everything?" — you're not alone.
We just saw that in their early days of domestication, dogs were scavengers, and they'd pick up any food they could find and cache it for later. Though modern dogs have more reliable access to food, the instinct to hoard remains.
Your dog's hiding behavior isn't unusual, but it can also cause some difficulties. A hidden bone might turn into a smelly mess if it goes unnoticed for too long, so it's important to understand why your dog is hiding her bones in the first place.
Why does my dog hide bones? Your dog hides bones because he's trying to protect his valuable resource. This is a sign of good ownership, as it shows that you've made him feel safe and secure in your household.
In some cases, dogs bury bones and other items to mark their territory. When a dog buries an item, they leave behind their scent on the item which helps them mark their territory.

The only time you should be concerned is if your dog starts to hoard other objects, such as toys, or if he becomes aggressive while guarding his resource.
Some dogs are more likely to hide their food than others. In particular, Greyhounds and other Sighthounds tend to be very possessive of their food and will eat far faster than many other breeds.
Dogs are territorial by nature and are protective of the things they consider to be theirs. If another dog or person approaches a dog's hidden treasure, the dog will likely become aggressive in an attempt to keep it safe.
Many times, dogs will only hide their bones when no one is watching. They may show off their favorite stuffed toy or rubber ball, but the moment you look away, they disappear with it under the bed or into their crate.
If your dog has a favorite toy or treat, it's important to let her keep it and not get upset when she tries to hide it. Dogs are naturally possessive over certain items and trying to take them away can result in aggression.
Offer your dog new toys that she can play with while she's with you. While you might never be able to give her a bone without her trying to hide it, you can find other toys that she enjoys playing with so you can have some quality time together.
---
Should I let my dog bury bones?
You should be perfectly fine with letting your dog burying treats and bones as long as you keep an eye on its behaviour.
Many dogs love to bury things. It's in their nature, and if you have a dog that buries bones, there are ways to manage it. For example, you can encourage your dog to bury things in one spot, like a sand box or other area where burying isn't a problem.
However, letting your dog bury bones in the yard can cause problems depending on where you live and what kinds of bones your dog is burying. If you want to allow the behavior, here are some things to consider:
Dogs that live in urban or suburban areas often have access to roads or sidewalks. If they bury bones in the yard, they may not be able to find them again.
Even if they do remember where they buried the bone, it could be covered with snow or dirt making it harder for them to dig up and chew on later.
If you're allowing your dog to bury bones in the yard, make sure there aren't any poisonous plants nearby. For example, many dogs like to bury things near trees or other plants with wide roots for easy digging.
However, these same plants may have poisonous berries that could harm your pet if he eats them while looking for his buried treasure.
If you live in an apartment complex or somewhere else where there are lots of dogs digging around, there is a risk your dog will dig up another dog's buried treasure.
And that can be dangerous, because it could have been buried for a long time and could cause intestinal issues for your dog if he eats it, even though it's pretty rare.
There is also the health risk factor for other pets and children who may stumble upon your dog's buried bone.
If the bone is rotting and hasn't been completely buried under ground, there is a chance someone will pick it up and get sick from bacteria that has developed on the bone while underground.
It is important to note that according to some people and professionals if your dog is hiding his or her bones then this could be a sign of separation anxiety.
Your dog may not want you to take his or her bones away from him or her when you are leaving the house because he or she will miss you while you are gone. This is something that should be addressed with a trained professional.
---
Why do dogs cry when burying bones?
When your dog is burying a bone, he may appear to be crying. The dog might look as though he is whimpering, making whining sounds or howling. He might even seem to be moaning or groaning.
Dogs are very good at using body language and sounds to communicate, so this behavior isn't as inexplicable as it might seem at first blush.
Dogs bury bones for various reasons and emotions. Sometimes dogs bury bones due to instinct, and other times they're simply hoarding them for later use.
Other times dogs could be burying bones because they've experienced some kind of trauma or negative experience in the past, which has caused them to retreat and hide their treasures away from the world.
Some people believe that when a dog cries, it is a sign of submission, where submission means surrendering your power to another person or animal.
Other people believe that dogs are crying because they are scared and need to be comforted.
Some dogs may not be crying at all, but just making a noise that sounds like they are crying.
As they dig up the bone, they may be unearthing other bones or even garbage that has been buried in the yard. This can be the source of an odor that may cause your dog to cry.
The crying may also be a sign of pain. If your dog has been digging up a bone, check his paws for injuries from digging or from stepping on something sharp. Also check for any signs of infection from bacteria that may have been exposed by digging.
---
Do dogs go back to buried bones?
When a dog buries a bone, it doesn't forget where it is. A dog may circle or sniff the ground before digging because it can smell its buried treasure.
And when a dog returns to a favorite spot to dig up a bone, it's often because its nose has told it that the bone is still there.
Dogs don't bury just any bone they find, though. They're choosy about what they preserve for future enjoyment.
Most dogs prefer to bury raw bones rather than cooked ones. Raw bones are softer and easier to dig into than cooked meaty bones, so they're more fun to eat later on. They also contain more of the marrow — the fatty, blood-rich center — which is highly prized by dogs.
In addition, raw bones help keep dogs' teeth clean and jaws strong.
That said, not every dog is an avid or successful bone-burier. Some puppies will bury a raw bone only after gnawing on it for a while and licking off most of the meat first. Others will try to bury half-chewed toys or food bowls instead of real bones.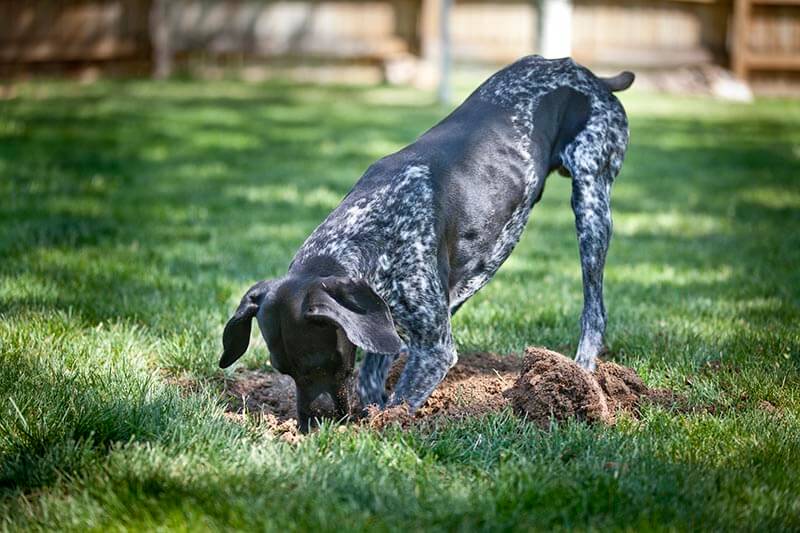 Dogs aren't known for having excellent memories (although there are some exceptions). My dog will happily eat a treat right now and then beg for another one 10 seconds later as if she'd never seen one before.
Even if your dog remembers burying the bone, he probably won't remember exactly where it is or remember caring enough about it in the first place to dig it up again on purpose.
Here is also why dogs may not go back to their buried bones, for the same reason that they bury them in the first place: Because they're done with them.
An older dog might be more likely to return to a buried bone than a young pup, as it's more likely to have the extra energy and time to kill before it loses interest in returning to its old, now-hidden meal.
Dogs don't generally hide things because they plan on going back and digging them up again later.
Dogs bury their bones because they want to get rid of them — at least temporarily. They might dig up the discarded items later, but that's a different sort of behavior altogether.
---
Why do dogs dig holes?
Dogs dig holes for many reasons. It can be an instinctual behavior, or a simple way to gain attention.
Dogs may be digging to escape, they may be bored, or they may be looking for a cool place to lie down. Dogs will also dig if they are anxious or stressed out.
Dogs dig as a natural instinct, they may be burying bones in the wild, and they will want to dig them up to eat them. Dogs may also want to bury their toys and other things that are important to them.
It is important to understand the driving force behind your dog's digging. Punishment will not stop the digging if the animal has one of these natural needs that are not being met.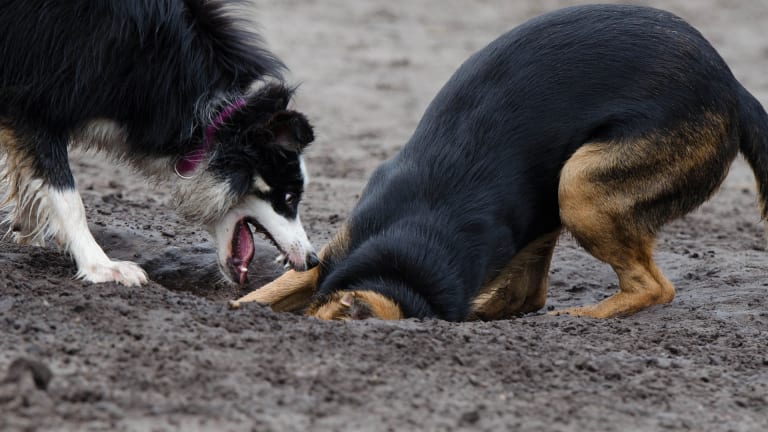 First, it is important to determine what type of digging your dog is doing. For example, does he dig in one spot consistently or does he move around the yard?
Does he dig at night or during the day? Does he attempt to bury objects in his holes?
If you are worried about your dog digging everywhere, try to catch him in the act and observe what he is doing and for how long. Make note of where and when he digs as well as what he does before he starts and after. This may give you clues as to why he digs.
---
How can i stop my dog from digging?
Sometimes digging is directed at an object, such as when dogs dig up bones, other times it is indiscriminate.
Regardless of why your dog digs, the behavior is natural and not easily changed. In fact, you might even want to encourage your dog to dig in one area of your yard while discouraging digging in other areas.
Your dog will probably continue digging whether you like it or not. You can train your dog to dig only where you want him to by providing a digging pit.
Start by designating an area where your dog can dig. Make the area large enough that he won't accidentally dig outside its boundaries and put something attractive in the hole — such as a toy or bone — so he will want to start digging there.
Once you have encouraged him to start digging in this area, praise him every time he does so and give him treats for his efforts. If he digs somewhere else, take him back to the designated spot and show him what he should do there instead.