Dogs are known for licking each other and also their owners. But what do dogs mean when they lick? Why do they do it? If you have more than one dog, you might have seen them licking each other constantly, from the head to the tail.
Dogs lick each other as a sign of trust and friendship that helps them to strengthen their bonds.
When a dog is licking you, it's usually an act of affection. But the tongue licks of another dog can also mean something else entirely. Dog licking is a social behavior that goes beyond affection.
To clean wounds
To show respect to a pack leader
To groom themselves and other dogs (as part of their social behavior)
To taste a new dog's scent
As an appeasement gesture if they feel threatened or are asserting dominance.
Licking releases pleasurable endorphins which gives dogs a feeling of comfort and pleasure—like the feeling people get when they are biting their nails—it relieves stress. For dogs, licking is also an instinctual act that helps them heal physical wounds and clean themselves.
A dog's endocrine system is a network of glands that secrete hormones into the bloodstream. The hypothalamus is the part of the brain that controls this system.
The hypothalamus produces vasopressin, which helps dogs to regulate their body temperature and thirst levels. They also produce oxytocin, which increases the bond between dogs and humans and makes them more likely to lick people they consider friends.
---
---
is it normal for dogs to lick each other?
It is absolutely normal for dogs to lick each other. Social licking is often part of a greeting ritual between dogs, and many dogs enjoy being licked by their friends.
This behavior can also be a sign of affection, or even submission.
Licking another dog's mouth can also be a submissive gesture that pacifies the other dog and appeases them, like a puppy kissing its mother's mouth.

However, there are some cases when you should discourage your dog from licking another dog.
This includes when the other dog is in pain or injured (this behavior may lead to aggression), or if your dog is displaying compulsive licking behaviors — this might indicate an underlying medical condition, such as allergies.
Dogs will lick the faces of their owners, other dogs and even themselves. This is a natural behavior that is instinctual and likely has roots in their wild origins. In the wild, members of a pack greet each other by licking each other's faces to show submission. This behavior also helps to reinforce the bond between pack members.
Dogs may also lick to self-soothe or comfort themselves in stressful situations or when they feel anxious.
Dogs also lick because they can taste emotions in sweat and tears — especially those that convey stress or fear.
---
Why do dogs lick each other ears?
Dogs lick so many things, but one of their favorite is other dogs' ears. While the ears are one of their favorite spots to lick, it's not the only spot dogs love to lick. Dogs also really enjoy licking other dogs' feet (sometimes to get them to play) and their faces and muzzles.
But why do dogs lick each other's ears? There are a few reasons for this:
Cleanliness: Dogs will often clean each other by licking. This is especially true with puppies, who need help from mom in staying clean and healthy. Even when they're older, though, dogs will help keep each other clean.
Companionship: Sometimes a dog licks another dog's ear simply because they like that dog. It's a sign of affection, whether it's between two dogs or a dog and their human.
Attention: Just like people get annoyed when someone interrupts them while they're working or reading, some dogs will give a quick lick on the ear of another dog who they think should be playing instead of laying around or becoming too serious about something else.
Communication: Licking can be used as a form of communication among dogs. Some dogs might lick another dog's ear because they are just saying hello.
Healing: Another reason your dog might be licking another dog's ears could be because there is something wrong with them. Sometimes dogs will lick another animal's wound because it helps it to heal up faster – similar to how humans put ointment on cuts or bruises.
If your dog is licking your ears, it could be because you smell good and they want to groom you, they want you to pet them. Or maybe they just want to go out or be fed.
You could also be giving off signals that are encouraging the behavior like laughing, bending down, or petting them when they do it.
---
Why do dogs lick each other muzzles?
While it may seem odd to us, the reason behind this behavior is actually very simple and has to do with the way that dogs' noses are designed.
Dogs' noses are made of two distinct parts: the frontal part, which is the "snout," and a secondary part located on the back of the head, which protects the nasal cavity.
While dogs use their frontal snouts to sniff out scents in the air, their secondary snouts are used for grooming.
It turns out that dogs really like licking each other's muzzle because it removes excess bacteria from their mouths and helps them keep their mouths clean.
The licking also helps relieve stress. So next time you're rubbing your dog's nose, take a second to think of why it feels so good!
Dog-licking or "muzzle licking" is usually performed by a dog under the direction of another dog, as a means of establishing dominance or to establish an alliance between dogs.
The behavior is not transmitted in the same way as some forms of aggression.
Muzzle licking is usually performed by an older dog dominating a younger one in order to establish relationships of dominance. Dogs will lick other dogs' muzzles when they are seeking help or support by showing their subordinate status.
---
Why do dogs lick each other privates?
When it comes to your dog's licking behavior, you should also consider that dogs lick each other as a form of social interaction.
This is especially true when it comes to the genitals and private areas. A dog who licks another dog's private parts may be trying to groom him, let him know that he wants to play, or establish dominance.
There are many reasons dogs lick each other's private parts.
First of all, dogs sniff and lick to get information about their environment.
When a dog smells another dog's genitals he gets information about what kind of food the other dog has eaten and how old it is, among other things.
Dogs also lick each other to show affection and establish their pecking order.
By licking a dominant dog they show they respect it and by licking a submissive one they may try to establish dominance over it.
Some dogs can even lick the genitals out of interest or sexual arousal. Males have a tendency to be greater susceptible than females are to this conduct due to the fact they've an accelerated want for vitamins and nutrients that come from licking those spots.
The fact that your dog licks his private parts doesn't mean there is anything wrong with him. It's a natural behavior that many dogs engage in, it is just another way for dogs to know each other better.
---
Why is my dog licking his paws?
Dogs lick their paws as a natural and instinctual behavior. However, if your dog excessively licks their paws, it could be a sign that something is wrong.
There are many reasons why dogs lick their paws, and most of them can be traced back to an injury or infection caused by an irritant in the environment.
One of those irritants is a common ingredient in carpet cleaners, shampoos, floor cleaners and other household products called benzyl acetate.
This substance is also found in cigarette smoke, which may explain why dogs who live with smokers are prone to licking their paws.
Another common cause of paw-licking is seasonal allergies from pollen, grass or dust mites.
Dogs may also lick their paws if they suffer from arthritis or joint pain.
Stress and Boredom can also be a cause of nervous licking
If you notice your dog licking its paws more than usual, it's important to do some detective work and try to figure out what's causing the problem. If your dog has been injured recently, that could be the obvious explanation behind the extra licking.
But if there's no sign of injury, take a look at your dog's diet. A diet that is too high in carbohydrates can contribute to yeast infections on the paws, so you may want to consider switching foods to a more protein-rich alternative.
Check for other potential problems with your vet.
---
Why does my dog lick the other dogs pee?
Dogs may lick other dogs' pee for many reasons. The most obvious is because they like the taste of it.
Dogs may also lick other dogs' urine because they are curious as to where the smell came from or why their friend is "marking" their territory. Sometimes, dogs will sniff, examine, and then lick other dogs' urine out of excitement or dominance.
Dogs share a lot of information through urine about what they have been doing. They can tell when other dogs are in heat; whether another dog is sick; and even who the other dog belongs to.
When your dog licks another dog's urine, he is getting a lot of information about that dog and probably wants to find out more.
Generally speaking, it is okay for your dog to lick another dog's urine in small quantities.
However, if your dog starts licking every time he sees another animal urinating and/or attempts to drink large quantities of the urine, you may want to call your vet so that he can rule out any health problems your dog may have that cause him to be excessively thirsty or hungry.
---
Why do dogs lick each other after fighting?
Dogs are social animals and they have a strong hierarchy. In general, the stronger and more dominant dog will be on top of the hierarchy.
The weaker and more subordinate dog will be at the bottom of the hierarchy.
We are the ones who see their confrontation as a fight, but most of the time it's pretty much just a form of playing and socialization for dogs.
For the most part, a dog's status within the pack is maintained through non-confrontational means. However, sometimes disputes arise over resources such as food, toys or human attention. These disputes can escalate into a full-on fight and sometimes this is necessary to reestablish dominance.
After a fight between two dogs, there is usually one winner and one loser. The winner will be the dog that is higher up in the hierarchy than its opponent. After a fight, it is not uncommon for the winning dog to lick its opponent's face in order to show that it is 'above' them in the pecking order.
The licking also serves to show that the conflict is now over – this tells both dogs to calm down and reaffirms their pack mentality. It can even be seen as an apology from the winning dog!
---
Is dog licking your face bad?
When a dog licks your face, it's a sign of affection, closeness and trust. Dog kisses may be signs of affection, but they can also be a sign of stress or insecurity. Your dog might lick your face to show that he loves you, or to try and get your food.
Dog saliva is not toxic, but it does contain bacteria that could cause infections. Dog saliva often causes mild skin infections, like hot spots or acne.
Dog saliva can transmit diseases including parvo and rabies. Ensure that your dog is up to date on all his shots to prevent these illnesses from spreading.
---
Risks of excessive licking
Licking can also be compulsive and over time lead to hair loss and other skin problems, such as hot spots, which are areas of irritated skin that dogs compulsively lick and bite.
But the many things that cause abnormal licking in dogs — from allergies and parasites to psychological issues — make it difficult to pinpoint a single cause.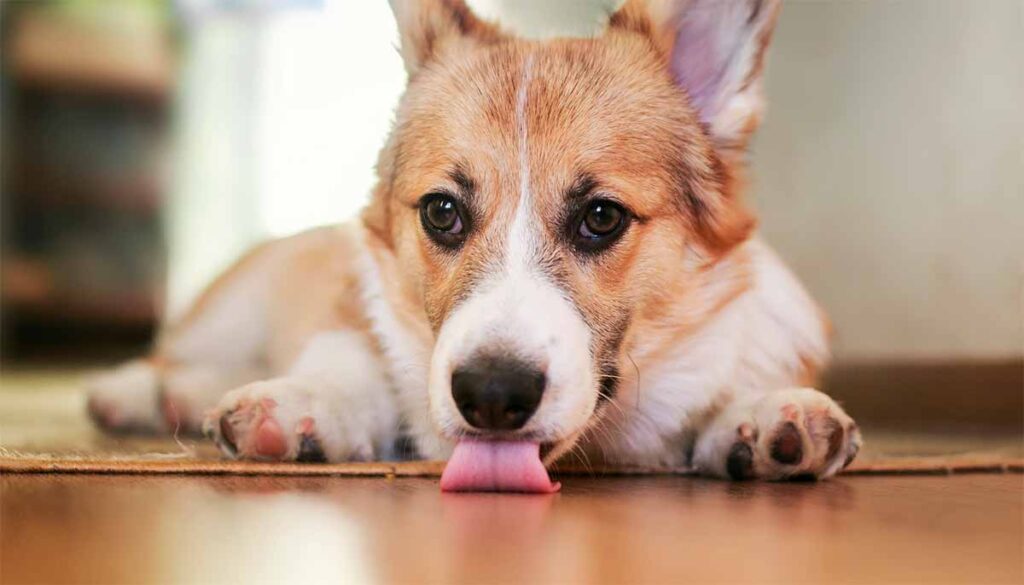 A habit of excessive dog licking can be frustrating, but this behavior is often a sign that the dog has underlying problems that need to be addressed.
Compulsive or excessive dog licking is an issue that a lot of pet owners face and it can be really annoying for both you and your dog.
It is not necessarily something you should worry about, but it is also not something you should ignore and hope will go away on its own.
When your dog licks too much, you may notice wet spots around your house where he has been licking non-stop for hours on end.
Other times, you may see him licking his paws constantly or biting at his skin frequently, wich makes me think your dog might have itching problems.
All these things are signs of excessive dog licking.
---
How do I get my dog to stop obsessively licking?
Dog licking can be a sign of affection or a sign of anxiety. If your dog licks you when you get home, it's probably a sign that he missed you, and he's expressing his love.
If your dog licks obsessively at walls, furniture, or himself, it's often the result of anxiety or boredom.
If the licking is obsessive (meaning he won't stop even if you tell him to), there are some things you can do:
– Try to keep him calm and distracted. This means less action in the house and more quiet time for both of you, try to give him a toy.
– Keep him away from items that he may want to lick. If that's not possible, cover them with something that isn't tasty, like aluminum foil.
– Make sure that his vaccinations are up to date and take him to the veterinarian to rule out any health issues.
– Consider grooming and brushing, compulsive licking can mean quite commonly that something is wrong with your dog's coat, maybe it's too long or too dirty.
– Clean the spots that your dog licks, usually the dirtier is the thing, the more tasty it is for your dog, get rid of his "favourite" scent.
– Check for dental problems, sometimes dog lick themselves in order to relieve this kind of pain, ask your vet if your dog's mouth is healthy.
– Make sure your dog is "relaxed", another very common cause of licking is anxiety, try to not expose him to loud noises or get him out more often.
If your dog's obsessive licking continues, or if he also starts chewing on objects or self-mutilating, it may be time to consult a canine behavior expert for advice.