How many times have you taken your dog for a walk, and they come back with a stick? A lot! But why do dogs like sticks so much?
The answer is that dogs are hunters at heart, and sticks are a way for them to continue their hunting instincts.
When you throw the stick, it is the same as if you were throwing a bone or other prey. The dog will run after it and sniff it out, then bring it back to you. It is their way of providing food for their pack – in this case, you (and the rest of your family).
They also like to chew on sticks because they are bored, as chewing on things can be very entertaining for them. Or they like to chew on sticks when they are anxious or nervous.
Just like how some humans bite their nails when they are nervous, dogs use chewing as a way to calm themselves down.
But these are only a few of the reasons why dogs love sticks that much, the reasons can be multiple including:
Teething
Mouth Play
Resembling Bone
Potential Nutritional Deficiencies
But there are also some dangers associated with dogs chewing on sticks. If a piece breaks off and gets stuck in the throat of your dog, it can cause choking.
It can also cause abrasions in their mouths if the stick is not smooth enough or if there are any sharp points in the wood.
So what should you do if your dog likes to chew on sticks?
---
---
Is it okay to let dogs chew on sticks?
Dogs are scavengers and love to chew. Chewing is important for their mental stimulation, to keep them from getting bored and having destructive behavior.
But to the things they do chew, you need to make sure that it's all safe.
Some dogs will pick up a stick, run around with it for a while, and then move on to something else. It's your responsibility as an owner to watch your dog when he is chewing on a stick, because you want to make sure he doesn't get hurt.
Some dogs will break off pieces of the sticks and swallow them, which can lead to choking or puncture of the intestine. If you see this happening, take the stick away from him before he injures himself.
Other dogs will just chew on the end of the stick and leave it at that. No harm done here because they're not swallowing any pieces of it.
---
What kind of sticks are bad for dogs?
Dogs love chewing sticks, but some of them can be harmful. They may harbor bacteria or have splinters that can harm your dog's mouth and throat.
In fact, raw sticks found in nature are the most dangerous.
Many dogs have an instinctual love of carrying sticks in their mouths, fetching them and returning them for a reward.
But those behaviors are not without risks — not all sticks are safe for dogs to chew on.
Even if they don't get stuck in the roof of the mouth or lodge in the esophagus, choking is just one of the dangers presented by sticks.
Bad bacteria can be found on sticks — in fact, according to a study published in The Journal of Veterinary Research and Development, many types of bacteria that are found on the surface of dog paws are also found on sticks — including Staphylococcus pseudintermedius, a bacterial strain that causes skin infections and ear infections in dogs.
Dogs who enjoy chewing on wood may also swallow splinters that can damage their internal organs or puncture blood vessels.
The danger is so real that veterinarians advise owners against giving their pets any kind of wood — including hardwood floors — as chew toys.
I know this may sound overprotective, but there are multiple cases of dogs that got "harmed by a stick", the best thing i feel to suggest is just to keep an eye out for these behaviours, for 3 main reasons already mentioned.
The first reason is that sticks can cause damage to the mouth of the dog by puncturing their gums or tearing the roof of their mouth.
The second reason is that sticks can get lodged in your dogs throat which can lead to choking.
The third reason is that if a stick is thrown for a dog it can get lodged in the eye causing serious damage and even blindness.
---
Are dog dental sticks good?
Dog dental sticks are the perfect answer for dog owners who just want to go safe.
We already saw how important is to let your dog chew in order to let him express his instincts.
You can't go wrong with dental sticks, even if your dog has a tendency to bite, chew or swallow sticks.
Dental sticks are made from durable materials that won't splinter or fall apart easily. This will prevent any pieces from getting stuck in your dog's throat.
A dental stick is a long, hard stick for your dog to chew on. It's designed to help keep your dog's teeth clean and their breath fresh.
If you're worried about your dog's teeth, it's best to get them checked by a vet. But if they have healthy teeth, a dental stick can be a good way to keep them in top condition.
The best dental sticks are made from natural ingredients and are free from artificial colours and flavours. They should be easy for your dog to hold and chew on. And they should last long enough to give your dog plenty of chewing pleasure!
These are the 3 main reasons why your dog will love dental sticks.
Easy to use: Oral hygiene for dogs can be difficult as many dogs don't want to brush their teeth. That is why these sticks are perfect for keeping your dog's teeth clean and healthy. They are easy to use, just like any other chew toy or treat, they are fun and tasty at the same time.
Flavors: These sticks come in different flavors that will delight your dog. The most common flavors include chicken, beef and lamb.
Dental friendly: These treats have been tested by veterinarians and have proven to improve the overall quality of a dog's teeth and gums. They are made with ingredients that help fight plaque and tartar buildup, which ultimately results in fresher breath and healthier teeth.
Tough: Your dog will love a dental stick way more than a raw one, he will find it more challenging and satisfying to chew one.
---
Why do dogs like fetching sticks?
Scientists have been trying to figure out why dogs like fetching sticks for years. While we may never know for sure, here are a few theories
Fetching is a game of tug-of-war.
Some scientists argue that stick-fetching is a form of tug-of-war. Dogs love to tug and wrestle with their humans and other dogs.
In fact, dogs who grow up playing tug with their owners tend to be more confident and better able to cope with stress than dogs who don't play the game. Those are some pretty good reasons to keep that stick at arm's length!
Fetches mimic hunting behaviors.
Another theory suggests that fetching is connected to hunting instincts. Wolves hunt in packs, and each wolf has a job to do. Maybe fetching is how your dog would participate in the hunt if it were still in the wild.
This theory explains two things: why dogs like sticks so much, and why they love bringing back dead or dying animals like squirrels or birds (even though it grosses us out). The first reason is that sticks are like prey — they're long, skinny, and can be easily broken down into small pieces.
The only thing we need to care about, is that fetch is an excellent form of exercise for both you and your dog – this game is full of running and jumping which gives your pet a great workout while having fun.
It's also a great way to bond with your pet and keep them mentally stimulated, especially when you're both enjoying the outdoors.
This is also a great activity for puppies who need lots of energy burned off before bedtime!
Dogs, like all animals and humans, are social creatures. They love to interact with humans and other dogs.
They love to interact with their environment. Dogs are naturally curious and inquisitive, this is why the thing they love the most about fetching is the social part.
Unfortunately, most of the dogs don't live an "exciting life", this is why every occasion to play and be active is so important to them, it makes them feel better and more important to you, especially if there is another dog or human involved.
---
Why is my dog possessive over sticks?
For starters, you can't really blame a dog for being possessive over a stick. After all, as far as he's concerned, that stick is his – and his alone. And if another dog tries to take it, well then it'll be a fight to the finish to see who gets to keep it.
The problem is that things can quickly escalate into a dangerous situation where someone (or some dog) gets hurt. That's the last thing you want, especially if you're trying to teach your pup good behavior.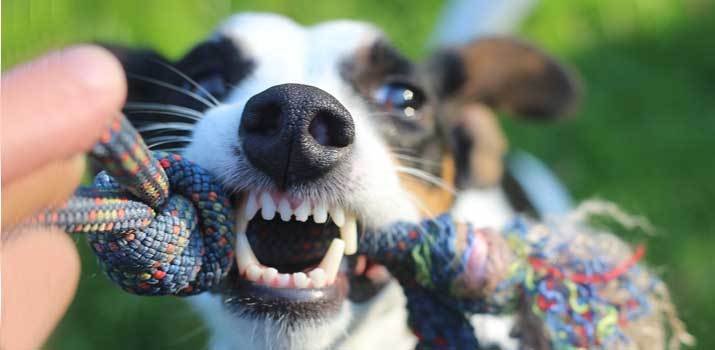 So why does this happen? Why is my dog possessive over sticks? The answer lies in their natural instincts and pack behaviors. Unfortunately, we can't change these behaviors entirely. What we can do is train them out of our dogs so they respond to us instead of their own instincts.
If they are possessive over anything then they need to be taught that possession is 9 tenths of the law and it is not up for grabs.
So, every time you take something away from them you MUST replace it with something better. For example, if they have a stick and you want to take it away from them, have a tennis ball or treat in your hand.
Tell them "drop" and use the ball or treat to encourage them to give up their possession. Once they drop the stick, toss the treat/ball far away from them so they must go and get it.
If you don't give them something better than what they have given up then you are teaching them that when something is taken away from them nothing will replace it.
Now, if this is for sticks ONLY then I would ask myself why it is only sticks? If I had a dog who was possessive over sticks I would assume that this dog has a history of being locked out of some good stuff while the owner was inside doing good stuff with other things.
How many times have we all had our dogs tied up outside while we were inside having fun? So, now whenever Fido sees a stick he thinks "wow! That's pretty cool! Now i will pick it up and won't let anyone even touch it!"
Sounds weird, but according to many experts this is exactly how they reason.
---
How to stop a dog from chewing sticks
The first step in getting your dog to stop chewing on sticks is surely discouraging them from doing so. This can be done a few ways:
Discourage chewing on sticks by using positive reinforcement training. Reward your dog with treats when they walk by a stick without picking it up and chewing on it.
This way they will associate the stick with treats and will avoid trying to chew on them in the future.
If you see your dog about to pick up a stick, call them away from it. Then reward them for coming to you with praise and treats so that they associate the experience with something good rather than something bad (like being called away from their fun).
You should also create an enjoyable alternative for your dog when you're in areas where there are sticks around (like when you're at the park). Bring along some of his favorite toys for him to chew on instead of sticks!