Although it can be difficult to know what your dog is thinking — and why they do the things they do — there are a few common reasons behind this behavior.
To get to the root of why your dog might not be howling, you first have to understand the meaning behind it.
The meaning of howling varies depending on the dog, but it can be a way for them to communicate several different things: they're looking to join a pack; they're bored or lonely and want company; or they hear sirens and want to join in (this is something that tends to happen with group howling, like with wolves).
A dog's howl has no obvious function for communication. While wolves sometimes howl to alert other members of the pack to danger or to rally the pack before hunting, dogs don't use their howls in the same way.
In fact, a dog will often howl in response to a sound made by something else — usually another dog.
Dogs may also howl during mating season to attract mates or because they're feeling anxious about being separated from their pack members (you).
However, all dogs, regardless of breed or background, share a common ancestry with wolves. They also share many behaviors and instinctual traits with the wild wolf, including the tendency to howl when they hear a loud sound.
If you've ever wondered why your dog doesn't howl, there are a number of possible explanations, from the fact that he's a breed that doesn't howl much to the possibility that he's been discouraged from doing so.
Some dogs just don't have the urge to howl. There is no harm in this, it is simply part of their personality. Some breeds are also more likely to howl than others, such as hounds and huskies.
If your dog gets very little time to socialize with other dogs, he or she may not have learned to howl from them.
Many people believe that dogs inherit the ability to howl from their wolf ancestors, but others believe that it is taught. If your dog doesn't interact with many other dogs or humans, they may not know how to howl yet.
Your dog may be too shy or nervous around other animals and humans to let out a loud noise like a howl.
This can be difficult to work on if your dog is already an adult, but it can be done.
They need opportunities to learn that other people and animals are safe, and this can be done by socialization at a young age or by taking them places where they will encounter other animals and people frequently.
---
---
Can every dog howl?
Dogs have a range of vocalizations that they use to communicate with people and other animals. While barking is probably the most well-known, dogs also whine, growl and howl.
Howling is an interesting vocalization in that it doesn't always seem to serve a purpose. Some dogs howl in response to sounds, others on command and still others for apparently no reason at all.
A dog's ability to howl comes down to genetics. While all dogs are capable of howling, not all dogs will do so.
Howl, which is a long, high-pitched cry, is a natural response for many breeds, especially those with wolf or coyote in their lineage. Most humans find the sound of their pet beagles howling rather unpleasant.
In fact, this is why the term "beagle howl" was created; because most beagles howl loudly and often.
Many times, dogs are capable of howling. However, only one breed of dog, the Basenji, is well-known for being unable to howl. In fact, the Basenji is commonly referred to as the "barkless" dog.
But also Chihuahuas and Yorkshire Terriers can't really howl, they bark instead! No matter how hard they try, they will just let out a single note over and over again.
Most dogs are capable of howling, but they do not always do so. Some dogs have a tendency to bark more than they have a tendency to howl. Others have no interest in doing either.
Other dogs may howl because of pain or fear. If your dog is suddenly howling for no apparent reason or if it's howling more than usual, it could be a sign that something's wrong.
Heredity alsoplays a role in howling. Dogs descended from wolves (called wolfish dogs) are more likely to howl than dogs descended from foxes (called foxish dogs).
Wolfish dogs include Akitas, Huskies and German Shepherds. Foxish dogs include beagles, dachshunds and poodles.
---
What age do dogs start to howl?
Most puppies will begin to howl at a young age, but it's hard to pinpoint when your puppy will start. He might start a few days after arriving home, or he may wait a few months.
You can help encourage him by introducing him to music and sounds that may trigger the behavior, i guarantee you that it can actually work.
If you play some music for your puppy and he begins howling with the song, make sure you praise him for his actions.
There are many reasons why dogs howl, and because of their wolf-like behavior, it is a common question that owners want to know when their dogs will start howling.
Dogs may start howling in the first year of their life, but most dogs will not start howling until later years. When a dog starts howling depends on the breed of the dog and if it has any wolf-like behavior.
If you have a dog that is more wolf-like in its behavior and traits , it may start to howl much earlier than other breeds.
Generally, puppies begin to howl when they are teething, around 5 to 6 weeks of age. After that, they may howl in response to the howls of other dogs or when they are left alone for longer periods of time.
Howling is one way that puppies relieve the pain of teething. The younger the puppy is when it starts to howl, the more likely it is that its parents were also howlers.
Once puppies become older than four months, their teething pains will subside and the howling should stop. However, if your puppy continues to howl often after this age, it could be due to separation anxiety or a genetic predisposition to howling.
Pups who are only a few days old can also be heard howling, yelping and barking before they open their eyes or walk unassisted.
Some experts believe that newborn doggies howl to communicate with one another, but most agree that the vocalizations are merely instinctive responses to stimuli – and not actually an attempt to communicate.
---
How do I get my dog to howl?
The first step to getting your dog to howl is to determine if they're a howler in the first place. The easiest way to do that is to get them started with any one of these methods:
Listen for a response. Play a recording of another dog howling, or imitate a howl yourself. Your dog may respond with their own rendition of a howl.
Get them started with music. Many dogs will join in when they hear music coming from the radio or television, so try turning on your favorite station and see if they'll chime in.
Catch them in their natural state. Some dogs will howl when they're left alone, or bored, or hungry — especially if you've been gone for an extended period of time and are returning home from work or elsewhere.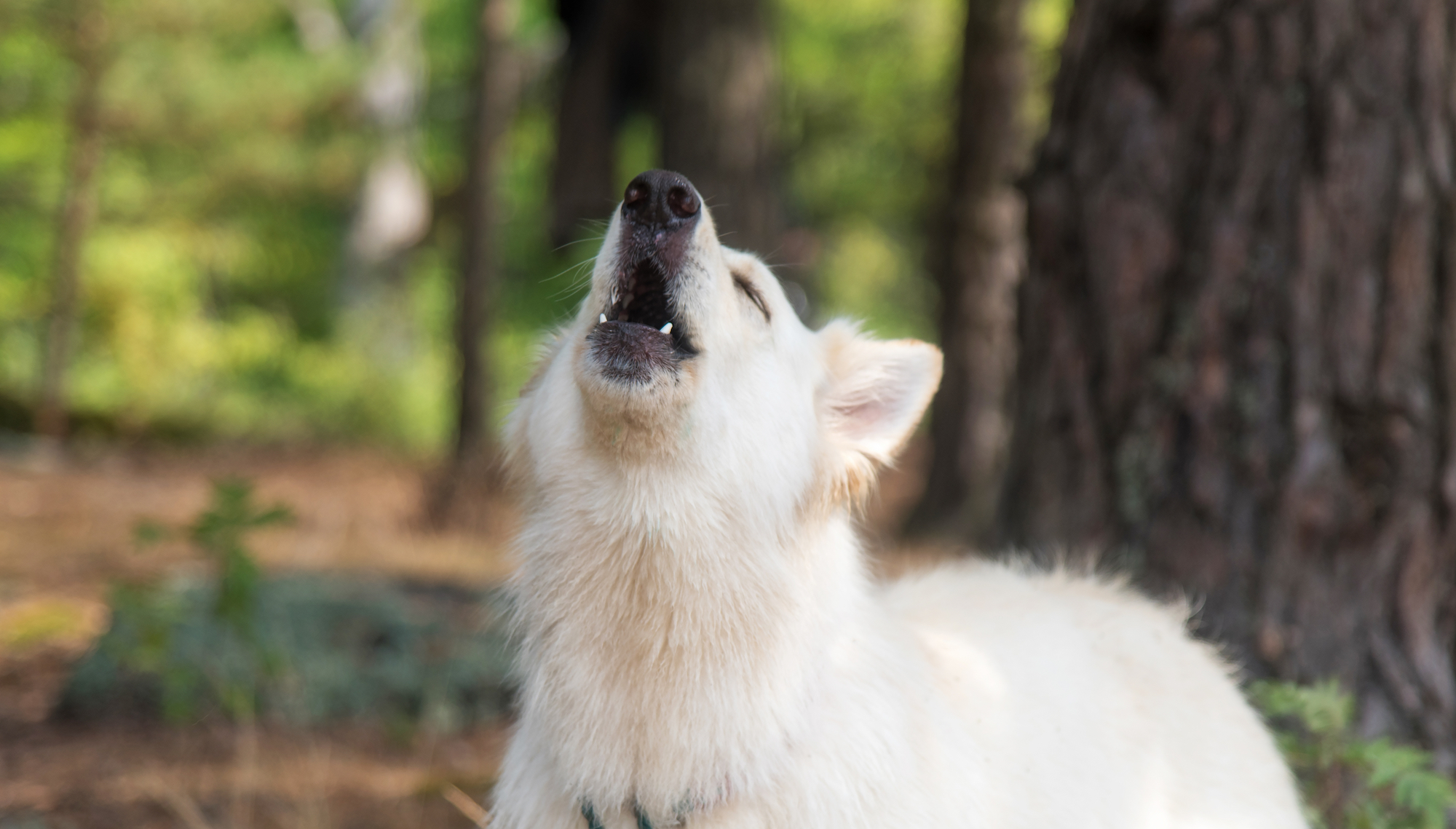 Keep an ear out next time you're away from home for an extended period of time, and see if you can catch them in the act!
There are many possible ways to get your dog to howl, but first you need to know what motivates your dog.
Some dogs are highly motivated by food, others are motivated by play, and some dogs will work for attention or praise. If you're not sure what motivates your dog, then try all of them.
For example, If your dog is motivated by food, then wait until they aren't hungry (typically after a meal). Hold out a treat at nose level and walk backwards. If you do this correctly, your dog will have to stand on their back legs to follow the treat.
When they start to stand on their back legs, say the word "howl." Keep doing this until they bark in response to the word "howl," then immediately give them the treat and praise them, this is the classical example of Positive Reinforcement.
If your dog is motivated by play, then you can get a toy that they love to play with. Wiggle it around in front of them while saying "howl." Eventually they should start barking at it.
Once they do, immediately stop wiggling it and hold it still while saying "howl." As soon as they bark again, give them the toy and praise them.
Dogs have a tendency to respond to other dogs that are howling. If you can hear a dog howling in the distance, your dog may be inspired by that and join in.
---
Why does my dog silent howl?
Dogs have a remarkable range of vocalizations at their disposal. From the sharp barks that get our attention, to the low growls that warn us to stay away, they are more than capable of communicating with us.
We even teach them to use certain vocalizations to tell us when they need something.
Some dogs take things a step further and wander into human territory with sounds like the silent howl. For people who love their dogs, it can be downright adorable. For those who don't, it's a noise that can be annoying and confusing.
Silent howls or barks are also called indeterminate barks since it's not clear what the dog is trying to say.
There are several reasons a dog may have silent barks, including:
Panting: Dogs pant to cool off and when they're excited. You may hear their breaths as silent howls or barks.
Tiredness or sleepiness: Your dog is tired and breathing heavily, which can sound like a silent howl or bark.
Anger: Your dog is angry at another dog and wants to intimidate them without alerting you or other humans nearby.
inability to bark: If your dog has laryngeal paralysis, he won't be able to speak in his normal voice. Instead, he'll make a quiet noise that resembles a bark or howl.
Your dog may also have several conditions that can cause him to breathe heavily and make noises similar to howling and barking, such as:
Laryngeal paralysis
Aortic stenosis
Congestive heart failure (CHF)
It's not uncommon for dogs to be silent during their howling, or to have silent barks. This phenomenon is called "whisper barking" or "whispering." The exact cause of whisper barking is unknown, but there are different possible reasons a dog might do it:
Dogs use their voices the same way that humans do — to communicate. Unlike humans, though, there are no words involved in canine communication.
Dogs communicate using their sense of smell and by making different sounds, including barking and howling. A dog's bark can tell you if he is mad, happy or sad.
The only thing we can be sure of is that silent howling is a way like another for dogs to communicate between each other.
Some dogs will also 'howl' silently when they want something from their owners – usually food! It could also be a form of play – some dogs howl when they get excited.
It may also be a sign that your dog is bored and wants to play. If your dog does this, reward them with a game and the chance to burn off some energy.
---
Is it cruel to make your dog howl?
The evidence suggests that it depends entirely on the dog. Some dogs love to howl, while others do not. It's not up to owners to determine which category their pooch falls into.
Dogs who are not accustomed to howling may be startled by their ability to do so.
Owners should approach the situation with care so as not to frighten a dog who does not know why he is making this noise.
Dogs who are startled or frightened may act out, especially if the sound occurs involuntarily.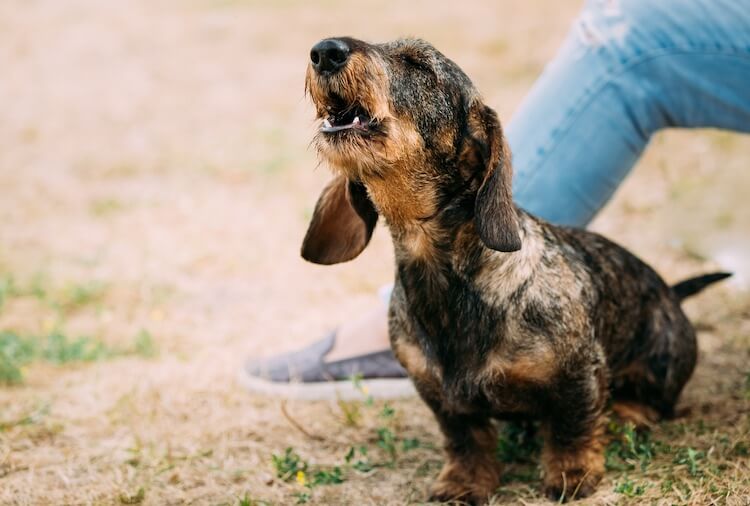 While some dog owners enjoy having their pets howl along with music or sirens, not all dogs are comfortable doing so. Some dogs get anxious when they hear loud noises, while others may just be uncomfortable making noise.
If you want your dog to howl on command, start by making the sound yourself. Praise them when they join in.
If they don't feel like howling, don't force them to! You can also try playing a video or recording of other dogs howling and see if that helps them get into the mood.
As much as you might love your dog's voice, it's important to make sure that you're not pushing them too far out of their comfort zone when you ask them to sing along to your favorite song.
Some dogs can become very stressed by loud noises like sirens or music; others might just not feel like providing vocals at all times of day.
---
Do dogs like to howl with humans?
Howling is also a form of social bonding, especially between canines separated from their pack.
It may be why your dog tries to join in when he hears you singing, whistling or playing music — because he wants to interact and sing with you. He may also howl because he wants attention or has separation anxiety.
Some breeds are more likely to produce the kind of long, high-pitched sound we associate more with howling than others.
These include Alaskan Malamutes and Siberian Huskies, among others. But all dogs may howl at one time or another — it's an instinctive reaction they cannot control easily.
For dogs, howling seems like an instinctive behavior that can be triggered by specific sounds or situations. It may also be a way for them to communicate over long distances when barking isn't effective.
When it comes to singing along with humans, however, it's probably just a matter of enjoying our company — and maybe wanting to participate in a fun activity together!
Other animals can make noises in order to communicate with their owners, but dog howling is still considered a sign of a special relationship between humans and dogs.