Beagles are small, sturdy dogs with a lovely nature. Their size makes them good pets for families with children and they generally get on well with other animals too.
They are intelligent but fairly shy by nature, so they need owners who are patient and gentle with them.
They can be stubborn at times and some may tend to bark at strangers, but this is not always the case.
It's important to remember that all dogs need exercise every day, so make sure you take your dog out for a walk regularly.
If you don't have a garden then make sure you take your dog out for walks in public places where there are plenty of people around so that it doesn't get bored or lonely when you're not at home.
Beagles like to dig holes in the ground and chase rabbits and squirrels around the woods – they can be great fun to watch as they run around chasing after their prey!
Beagles are intelligent but single-minded; they can focus on a scent for hours at a time and will follow it until they find their quarry or are recalled by their master.
Beagles have an excellent sense of smell and use this to find food. They have a great sense of hearing, also coupled with great sight and sense of smell way above average.
They are a very vocal breed, so much so that baying sounds like crying to many people.
In this article you will find 5 reasons why beagle are great outside dogs.
---
1) Their Temperament
Beagles were originally bred for hunting hare and rabbit, so their instincts are to chase.
However, this does not mean that they will run off after anything that moves. Beagles love to be outside and enjoy being active whether it is playing fetch or sniffing out a trail.
Beagles are generally considered to be great outside dogs because they are so athletic and energetic.
The Beagle is a very energetic and playful breed. They love to run, especially in the great outdoors.
They are known as an outside dog, as they cannot tolerate being left alone for long periods of time, because they will start to feel lonely and depressed.
If you are looking for a dog that you can take camping with you or hiking and backpacking, then the Beagle is perfect.
They have excellent hunting skills which makes them an ideal hunting companion. Their small size makes them easy to take along on trips, so they are also good for owners who like to travel with their dogs.
Beagles have a long and storied history as hunting dogs, but in recent years they have become popular house pets. They are loyal and sweet-tempered, but also energetic and playful.
Beagles are known for their friendly nature and cheerful disposition. They are very social and get along well with people and other animals.
They make great family pets because they love children and can get along well with other dogs (although they may chase small animals).
---
2) They are Adaptable
Beagles are known as a very adaptable breed of dog. That's because they can live in a wide variety of climates and terrains. They're also really good hunters, which means they're going to want to be outside as much as possible.
But does that mean you can't have a beagle inside your home? Not at all!
There are some things you need to consider when deciding if your beagle needs to be an indoor or outdoor dog.
The most important thing is to make sure that your dog has plenty of room for exercise and playtime outside. This will help them stay healthy and happy.
Beagle owners are often surprised to learn that their dogs are so well-suited to life outside.
After all, the Beagle is known as a hunting dog and has been bred to track down prey by scent.
But beagles have other qualities that make them great outdoor dogs. They're adaptable and easygoing, so they don't mind the heat or cold.
Their short coats don't get too hot in the summer sun, and their thick undercoat keeps them warm in the winter chill.
Beagles love to play, and they enjoy digging in soft ground as much as they do playing with toys. If you're looking for a dog who will keep you entertained while you're working around the yard, this breed may be right for you.
The beagle was first bred to hunt rabbits, and it's still a good hunting dog. It has the ability to sniff out rabbits, then chase them down and hold them until the hunter arrives.
The beagle is also an excellent watchdog, with a loud bark that can be heard over great distances.
Because of its size and strength, the beagle can handle most other small game like rats and squirrels. The breed also has a great sense of smell and will track injured prey for miles before bringing it down.
The beagle isn't as good at hunting larger animals like deer or bear because of its small stature.
A pack of beagles may also have trouble taking down larger prey when hunting together because they don't have much teamwork experience.
---
3) They Make Good Watchdogs
The Beagle was bred to hunt rabbits, so it has strong instincts for chasing small prey animals. This makes them good watchdogs because they will alert you to any movement outside your home or apartment building.
A section about why beagles make good watchdogs and are good outside could include:
Beagles have an excellent sense of smell which makes them useful in tracking down missing persons or animals
They have an independent attitude that allows them to remain aloof from strangers while still keeping watch over their territory
Beagles are excellent watchdogs. They will bark to let you know if there is any suspicious activity going on around the house or yard.
Untrained Beagles may not be as a good as others outside dog because they will run away if given the chance.
They may also tend to dig up your flowerbeds or tear up your lawn while they are looking for small critters to chase down and kill.
If you plan to keep your beagle indoors, then this is not a problem at all. However, if you want an outdoor dog who can use its nose for hunting and tracking down prey, then this might not be the best choice for you.
Beagles are intelligent, loyal and friendly dogs who get along well with other pets and children.
They are affectionate, playful and very gentle dogs that enjoy the company of their owners and other people they meet on walks or in the neighborhood.
Their small size makes them ideal for apartment living, but if you have a yard, they love to play outside on a nice day!
---
4)They were bred to live outside
The Beagle was bred to live outside. The Beagle is a hunting hound, meaning that it was bred to hunt game such as rabbits, hares and rodents in the United Kingdom.
The Beagle cannot be trained to do its job unless it has been exposed to the outdoors.
The Beagle has a long history of being used for hunting purposes. In fact, the breed was developed in England during the late eighteenth century by crossing many different breeds of dogs.
It has been suggested that the Beagle may have been bred from Greyhounds, Foxhounds and Bloodhounds as well as Terriers and other types of hound.
When they were first introduced into North America, these dogs were used by farmers to control pests on their farms.
Today they are still used for this purpose but they are also kept as pets by people who enjoy owning these affectionate little dogs.
Their short coats make them a good breed for warm climates and they tend not to overheat in the heat of the summer.
Beagles will often dig holes in the ground or wallow in mud when it is too hot for them to be outside.
Beagles can live outdoors all year long, but when there is snow on the ground they may need extra shelter from the cold. You can build your own doghouse or use one that you already have available.
If you want your beagle to have more room inside its shelter, then consider adding insulation to keep him warm and cozy during the winter months.
---
5) They are independent
Beagles are very independent and suited for outside living. They like to be in the company of other dogs, but can be left alone for long periods of time. Beagles are very intelligent and can be trained easily.
They are friendly with strangers, but can become aggressive if not socialized properly from an early age. Beagles were bred to chase rabbits, so they love to run and sniff things out.
Beagles are very independent dogs, and they do not need to be walked or exercised every day.
They have a strong prey drive, so they will chase small animals such as squirrels, rabbits and birds. They also like to dig holes in the ground and make nests in them.
Beagles are generally good with children and other pets, but they may not tolerate being teased or pestered by toddlers. Beagles can be aggressive with other dogs if they feel that their territory has been invaded.
Beagles have a great sense of smell and will chase anything that smells interesting. Their noses are so sensitive that they often follow their nose into trouble.
A bored beagle will find something new to explore whether it's a hole in the fence or a rabbit hole in the yard!
---
F.A.Q.
Do Beagles get cold at night
Beagles do not have thick fur like other breeds and so they can get cold easily during the winter months.
Also, if your beagle is an older dog, then he may find it harder to keep warm in the winter months. This is because older dogs tend to lose some of their body heat more easily than younger ones do.
In order to stop your dog from getting cold at night, there are several things that you can do:
Give him/her plenty of bedding – When you go out at night, make sure that your dog has enough bedding in his/her bed so that he/she can snuggle down into it when it gets cold in the house.
This will help to keep their body temperature up and stop them from feeling too cold at night time.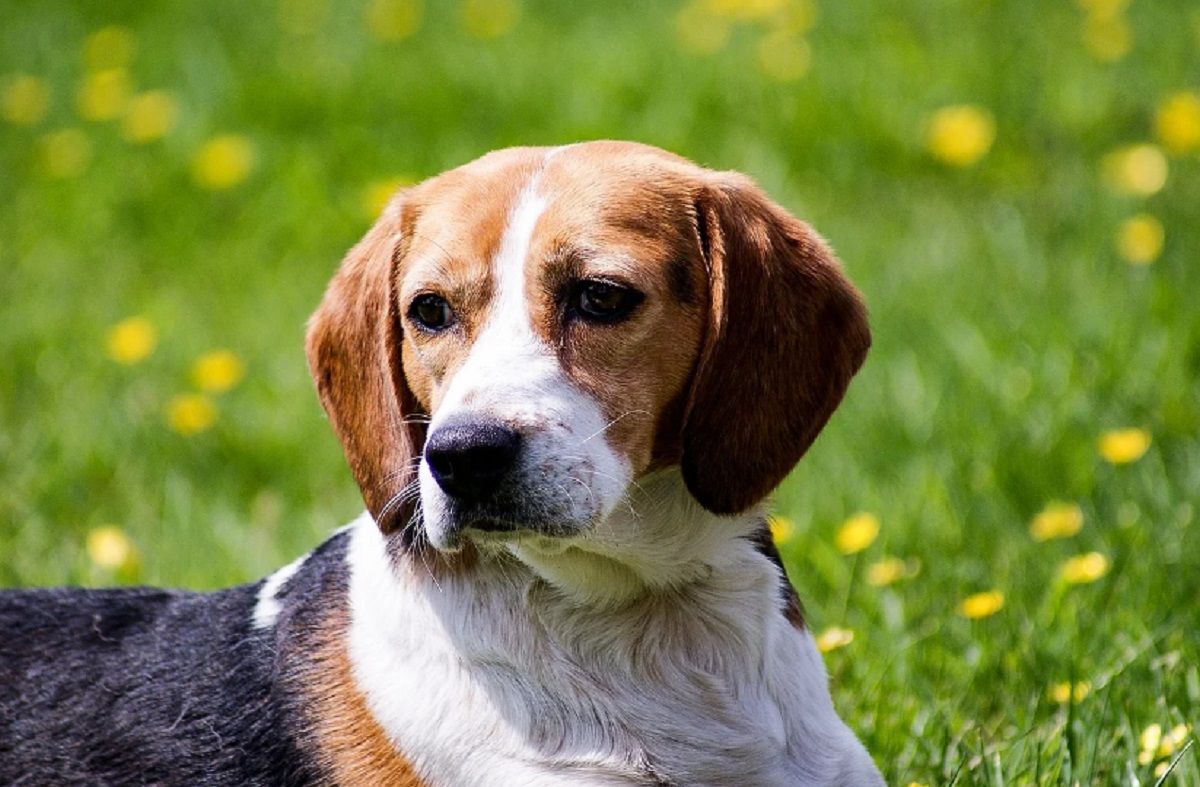 You can prevent this by adding a blanket or sleeping bag into the crate before bedtime or during naps. Another option is to buy a heated pad that can be placed in the crate or under your dog's blanket at night for extra warmth.
Otherwise you can keep them indoors. If you live in a very cold area, it's best to keep your Beagle indoors at night.
You can put them in a kennel or crate for added warmth, but make sure that it's big enough for them to move around freely and lay down comfortably. The size of their crate should be about half of their height so that they have room to move around inside of it.
What Temperature can a Beagle Tolerate?
The Beagle is a very adaptable dog and can tolerate most climates. The Beagle is a hardy breed that is not overly sensitive to heat or cold.
However, if you live in an area where temperatures are extreme (hot or cold), you should plan on taking extra care of your Beagle.
For example, if you live in an area that gets very hot during the summer, you should make sure that your Beagle has plenty of shade (or air conditioning) when outside.
If you live in an area where it snows a lot during the winter months, then you should plan on having snow removal equipment available so that Beagle can get outside and play safely.
Can Beagles Be Left Alone?
Beagles can be left alone for a few hours at home. They are not as needy as other dog breeds, so they are fine if left alone for a few hours.
However, if you leave your Beagle alone for more than 3 hours, it will get bored and tiresome. If you want to leave your Beagle alone for longer periods of time, you need to invest in some toys or treats that will occupy their time while you are away.
Beagles need companionship and attention from their owners. They are not considered to be an independent breed of dog, so they do not do well being left alone for long periods of time.
If you must leave your beagle at home while you are out, it is best to have another person come over to check on him or her at least once per day.
Some people have asked if they can train their beagles to stay home alone for short periods of time.
While this is possible with some dogs, it may not be possible with a beagle because their habit of wanting to follow their owners around wherever they go will make it difficult for them to stay at home alone without becoming anxious or depressed.
About Beagles
Beagles are a very popular breed of dog, and there are a number of reasons for this. Beagles are friendly, happy, and playful dogs that love to spend time with their family. They also make great apartment dogs. For the most part, beagles will adapt well to living in an apartment and can be content…

---