If you love dogs, you may have heard about the Tibetan Mastiff. A dog so big and powerful it was once used to guard herds of sheep from wolves and bears. But how big are they really?
Is the Tibetan Mastiff the biggest dog in the world?
In this article, we're going to look at the history of this famous breed and see just how large they can get. If you think your large breed dog is big, wait until you see these pictures!
The Tibetan Mastiff is a breed that has existed for thousands of years. This rare and ancient dog breed has been used as a guard dog for people and livestock. They are very intelligent and are known for their loyalty to their family.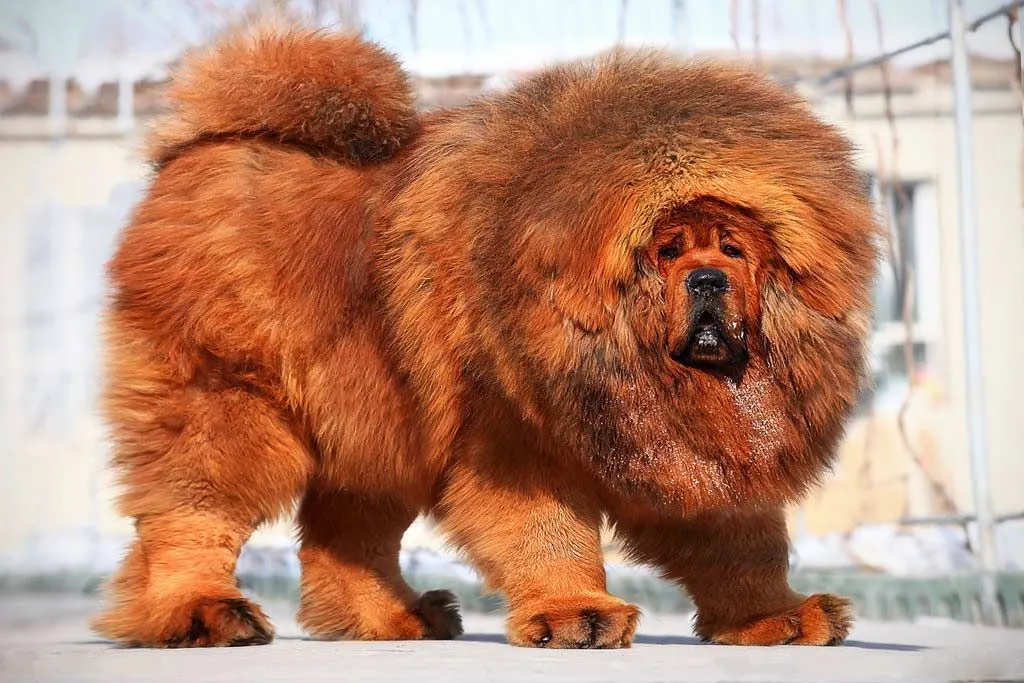 The Tibetan Mastiff is a large Tibetan dog breed belonging to the mastiff family. Originating with the nomadic cultures of Tibet, China, India, Mongolia, and Nepal, its use by local tribes of Himachal Pradesh was to protect sheep from wolves, leopards, bears, large mustelids, and tigers.
These dogs were also used for hunting wild boar and as guard dogs for livestock.
They can weigh up to 200 pounds! That's the same weight as some people!
Though this is not one of the worlds tallest dogs, it certainly is one of the largest dogs in the world by weight.
The Tibetan Mastiff is a huge dog, with males reaching an average height of 27.5 inches (70 cm) and 130 pounds (60 kg), however larger specimens have been reported to be around 200 pounds (91 kg).
While the breed is enormous and powerful, it's not the world's biggest dog — that title belongs to Great Dane. The tallest dog in recorded history was a Great Dane named Zeus, who measured 44 inches from paw to shoulder.
The Guinness World Record for the heaviest dog is held by another mastiff breed, the English Mastiff. One such dog named Aicama Zorba weighed 343 pounds, measuring 8 feet 3 inches from nose to tail.
Of course these kind of measures are very difficult to verify for 3 main reasons
The book is not open to submissions, so it relies on people contacting them with information. Not every owner who has a large dog reports it to Guinness.
The guidelines for measuring and weighing dogs are strict, so many owners don't have their dogs officially measured or weighed because they can't do it correctly.
Dogs need to be measured and weighed by a vet or someone with a similar degree in order for the measurements to be considered official by Guinness. This means there are often discrepancies between what an owner says their dog weighs versus what they weigh in an official capacity.
---
Are English Mastiffs bigger than Tibetan Mastiffs?
It is a pretty even fight i have to admit, even though an English Mastiff might get heavier than an average Tibetan Mastiff, this last one should always look bigger since it has got a way longer hair.
---
Are Great Danes bigger than Tibetan Mastiffs?
Great Danes are definitely taller, but not bigger or heavier on average.
Great Danes weigh an average of 150 pounds and stand between 30 and 34 inches tall, making them one of the largest dog breeds in the world. But they're not the biggest.
The Tibetan Mastiff is even larger. Males usually weigh between 140 and 180 pounds and stand 26 to 30 inches tall, while females are often smaller at 100 to 140 pounds and stand 24 to 28 inches tall.
Tibetan Mastiffs also tend to live longer than Great Danes (11-12 years compared to 8). However, this is considerably shorter than their potential maximum lifespan (12-14 years for Great Danes and 14-16 for Tibetans).
---
How big was the biggest Tibetan Mastiff?
The biggest Tibetan Mastiff on record is said to weigh over 440 pounds! (200kg), but there's no way to verify this, as the man who described a long time ago was the Italian traveler Marco Polo (1254-1324).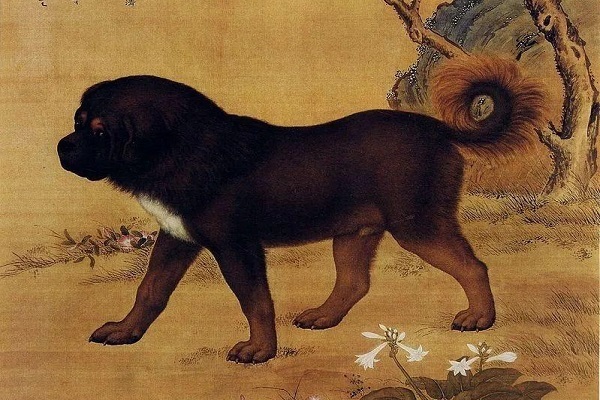 This might give you an idea of how old is this breed.
While the average Tibetan Mastiff weighs around 110-150 pounds (50-70kg), there have been reports of these dogs weighing up to 220 pounds (100kg)
---
Is the Tibetan Mastiff the strongest Mastiff Dog?
The Tibetan Mastiff is considered to be the oldest and the strongest mastiff dog breed. It is the most powerful mastiff dog in the world, with a bite force of 550 psi!
Tibetan Mastiffs have been used as guard dogs since ancient times; they were trained by monks who lived at monasteries high up in mountains where outsiders would never dare venture into or out of fear for their lives because these dogs would attack anyone who dared try.
Now you see why these dogs are so strong? They trained for centuries to claim that title!
The hard conditions of living, the amount of work they did, over time made their strenght second to none.
---
Is the Tibetan Mastiff Aggressive?
We just described the Tibetan Mastiff as a true devil, but only because we wanted to emphatize how big and strong they are and how much history they have on their back.
"Is a Tibetan Mastiff aggressive?" is a question I've heard from many prospective owners. As with any breed, there are vicious, unruly individuals and well-mannered animals.
The way a dog was raised often influences their behavior. Even the same dog can behave differently in different situations. Bad raising can affect dogs like the Tibetan Mastiff, with a very harsh backstory, to be even more aggressive.
Unfortunately, Some breeders have bred Tibetan Mastiffs for aggression, particularly in Asia. This can come from a misguided desire for more loyal guard dogs or simply because of ignorance about the breed.
A poorly socialized puppy can be much more aggressive than one that is taught how to behave around people and other animals. A poorly bred puppy may not respond to obedience training because they haven't had sufficient human contact during their early weeks of life.
The Tibetan Mastiff is a powerful and protective dog breed. They do require a lot of attention and need to be trained properly. But, when they are trained with passion, they can make the most loyal companions.
The Tibetan Mastiff can be considered aggressive due to their natural instincts. As a guard dog, they are naturally suspicious of strangers. If you don't train them with attention, they may become aggressive with other people and animals.
However, If you get a good breeder and socialise your puppy well, chances are that your dog will be fine with strangers. However, this breed is known for being protective of its owners and their property, so they may not be overly friendly to people they don't know.
If you want to know if your particular Tibetan Mastiff is aggressive, you should take a look at how it reacts in certain situations. For example, if you take your Tibetan Mastiff for a walk and another dog approaches, does your dog start growling or showing its teeth? If it does show aggression in this situation, then it might be considered an aggressive dog.
However, if the other dog walks away without being chased after your Tibetan Mastiff started growling or showing its teeth, then it's probably not an aggressive dog; it's just being protective of its owner and territory.
Tibetan Mastiffs are incredibly intelligent and loyal dogs, but they are also quite independent. This means that they need a strong pack leader to show them who's boss. If they feel like they're the alpha dog, they can demonstrate aggressive behavior. As you can tell they are also very territorial.
---
Why is the Tibetan Mastiff so expensive?
Tibetan Mastiffs, surely take the cake for the priciest dogs, because they are very rare, ancient, and only a few of them are pure blooded.
The Tibetan Mastiff has been a distinguished member of the dog family for more than 2,000 years. The breed originated in the mountains of Tibet and Nepal, where it was used to guard homes, livestock and monasteries. This breed is known for its large muscular body and rich black fur.
This breed of dog may have been the foundation for many other breeds, including the St. Bernard and the Great Pyrenees. It was introduced to England in 1847, where it was bred with many other types of dogs.
In Tibet, where the dogs were used as guard dogs due to their size and ferocity, only nobles could afford them. In 2007, the breed made headlines when a red Tibetan mastiff puppy was sold for more than $1 million in China.
In addition to its reputation as a fierce guard dog, the Tibetan Mastiff has also become famous as an expensive pet. It's been recorded that recently some dogs have sold for as much as $2 million dollars!
The Tibetan Mastiff has a very wide price range, from $1,000 to as much as $200,000 for a single pup. The high end of the price range is for dogs with excellent lineage and breeding.
The Tibetan Mastiff is a rare breed and is not typically found in your local dog pound or animal shelter. Because the breed is so rare, there are very few available at any given time.
There are several factors that affect the price of a Tibetan Mastiff:
Bloodline – The bloodline of the puppy's parents and grandparents will determine the quality of the dog. A higher quality dog with excellent bloodlines will command a higher price.
Color – Some colors, like black and silver, are more rare than others, which will push up the price.
Breeder – A reputable breeder with many years experience will command a higher price than a backyard breeder who does no health checks on his dogs.
---
Why are Tibetan Mastiffs rare?
Tibetan mastiffs are one of the most ancient dog breeds, and their population was never large.
They were even used in fights against wolves and bears. There was no place for these dogs in a modern city, as they are not capable of adapting to new conditions. And every breeder chooses to take care of rare breeds that have a high price on the market.
There are several reasons why Tibetan Mastiffs are rare. Although they have been popular in China for centuries, they are only now becoming more widely known in the West.
They were bred to be guardians of livestock, so they do not travel far from their home. Due to their natural protective instincts, it is difficult for many Tibetan Mastiffs to live with other animals or small children. However, if properly trained, most can fit well into different family environments.
Unfortunately, in recent years, many greedy breeders started to cross them with any breed making pure bloods more rare.
---
Are Tibetan Mastiffs illegal in China?
In the early 2000s, demand for Tibetan mastiffs was so high that they were selling for $2 million a dog. They were seen as a status symbol among Chinese elites and it wasn't uncommon to see one of these dogs being walked by a member of staff.
But with the rise of alternative luxury items such as designer clothes, cars and art, the demand for Tibetan mastiffs has declined dramatically. It is believed that there are now more than 15,000 Tibetan mastiffs in China who are homeless and neglected by their owners.
Chinese people still love dogs and spend over $7 billion annually on pets but the new trend is for smaller more manageable breeds. Recent legislation has also made it much more difficult to own larger dogs as many cities in China have banned big dogs from living in apartments or being taken out without a leash.