Beagles are generally known for being playful, energetic and boisterous. However, when they reach a certain age, beagles tend to calm down and become less active.
The average lifespan of a beagle is 12 to 15 years. An older beagle may not want to run around as much as he did when he was younger, but that doesn't mean he's necessarily more sedentary.
He will likely still enjoy walking or romping around in the yard with your other pets or children.
If you're wondering how old your beagle will start calming down, there isn't an exact age at which this happens with all dogs.
Some may never slow down and remain active until they die naturally, while others might begin to slow down around age 5 or 6 and some others more just by the age of 1 or 2.
As you might be able to tell, numbers can't really give us a realistic prospect, what you need to know is that beagles are a very energetic breed and can get quite hyper.
They need a lot of exercise and stimulation to keep them happy. It is not unusual for beagles to keep their owners on their toes by being hyperactive, but this can also be controlled by training and exercise.
There is no set time when your beagle will calm down. Each dog is different and has its own personality. Beagles are known for being energetic dogs that love to play and run around.
However, there are some things you can do to help calm your beagle down if they get too excited or hyperactive.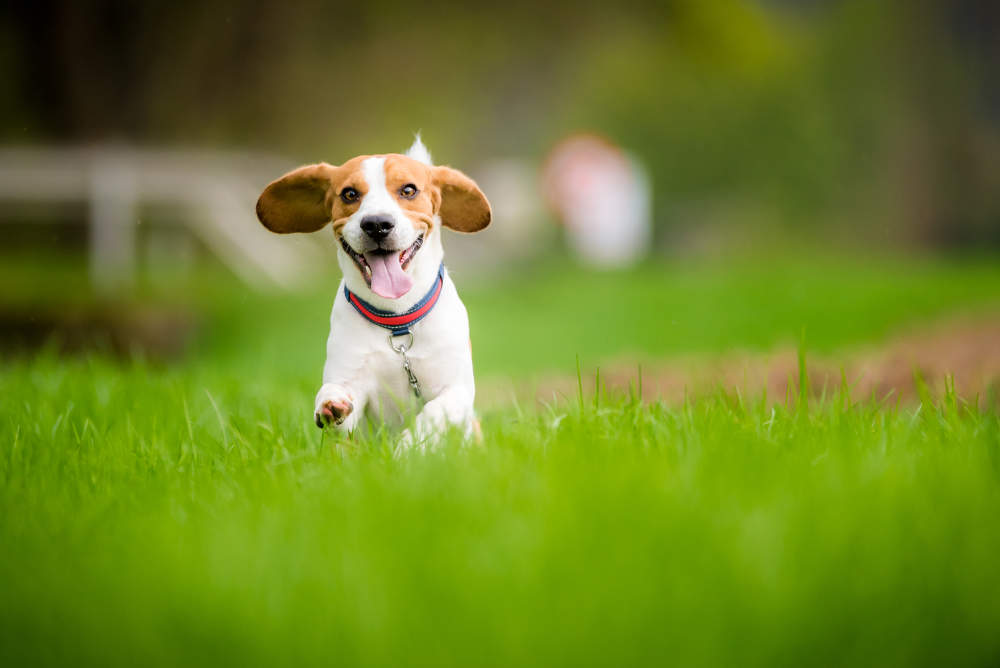 One way to help reduce their energy levels is by giving them plenty of exercises each day; this helps wear them out before they get too excited or hyperactive.
You should make sure they get enough exercise throughout the day so they don't become bored with just playing in one area of the house or yard all day long.
This will help prevent them from getting bored, which can lead beagles to be loud all day coupled with bad chewing habits towardsobjects around the house such as furniture or shoes!
---
Do Beagles get calmer with age?
Beagles, like most dogs with a high prey drive, can be high-energy and active. But they are also known for having a sweet personality.
If you've ever had the chance to meet a Beagle, you know that they have an irresistible charm. Even when they're running around at full speed, they seem to have an endearing way about them.
Unfortunately, there are many misconceptions about this breed that make it seem as though they are prone to being hyperactive and excitable throughout their life.
In reality, Beagles do mellow out with age and become more calm after reaching adulthood.
A Beagle reaches maturity at about 12 months old (1 year). At this point in their lives, their energy levels will be at their highest and they'll still need plenty of exercise on a daily basis if you want them to remain happy and healthy throughout their lives.
However, once they reach 2 years old (2 years), they start becoming more mellow than they were as puppies
Beagles are gentle and sweet-tempered dogs who love to play and have fun. They make excellent family pets because they enjoy spending time with people, but they need plenty of exercise and attention to prevent boredom.
Beagles do not do well in apartments or other small living spaces; they require a large yard or space where they can run free for at least an hour each day.
Beagles also love to hunt small animals such as rabbits, so it is important to keep them on a leash if you don't feel safe when you're walking them outside your home.
Beagles are known to be very friendly dogs. They are also very energetic and active.
As a result, they may become a nuisance to you if they do not get enough exercise. To avoid this scenario, make sure that you have enough time to play with your beagle each day.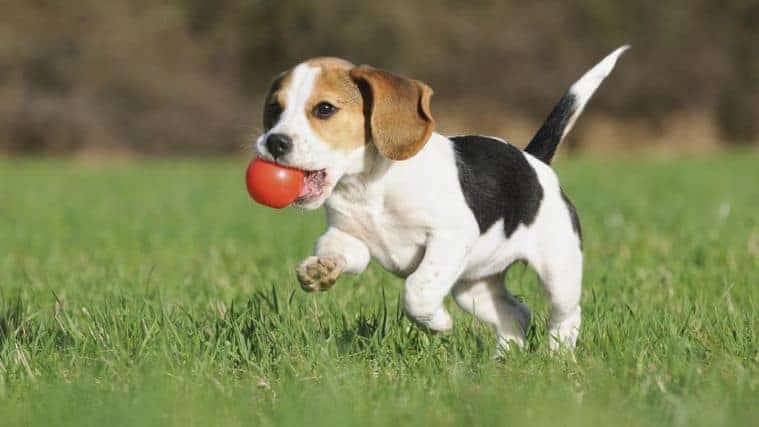 Beagles are also known for their tendency to bark a lot. If you let your beagle roam around the house freely, then it will most likely bark at every little thing that it sees or hears.
This can be quite annoying especially if you live in an apartment complex where there are many other people living around you.
Fortunately, these issues can be resolved by training your beagle properly from an early age onwards. If you start training your dog at an early age, then it will learn what is acceptable behaviour and what is not acceptable behaviour.
---
How do I get my Beagle to calm down?
You can't force your dog to calm down. Calmness is a state of mind for dogs, and you have to learn how to get into that state.
The first step is to understand what triggers excitement in your dog. Is it being around other people? Other dogs? Being on leash or off leash? Certain sounds? If you don't know what's causing the excitement, it will be hard for you to get your dog to calm down.
Once you've identified what causes excitement in your dog, you need to start working on calming signals that will remind her of when she's supposed to be calm — such as "sit" and "down." You can also use treats or toys as rewards for calm behavior.
Once your dog understands these signals, you can start using them in situations where she might get excited (such as going through a doorway). As soon as she performs a calming signal like sitting or lying down, reward her with praise and/or treats.
If she doesn't perform the signal right away but does after several repetitions, reward her anyway — even if it's not exactly what you wanted at first. Over time, your dog will learn the right way to get attention from people.
Beagles are a very energetic breed. They need to be kept busy and exercised regularly. If you want your Beagle to calm down, it's important to provide them with adequate exercise and mental stimulation.
You can help your Beagle calm down by:
Providing adequate exercise – Dogs are pack animals, so they need regular exercise to stay healthy and happy.
It's best if you can walk your dog at least twice each day, but even if this is not possible, try to give your dog more exercise than you would for a sedentary breed of dog. Regular walks will keep your Beagle active and happy.
Exercising with your Beagle – Playing games like fetch or tug-of-war will help tire out your dog and make it easier for them to relax once they get home from a walk or run around outside on their own time.
Playing with your Beagle – Playing with your dog is another great way to tire them out while spending quality time together as well!
There are many different toys available that dogs love playing with – such as Kongs filled with peanut butter (or other yummy treats) – which can be stuffed in the freezer for extra fun!
There are many ways to help your Beagle calm down. The most effective way is to have a structured routine for your dog, especially when it comes to feeding times and play time.
Beagles are very social, so they need plenty of time spent with their owners. You can also help them calm down by giving them a toy or bone and then leaving them alone while they chew on it.
This will give them something to concentrate on and take their mind off of whatever may be bothering them.
If you notice that your Beagle is acting overly excited or agitated, try taking him out for a walk or run around the block in order to tire him out physically.
---
Will neutering my Beagle calm him down?
Neutering your Beagle will not calm him down. There is a myth that neutering will calm a dog down, but this is not true. In fact, it can also cause your Beagle to be more aggressive and territorial.
Neutering is an important procedure for dogs because it reduces aggression, roaming, and the risk of testicular cancer in males.
However, there are many myths about neutering that can lead to complications if you do not know the facts about neutering.
One myth is that neutering makes a dog lazy and fat. This is not true at all! Neutering does not change your Beagle's metabolism or appetite at all.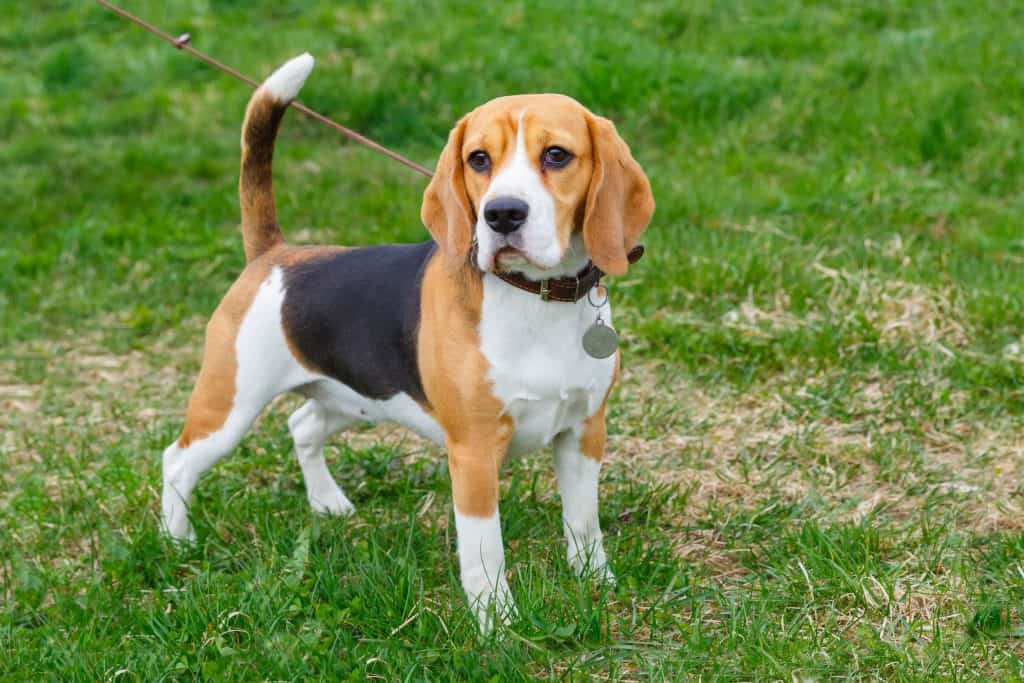 If anything, it may decrease abnormal behaviors such as urine marking and mounting other dogs or people; however, these behaviors are usually linked to other factors such as socialization or training issues rather than being caused by hormones produced by their testicles.
Another myth is that spaying female dogs will make them fat or lazy as well. Spaying does not change your Beagle's metabolism either; removing her ovaries does not affect her weight at all!
Neutering before puberty will not affect your Beagle's behavior or growth rate, but neutering after puberty may change these things.
If you are unsure about whether your pet has reached puberty, ask your veterinarian for advice or take him/her to see an experienced veterinarian who can make an assessment based on his physical characteristics and development stage.
Neutering can help reduce the risk of certain types of cancer, such as prostate cancer and testicular tumors. It also prevents spraying, roaming and aggression in some males.
Some owners choose to neuter their male dog just before he reaches sexual maturity to prevent unwanted pregnancy in females that are not spayed.
Neutering may cause some behavioral changes, such as increased submissiveness, but it does not change a dog's basic personality traits, such as intelligence level or energy level.
---
How long do Beagles act like puppies?
Beagles are a small breed of dog that was originally bred to hunt rabbits, but has since become famous as a household pet. Beagles are known for their tails wagging constantly. They also have a strong sense of smell and are very intelligent.
Beagles tend to act like puppies throughout their lives. They enjoy playing with toys, chewing on bones and running around in circles.
Beagle puppies can be very hyperactive, which means they can be difficult to train. However, once trained, they make excellent companions for older children and adults alike.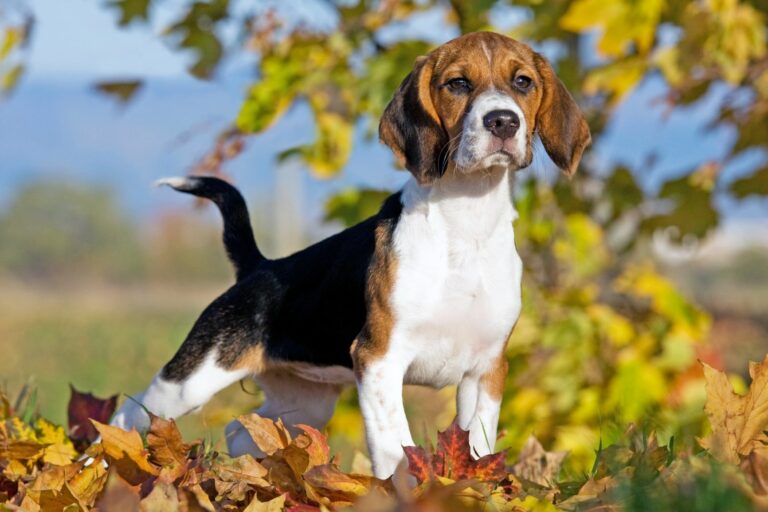 Beagles were probably first bred in France during the 17th century and were later brought over to England by Charles II during his exile from France in 1660.
They were originally used for hunting rabbits, but soon became popular as pets due to their friendly nature and devotion to humans.
Nowadays, Beagles are a very popular breed of dog. Due to their friendly, affectionate nature and their size, they make excellent family pets.
Beagles are often referred to as the "nose-to-tail" dogs because they have such a strong sense of smell that they can be used to hunt rabbit and other game animals.
Beagles generally become mature around two years old or older, depending on their environment and health. The average lifespan for a Beagle is 12 years or more.
Beagles are very playful dogs that love attention from their owners. They also like to play with other dogs and will do well in homes with children if properly socialized from an early age.
Beagles are known for their ability to track small game such as rabbits and squirrels, but they can also be trained to follow human scents too, because of their great abilities, they are often used as K9 dogs.
---
How do you discipline a Beagle puppy?
Beagles are among the most popular dog breeds in the world, but they can also be one of the most stubborn and difficult to train.
If you're looking for a Beagle puppy or adult dog, there are some things you should know about their training and behavior before bringing them home.
Beagles are very smart dogs that love to learn and play games. They're also very friendly, but they have a lot of energy and need plenty of exercise each day. This is especially true when they're young puppies!
Because Beagles are so smart, training them can be easy if you use positive reinforcement techniques like praising them when they do what you want them to do.
You should never hit or scream at your dog because this will make him afraid of you and he won't want anything to do with you afterwards!
Instead, use treats as rewards for good behavior and praise him when he does something right by saying "good boy" or "good girl." Don't forget to give him lots of cuddles and attention during this process.
Beagles are one of the most popular breeds in the United States and they make great companions for families with children and other pets. However, these dogs can be difficult to train due to their stubborn nature. Here are some tips for training your Beagle pup:
Make sure your puppy has plenty of toys to play with during the day so he doesn't get bored or frustrated when you're not around
Serve meals at regular times every day and don't give him any snacks between meals
Keep his crate door closed at all times except when you're preparing to feed him or take him out; otherwise, he may try entering it on his own accord and ignore your commands when he sees it opened.
Use positive reinforcement to train your puppy. Reward good behavior with treats, praise or playtime.
Spend time with your puppy every day so she learns how to behave around people.
Exercise your puppy before you start training sessions so she's tired out when you begin working with her.
Don't let a poorly behaved Beagle have free run of the house until she knows basic commands like sit and stay.
Beagles are known for their strong sense of smell and their tendency to follow scents wherever they lead.
If you want to teach your Beagle not to dig up your garden or chase after cats and rabbits, you will need to use positive reinforcement techniques such as treats and praise.
This way, it will be easier for your Beagle to learn what behaviors are acceptable in the household.
You can also use negative reinforcement by giving your Beagle time outs when it misbehaves or by not allowing it access to certain areas or objects until it learns better manners.
It's important that you make sure that the consequences for bad behavior aren't too severe — otherwise your dog will become afraid of you rather than eager to please you.
---
Can Beagles be trained off leash?
Beagles are known for their sense of smell and tracking ability. But can Beagles be trained off leash?
The short answer is yes. Beagles are very intelligent and eager to please dogs, so they will learn quickly if you take the time to train them properly.
However, training a Beagle off leash requires a lot of patience and consistency on your part.
My suggestion is to get also a professional trainer involved with such a breed!
In order to train your beagle off leash, you'll want to start by teaching him how to come back when called using a special command word such as "come" or "here".
The best way to do this is by using treats as rewards whenever he comes back on command so that he knows what you're rewarding him for doing so.
The best way to train your Beagle off leash is by doing it in a safe environment such as your backyard or a park where there are no distractions around.
Once your Beagle has learned some basic commands such as sit, down, stay and come here then you can start teaching them how to stay put while you walk away from them while they're on their leash.
When you see that they are staying put then release them from their leash so they can run free but remain close by at all times so that if they do get distracted by something like another dog or animal then you can easily call them back over to you.
Beagles are hunting dogs and when they are allowed to roam free, they will hunt whatever moves. This often includes cats, squirrels and anything else that catches their eye.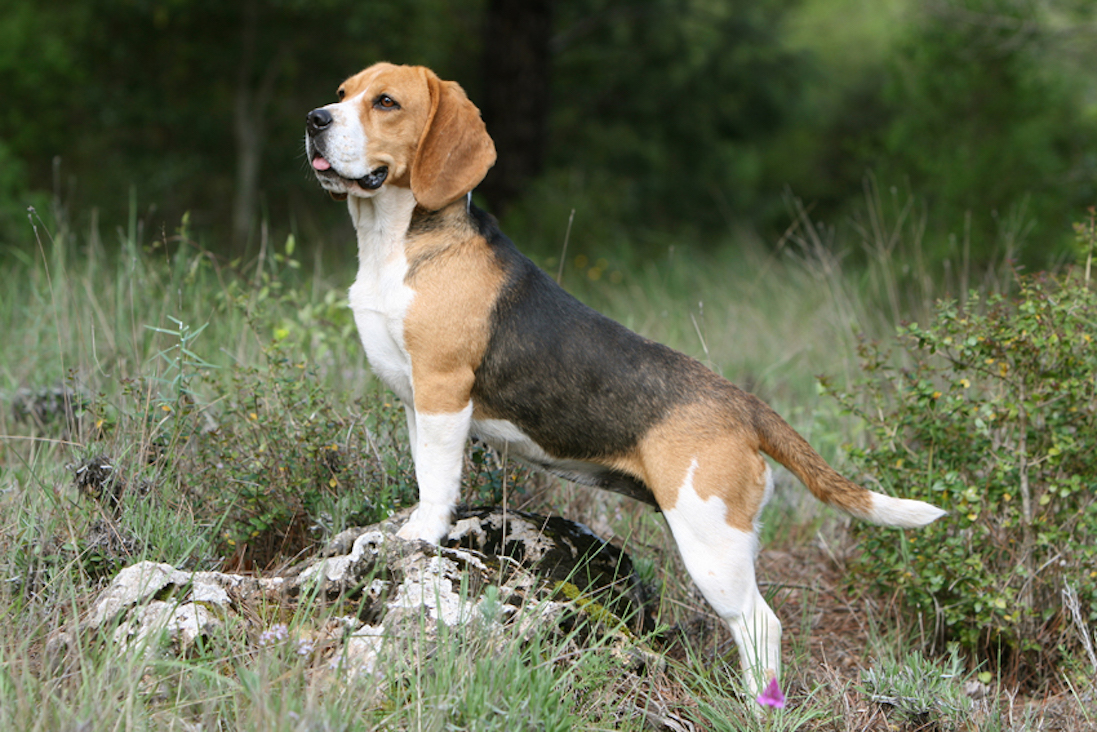 It's important for owners to keep their beagles on a leash when they have them in their yard or on walks in order to prevent these problems from occurring.
Beagles also tend to get into trouble when they are loose because of their desire for food. Beagles have been known to break into trash cans and eat things like meat scraps or other foods that may not be good for them.
This can cause serious health problems if it isn't addressed right away (for example: diarrhea).
This breed is known for following their nose and tracking scents, so, if you don't feel particularly safe when walking with them, it is important to keep them leashed when they are outside.