Many people don't understand the true nature of pit bulls. They believe that all pit bulls are aggressive monsters that want to fight and kill everything they encounter. This couldn't be further from the truth.
The truth is that any dog can be aggressive, but it's up to the owner to train and raise their pup in a way that makes them confident, friendly and obedient.
Pit bulls are very loyal dogs who love their owners with all their heart. They're also one of the most misunderstood breeds out there.
People often forget that these dogs were originally bred as fighting dogs — not pets — so it's no wonder they get a bad reputation when they try to defend themselves against other animals or people who threaten them or their family.
Many people are scared of pit bulls because of how strong they are. While this makes sense in theory, it should be noted that many other large dog breeds (such as German shepherds) also have a reputation for being aggressive towards humans.
So why do people hate pit bulls? The answer is simple: because they don't know anything about them!
While it's true that there have been some reports of pit bulls attacking people, those incidents have occurred at the hands of humans who have abused or neglected their dogs.
This is why we need to focus on responsible pet ownership and hold owners accountable for their actions.
There is a high percentage of incidents involving pitbulls, the truth is that, unfortunately, these dogs are very popular among criminals and people who don't really look at them as pets but more as guards or "weapons".
These dogs are often raised with very though manners, often locked in cages with very few food and water. The only time they are allowed to go out is to fight other dogs.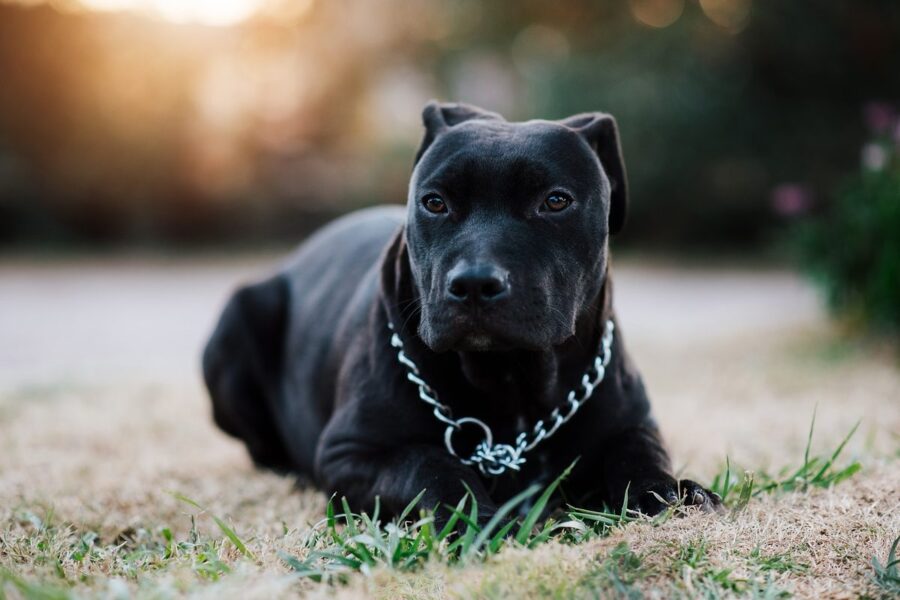 Any dog living a life like this will grow aggressive, it is not something concerning the breed, it is about how you treat your dog and how you raise it.
Some owners don't treat their pit bulls properly, and some dogs have been trained to be aggressive toward humans.
That's why some people are afraid of pit bulls — because they've heard that they're dangerous or unpredictable.
But there's no scientific evidence that pit bulls are any more likely than other breeds to hurt someone unprovoked.
---
When did pit bulls become hated?
Historically, pitbulls have been associated with dog fighting, which was a popular sport among young men in the 19th century.
It's true that there were no restrictions on who could own a fighting dog until the 1970s, but it's also true that pit bulls were always more likely to be owned by poor people who couldn't afford to keep them in good health and cleanliness, and then abandoned them when they became too old or sick to fight anymore.
The breed was originally used for dog fighting and baiting bulls. Today it's one of America's most popular family dogs, known for its friendly disposition, playfulness and loyalty to its owner.
But it's also been the target of a propaganda campaign that has made it the most feared and misunderstood dog in America — so much so that even well-behaved pitties are being put down just because they look like one.
In the late 1800s, when bull-baiting was outlawed in England (due partly to the efforts of animal rights activists), the owners turned their attention to dog fighting as an alternative way to make money off their animals.
Dog fighters crossed mastiffs with terriers to create a new breed that could be trained quickly and easily without being overly aggressive toward other dogs or people. The result was the American Pit Bull Terrier — a strong yet docile dog that won many matches.
Around 1900, however, dog fighting became illegal in England as well; so owners began exporting their dogs to America where dog fighting will still be legal until the late 1970s.
Pit bulls were bred to be tough, athletic dogs that would fight other animals for entertainment or sport.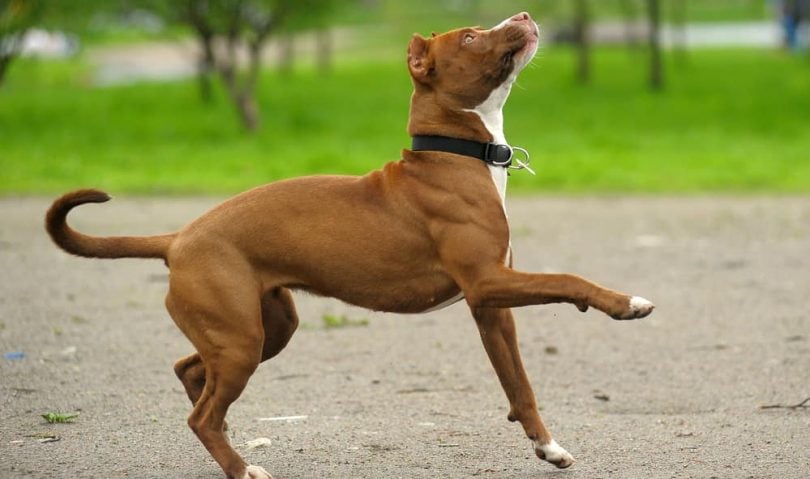 The American Pit Bull Terrier was first recognized as a breed by the United Kingdom in 1898, and later by the American Kennel Club (AKC) in 1936.
But it wasn't until the 1980s that pit bulls became associated with aggressive behavior toward humans.
Theories about why this happened vary widely and include everything from bad parenting to poor breeding practices.
Some believe that people who want to own aggressive dogs gravitate toward pit bulls because they are more affordable than more carefully bred breeds like German shepherds or Rottweilers; others argue that irresponsible owners have created a vicious cycle of abuse and neglect that has led to attacks on people by their pets.
---
Are pit bulls inherently vicious?
Critics of the breed say there's no such thing as a "friendly pit bull," while advocates say there are plenty of lovable pups among the hundreds of thousands of dogs being euthanized every year.
A third group says that while some breeds may be more aggressive than others, it's impossible to tell how an individual dog will behave based on its breed alone.
It has been said that pit bulls are inherently vicious. This is not true. The reputation of the breed comes from a small number of bad owners who train them to be aggressive.
There is no evidence that pit bulls have a higher tendency for aggression than any other breed of dog.
It's important to note that these dogs can be very dangerous when trained to be aggressive, but it's also clear that many people who own pit bulls never train them to be violent or aggressive in any way.
The pit bull's popularity has risen in recent years with the rise in popularity of dog fighting and other illegal activities involving the breed.
The myth of the aggressive pit bull has been perpetuated by such groups as PETA who want to ban all breeds deemed dangerous from existence.
I suggest you to never listen or pay much attention to this nonsense. In fact, even though many people consider them to be aggressive dogs, it's not absolutely true that they're more likely to bite than other breed.
In general, dogs tend to bite when they're provoked or threatened by another animal or person.
If you look at two well behaved dogs, a Pitbull and a Chihuahua for instance, you might notice that the much more prone to biting and aggressive behaviors is actually the Chihuahua, because it is naturally more fearful than pitbulls.
The truth is that dogs are not inherently vicious. They can be trained to be vicious, but they can also be trained to be gentle and loving companions.
The same goes for pit bulls. They're not inherently vicious dogs; they're just like any other dog in that regard.
---
Do Pitbulls suddenly snap?
The media has a lot to answer for when it comes to negative perceptions about Pitbulls. There have been many reports of attacks by pit bulls on humans and other animals over the years, which is why many people fear them so much.
However, these attacks could have happened with any type of dog, not just pit bulls! Some people also believe that all pit bulls have an innate desire to harm people, but no such things exist in any animal.
Pitbulls are not inherently more dangerous than other breed of dogs. They are often stereotyped as dangerous because they have a reputation for being aggressive and they are very loyal to their owners.
They also have a strong sense of territory and will defend it if necessary.
Because of these characteristics, pitbulls can be unpredictable in stressful situations and may bite if provoked or threatened by an unfamiliar person or animal.
If you own a pitbull and someone else feels threatened by your dog, they may react aggressively toward it (even if the dog did nothing wrong).
It's important that you understand how to handle situations where your dog may be perceived as threatening by others so that you can avoid unnecessary confrontations with people who don't understand how to interact with dogs properly, especially when children are present.
---
Are Pitbulls really unpredictable?
Pitbulls are not unpredictable. They are very loyal, loving dogs that make great companions. The only dogs that are unpredictable in nature are those that have been abused or neglected by their owners.
Pitbulls do not bite more often than any other breed of dog. The only reason we hear about them is because they are labeled as a "dangerous" breed and often picked on by people who want to hurt or kill them for no reason at all other than the fact that they look scary or mean.
Dogs are like humans in many ways when it comes to personality traits, but there is one thing that separates us from them: Dogs cannot lie!
If your dog has a bad temper, you will see it right away in his eyes and body language because he will be showing signs of aggression before he even starts growling or barking at you!
If your dog is acting aggressive towards another dog or person, you must take action immediately and remove him from the situation if possible so he doesn't harm anyone else!
The media has portrayed them as vicious and violent animals. They have also created myths around these dogs that have made people fearful of them. This is why we are going to debunk some of these myths about pitbulls.
---
Are female pitbulls less aggressive?
It is a common misconception that female dogs are less aggressive than their male counterparts. This is not true, as the instinct to protect their young and territory is just as strong for females as it is for males.
The difference lies in the fact that females can be more protective of their puppies and will often act more aggressively when protecting them from harm.
This is why most dog bites occur from female dogs rather than males. The good news is that once the puppies are weaned, this instinct wanes and they become less protective over time.
Another reason why you might see more aggression from a female pitbull is because they are more territorial than males.
You may have seen this if you have ever walked past an occupied litter box before or after your dog has used it; she will act aggressive towards you – even though she doesn't know who you are!
This is because she knows exactly where her litter box is and doesn't want anyone else using it!
There are many myths surrounding female dogs, and pitbulls are no exception. The fact is that male and female dogs behave differently, and this can be seen in their aggression levels.
There is no evidence to suggest that male and female dogs differ in their propensity to attack or bite humans.
Some people believe that female dogs tend to be less aggressive than males, but there is no scientific basis for this belief. In fact, there is some evidence that male dogs may be more aggressive than females in certain situations.
It should be noted that the belief in female passivity does not apply to all breeds of dog.
For example, it has been shown that males of some breeds (like German Shepherds) are more likely than females to show aggressive behavior toward other dogs while on a walk with their owners.
---
Do pitbulls like to cuddle?
Pitbulls are very loyal and affectionate dogs. They love to play and go for walks, but they also enjoy cuddling with their owner.
In fact, pitbulls are very affectionate dogs that can live peacefully with humans and other pets in the family. Some people believe that pitbulls are dangerous because of the bad reputation they have acquired over the years.
However, this is not true at all because pitbulls are not aggressive dogs but rather loving ones.
If you have an older pitbull who was abused before he came into your home, then he may not be as affectionate as other dogs. It can take time for him to adjust and learn how to trust again.
However, most pitbulls who were abused or neglected really just want love and attention from their owners so they can feel safe again after being hurt by someone else.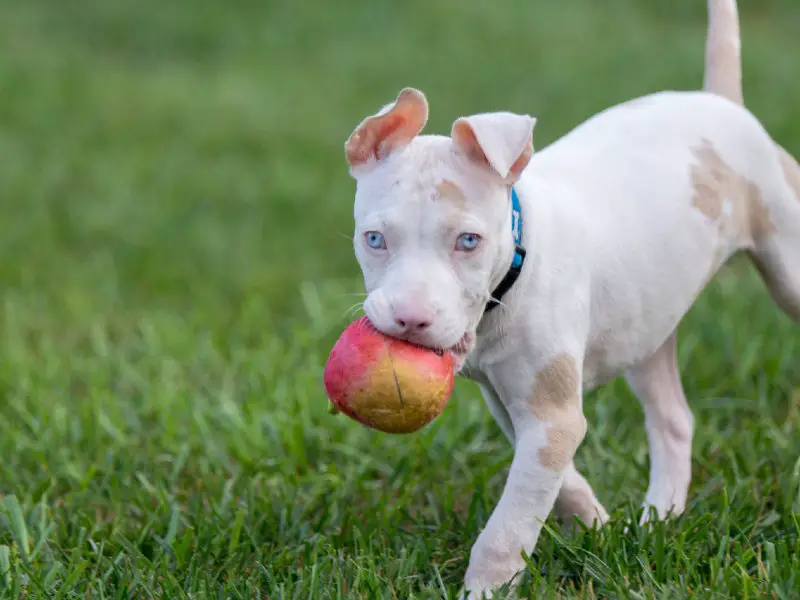 Pitbulls are very affectionate and loving dogs. They like to be around people and do not like to be left alone for long periods of time. Pitbulls are very good with children and other pets if they are raised with them from a young age. They will protect their owners if they feel threatened or in danger.
Pitbulls love to cuddle and snuggle up with their owners on the couch or bed at night. If you allow your Pitbull to sleep on your bed, make sure it is not too big for him/her so they don't hurt themselves trying to get comfortable!
If you have an older dog that doesn't like to play as much as they used too, don't worry! They still love you just as much as ever!
---
Are pitbulls safe around children?
Pitbulls can make great pets for families with children, as long as you take the time to properly train them.
Pitbulls make great family dogs because they love kids and are very loyal. If you have children in your family, you will want to make sure that you have plenty of time set aside for training sessions so that your pit bull understands his place in your home.
if you raise your pitbull from a young age and train him properly, he will not be aggressive towards children or other pets in the home.
Pitbulls are very playful and energetic dogs who love to play with children and other dogs. They are very loyal companions who enjoy spending time with their owners no matter what activity they're involved in at the time.
Pitbulls are great dogs but they are a high maintenance breed and not for everyone. The most important thing is to get your dog early and socialize them to other people and animals, especially children.
If you have kids, you need to understand they will be rough on your dog, so if you have an aggressive dog or one that has been abused in the past it may not be a good idea to bring them around kids until they are older and more mature.
The biggest problem with pitbulls is that when people get one for protection or as a status symbol, they often don't train them properly and don't socialize them from birth.
They end up being aggressive towards other dogs and people. I've seen many cases where pitbull owners were charged with manslaughter after their dog attacked someone who stepped on their property or walked by on the sidewalk.
In most cases it was because they didn't train the dog properly or didn't socialize it from birth.
If you're considering adopting a Pit Bull Terrier puppy, please make sure that if you have children in your home that there will be no problems between the two species.