St. Bernards are one of the most recognizable dog breeds in the world, thanks to their large size, shaggy coats, and reputation for rescuing people from avalanches.
These giant pups aren't known to be quick as a whip, but they make up for it in personality and charisma.
They are also known to be great family pets, so they're not just big balls of fur that drool a lot.
However, most people don't know that St. Bernards didn't actually have kegs of brandy tied around their necks until the 1800s.
The history of the St. Bernard breed is a bit confusing and there are many versions of their origin story.
The most commonly accepted story is that they were bred by monks at the Hospice of St. Bernard, a monastery located near the Great St. Bernard Pass in Switzerland.
The pass was a dangerous route over the Alps, and travelers would have to cross it in order to get from Italy to Switzerland. The monks took care of travelers who had gotten injured or lost on their way through the pass by providing them with a place to stay for the night and food and water for their journey.
The monks probably used these gigantic dogs to protect and guide travelers passing through the pass on foot or horseback. The dogs were also trained to find and rescue travelers buried in snowdrifts during avalanches and bad weather.
---
---
St. Bernard Brandy Barrel Myth
The image of the dogs with a barrel is mostly fictional. The real-life dogs did carry supplies across their necks to help those who had been caught in an avalanche, but instead of brandy it was usually wine or milk.
They also sometimes carried food and blankets. However, these supplies were kept in an old-fashioned side bag, not a barrel.
The legend of the brandy barrel is a myth that began in the 1880s with Albert Heim, a Swiss geologist.
He was examining the skulls of Saint Bernards, and noticed that many had been crushed. He implied that this was because they fell through ice on glaciers when they were trying to find people who were lost. The crushed skulls supposedly proved that they died trying to save others.
Albert Heim's story, which was picked up by other publications around Europe, never actually included the brandy barrel, but it was still attached to St Bernard history as time passed.
Perhaps the first person to mention a barrel of brandy directly was Albert Smith, a British writer, who published an account in 1856 about his travels over the Alps.
His book included an exaggerated version of a story about the Hospice of Great Saint Bernard Pass and its dogs. His account included a dog carrying a small keg strapped to its collar. The keg supposedly contained rum or brandy for travelers who were lost in the snow.
Later writers and artists embellished on this idea and changed it so that the keg would be used by people who were lost in avalanches.
The legend goes that these dogs could smell people buried under snow, and could save lost people by providing them good old alcohol, considered the same as a medicine back then.
Saint Bernards were also popularized by paintings and literature, which helped to make them one of the most popular breeds in America during the early 20th century.
Nowadays, they are less common but still recognizable thanks to their imposing size and heroic past.
The St. Bernard has long been a popular icon in the world of cartoons, movies and TV shows. The dog is generally portrayed as a gentle giant and the barrel around their neck is often filled with something: either medicine or alcohol.
But did you know that the St. Bernard dog breed was rarely actually used for rescue missions in avalanches?
They were used as guard dogs at a monastery in the Swiss Alps, but rescue missions were never their specialty.
For many years, it was believed that the only function St. Bernards had was to carry small barrels of brandy around their necks to revive travelers they found lost in snowstorms.
---
Can Saint Bernard be a guard dog?
Saint Bernards are large dogs, with a thick coat and some impressive facial hair. With their long history and reputation as mountain rescue dogs, these pups have the eyes of an angel and the body of a strong, protective guard dog.
While Saint Bernards are known for their sweet temperament and friendliness, they can serve as guard dogs when properly trained.
Just because they are sweet doesn't mean they are not strong enough to defend your family!
These dogs get attached very quickly, especially to children, this is why even though they are not aggressive breeds they surely won't get back in a dangerous situation, and thanks to their size and thick coat can be a very tough match for any other dog or person.
---
Is St. Bernard a good family dog?
The St. Bernard is a friendly, patient, loyal family dog with a loving personality. The breed can be good with children when raised with them from puppyhood.
It's important to supervise interactions between a young child and the large St. Bernard because the child can easily be knocked over by the dog's size.
The St. Bernard should be well socialized as a puppy for it to grow into a friendly, outgoing adult dog.
The breed does not make to the most agile of watchdogs but will bark to alert its family if it detects something unusual in its environment. It's not uncommon for two or more St. Bernards to bark together in what is known as "the tuck."
Because of its size and energy level, the St. Bernard requires plenty of exercise and is not well suited for life in an apartment or condominium.
The best home environment for this breed would be one with a large yard where it can run around with you.
The St. Bernard loves cold weather so if you live in an area that gets lots of snow, your Saint will love it there!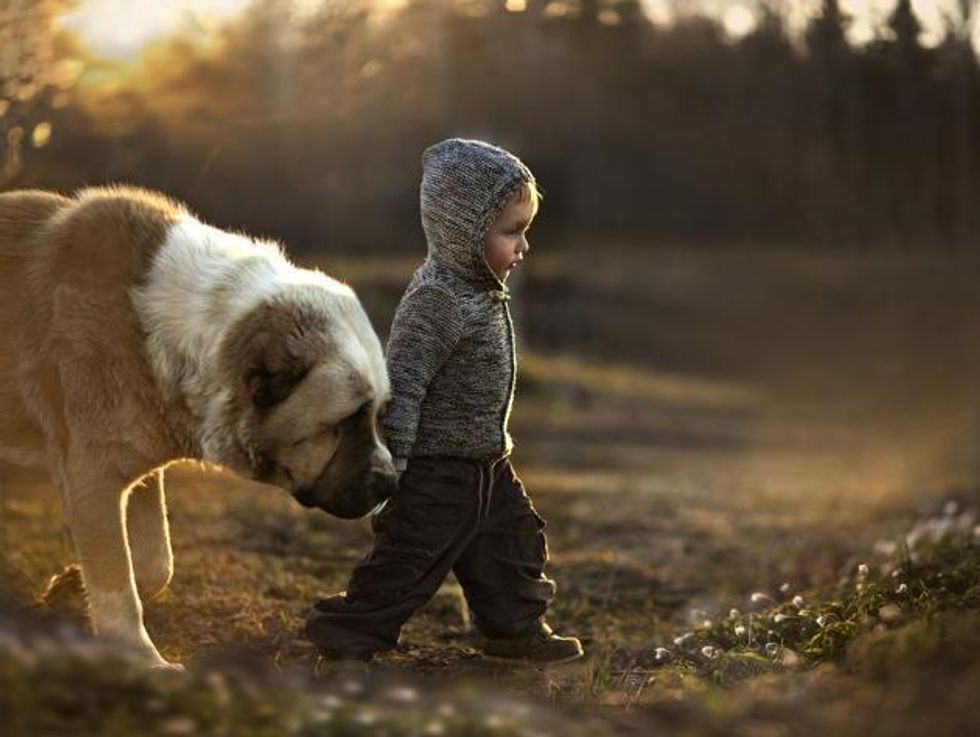 ---
Are St Bernards clingy?
It might depend on your dog but, these dogs can be very clingy and are prone to separation anxiety.
St. Bernards have been bred for hundreds of years to live and work in packs, so they have a strong social instinct.
If you're out at work all day and don't have another dog to keep them company, they will pine for you when you're not there.
If left alone for long periods, they may turn to destructive behaviors such as chewing or digging, especially if they suffer from separation anxiety.
The best way around this is to provide your St Bernard with lots of attention and exercise when you are present, which will help them cope better when you're not there. It's also important to try and get another dog if possible.
They can definitely be clingy at times, but this doesn't mean they are needy.
St. Bernards are actually very independent dogs. They don't want to be with you all the time.
They want some space to be alone and sniff around, but because of their nature they tend to follow their humans around, wherever they go. That's true of most dogs, but it's especially true of St. Bernards.
---
Do all Saint Bernards drool a lot?
All dogs drool to some degree, but not all dogs drool a lot. This depends on the individual dog. The Saint Bernard has a super-sized head with a deep or 'flews' mouth, which results in more drool.
There is an exaggerated amount of loose skin around the jowls and mouth that better accommodates larger quantities of saliva without spilling out.
The Saint Bernard is also very known and famous for drooling. Unfortunately, the answer is yes, all Saint Bernards drool a lot.
They also may slobber after drinking water or when they're nervous or excited.
The exact amount varies from dog to dog, but there's no such thing as a dry-mouthed Saint Bernard.
If you are looking for a breed that doesn't slobber or drool, definitely this isn't the right breed for you.
Why do some dogs drool? It's a good way to keep cool. Dogs don't sweat through their skin, so they pant to regulate their body temperature when they're hot. The saliva on their jowls evaporates and cools them down.
---
How much does a Saint Bernard shed?
A Saint Bernard sheds a lot. In fact, they are renowned for it. The first thing most people ask is how much they shed, and the answer is: considerably more than most other breeds.
A daily brush will help to reduce the amount of hair around the house, but if you're looking for a dog that doesn't shed at all, there are plenty of other breeds that would be better.
When it comes to shedding, there are many factors that play into your pet's fur loss. The amount and frequency of dog shedding varies from breed to breed, but even individual dogs within the same breed can vary in their shedding tendencies.
The Saint Bernard is a seasonal shedder. That means that not only will your Saint shed more during a few months of the year, but they will also shed less during other months.
Most breeds of dogs will shed more in the spring and fall depending on the climate that they live in, and then shed less in the summer and winter months.
Because of the Saint Bernard's thick coat, they require lots of brushing, especially during their heavy shedding periods. So make sure to keep your grooming tools handy!
Milder climates may cause your St. Bernard to shed less overall than their counterparts who live in colder climates. If you notice that your Saint sheds a lot more than what we have described above, it could be due to poor nutrition or stress.
Omega 3 – 6 Foods are the ones often indicated against shedding, you can check them in the list we made about healthy foods for dogs.
The easiest way to clean up after a Saint Bernard is to use a lint roller.
Running your hands through its fur isn't terribly effective, because most of the hair is caught in the undercoat.
Be sure to check behind furniture and in corners of rooms, where loose hairs tend to collect.
---
How big do St. Bernard's get?
St. Bernards are pretty big — and they get quite a bit bigger than you might expect. The average male is between 130 and 180 pounds, while females typically weigh in between 110 and 140 pounds.
As you can probably tell by now, St. Bernards are not the kind of dog you want if you live in an apartment or small house. They need space to run around and play!
---
Why do St. Bernards have red eyes?
Have you ever wondered why St. Bernards have red eyes? You're not alone.
Some dogs have a tendency to roll their eyes, which makes the blood vessels in the whites of their eyes visible.
This is known as "hazel eye" or "red eye", and it's generally more common among certain breeds, such as St. Bernards, Doberman pinschers, German shepherds, Alaskan malamutes and huskies.
These breeds tend to have more prominent blood vessels in the whites of their eyes than other dogs do. The whites of the eyes are actually a membrane called the conjunctiva that covers the eyeball and inner eyelid.
So when these dogs' blood vessels dilate, they become noticeable to us humans as red-tinted eyeballs.
St. Bernard's deep-set eyes may make them look darker than they really are, but the breed's eye color is not unusual. Most dog breeds have eyes that appear to be a different color in photographs than they do in person.
Saint Bernard's eye color and coat are related: They come in only two coat colors — red and white, or red, white and brown. That's why St. Bernards have red eyes. The shade of their coats determines the color of their eyes.
---
Are St. Bernards still used as rescue dogs?
We can say that even today there are still St. Bernards actively working as rescue dogs.
But it's important to note that not every St. Bernard is fit for rescue work — they must be bred and trained specifically for the job.
A dog bred simply to be a household pet may not have the necessary skills, temperament or health required to work as a rescue dog, although they may make excellent family pets and companions.
These days, most rescue dogs are actually Labradors or German Shepherds rather than St. Bernards, thanks to their intelligence, trainability and keen sense of smell — qualities that make them more suitable for modern rescue work.