Dogs are man's best friend. But that doesn't mean they look like men. Dogs have their own style, and we're not just talking about the way they walk or run, it's also their hair.
These days dog owners are more interested in what new haircut they can get for their dog, and how to style it so their friend looks unique and original.
Here we'll analyze some of the most trendy styles and give you a few tips on how to style them so you can always be sure your furry friend is the coolest dog around!
In the world of dog grooming fashion, the professional dog groomer is on the cutting edge every day.
The most important thing to know when considering a revolutionary style for your dog is to take into consideration their coat characteristics.
You want to create a balanced look that emphasizes the best parts of your dog's body while detracting from any physical challenges they might have.
---
---
Can you style a dog hair?
If you're looking for a great way to bond with your dog, grooming is a good way to go.
It's often the first time the owner and their dog get alone uninterrupted time together.
It's also a time for the dog to get extra love and attention from the person he loves best: You. But if you're not used to grooming your pet, where do you begin?
When styling a dog, the tools you will use will depend on the style you are going for. If you have a fluffy dog or want to create volume, use a wide-tooth comb and blow dryer.
If you are focusing on an area and want less volume, use thinning shears and a curved-edge shears to blend and refine your edges.
Make sure not to spray the coat with too much water or product as this can cause matting.
For best results, you should finish by applying some leave-in conditioner before combing your style all the way through with a fine-toothed comb or bristle brush. Later, we will cover all of this in more detail.
---
Is it easy to groom your own dog?
The first and most important thing to keep in mind is that grooming your own dog is a lot easier than it looks.
Start with a simple routine and practice, practice, practice! Use the right tools: professional scissors and clippers are the most important tools in your grooming kit.
More and more people prefer to groom their dogs at home, but of course it can't be everyone's case, depending on your dog's hair length and type, it can be a very stressful, daunting and useless task.
But if you seriously want to groom your dog by yourself and are constantly looking for tips on how to groom your dog, with time, practice and passion you may surely become a great groomer stylist!
It is easy to groom your own dog if you don't want anything too complicated. The best thing about grooming your dog is that you can do things to please yourself (and your dog hopefully!) and not worry about what others think. Your dog will love the extra attention, and you will love working together with your pet.
---
What are the different types of haircuts for dogs?
Maybe you're wondering what are the different types of haircuts for dogs? Well, there are many different types of dog hairstyles and cuts.
Of course, the best cut will depend on the breed of your dog and its coat type.
Here is our list of the trendiest and easy to do dog cuts.
---
1 – Puppy cut
The Puppy cut is an adorable haircut for dogs of all breeds, sizes and colors. It's very popular and has become the standard haircut for many pet groomers. But what exactly is a puppy cut?
A puppy cut is basically a dog hair cut that makes your dog look like a puppy. This means that you won't be cutting the hair of your dog too short.
You will be leaving the hair on several parts of its body long. These include the legs, tail and head.
The overall effect of this hairstyle is that your dog will look as if it hasn't been groomed for months – just like a puppy!
The great thing about a puppy cut is that you can do it yourself. The long hair on the legs, tail and head are easy to brush.
This is especially important for breeds with longer coats such as shih tzus and poodles. The coat of these dogs tends to become matted over time and excessive brushing can help prevent this from happening.
Dogs with longer coats also need to be trimmed more often than those with shorter coats simply because their fur grows faster. Dog owners with longer-haired pets will find that they need to trim their dog's coat at least once a month in order to avoid matting.
If your pet has shorter hair, then you'll probably only have to trim its hair every 1-2 months or so.
---
2 – Teddy Bear Cut
Not going to go too long on this one, it is very similar to the Puppy Cut, if not the same.
The teddy bear dog hairstyle is a short cut that includes shaving the body, leaving the head and legs with longer hair.
This differs from a puppy cut because the body hair is shaved shorter and more evenly.
The teddy bear cut is best for dogs with short, straight hair such as poodles, cocker spaniels, and Lhasa Apsos.
It is important to brush out any tangles in your dog's coat as best you can. You particularly do not want to get them tangled in the clippers while cutting.
Put on clipper guards to shorten the length of the blades so that they will only remove a certain amount of hair. For most dogs, you will want to start with a No. 10 guard or one that leaves approximately 1/2 inch of hair on your dog's body. You may also choose to use multiple guards for different sections of your dog's coat if desired.
There are many varieties of the teddy bear haircut for dogs with long hair. A teddy bear trim is one of the easiest cuts to do at home because you do not have to cut your dog's hair short.
It's also very easy to maintain since all you have to do is brush and comb your dog's coat every so often.
The Pomeranian breed is known for this type of haircut, but it can be done on other dog breeds as well.
---
3 – Kennel Cut
The Kennel cut is the most basic dog haircut style for dogs with short hair. It is a number one all over, just like the buzz cut on a human.
This is the standard haircut for dogs that are going to be shown in conformation shows. It allows the judges to see what your dog truly looks like without any hairstyle getting in the way of their evaluation.
When you have this cut done, you will want to make sure that you or your groomer have not taken it too short. This can lead to razor burn which is extremely painful for your dog and hard for a groomer to do without causing discomfort for your dog. The groomer should also check for mats before they begin and make sure that your dog's skin is healthy and free of fleas.
A very popular haircut for dogs, the Kennel Cut is a great choice for those who want their pet to be cool and comfortable in the summer.
The length of the coat is generally around an inch in length, with the hair closest to the skin being shorter than that on top. This cut is usually performed with clippers, but may also be done with scissors.
---
4 – Lamb Cut
If you're lucky enough to have a double-coated breed of dog, this is one of the best cuts to get. The body is shaved very close to the skin, while the legs, head and tail are left longer. The fur on the legs is often permed so it stands straight out from the leg for a fluffy look.
If you have a young dog or a puppy with long hair, this style is great because it doesn't require much maintenance. In fact, some owners choose to keep their dogs in a lamb cut throughout their entire lives because it's easier to take care of than other styles.
Even if your dog has short hair, you can still give him a lamb cut. The fur will be left longer around his body and clipped shorter around his legs for an adorable teddy bear like look.
It is also a very easy cut to do, if you feel confident enough, and it works well for older dogs or dogs with arthritis; it keeps them clean and cool in the summertime.
You need a longer clipper blade than the other styles. The number 10 blade works well for this style. It is important to get your dog used to clippers from an early age so that he does not become fearful of them.
Start with your dog standing on all fours. With your left hand, grab the scruff of his neck and lift up his leg into the air. With your right hand, use the clippers to shave his underside, starting at his tail and working your way forward towards his chest. Lift up his paw and trim the hair between his pads if you wish. Repeat on all four legs.
Now move onto his body. Use long strokes to shave down the back of its neck toward its tail, stopping above its hips where the tail begins. Now do its chest and front legs, using long strokes from his chin down to its belly button.
From my experience, doing it is surely easier than writing it, if you are still a beginner you will get better with time.
---
5 – Lion Cut
The lion cut is a very popular dog hairstyle. It is a shaven look, with the hind legs and the underside of your dog being left unshaven for balance. This haircut allows your dog to stay cool during the warmer months and can be used as a preventative measure for dogs that have a tendency to develop skin infections, such as poodles.
Before you begin grooming, be sure to brush your pet, removing any knots or tangles from their hair. You will need a pair of clippers, scissors, an electric shaver, and a comb.
To begin the haircut, you should use the scissors to trim hair on your dog's backside and front legs. You should then move on to using clippers on their body. Pay special attention to their feet, as they are sometimes prone to developing mats between the toes. After this you should use clippers along their stomach and back of their tail. Finally, you can use scissors to trim up any stray hairs that remain on your pet's face and ears.
You may want to consider rinsing your dog with warm water after washing them and before grooming them. This will help remove any loose hair that is present in the coat and help make it easier for you to cut through.
The lion cut is one of the most popular dog haircuts and it's easy to see why. It's stylish, versatile and makes grooming easier!
The lion cut is a great choice for dogs with double coats, because clipping the hair short will help keep them cool in summer.
You may have seen dogs whose tails look like lions' tails when they are groomed this way. These dogs have their hair left long on their tail and their tail hairs shaped into a point using thinning shears.
---
6 – Top Knot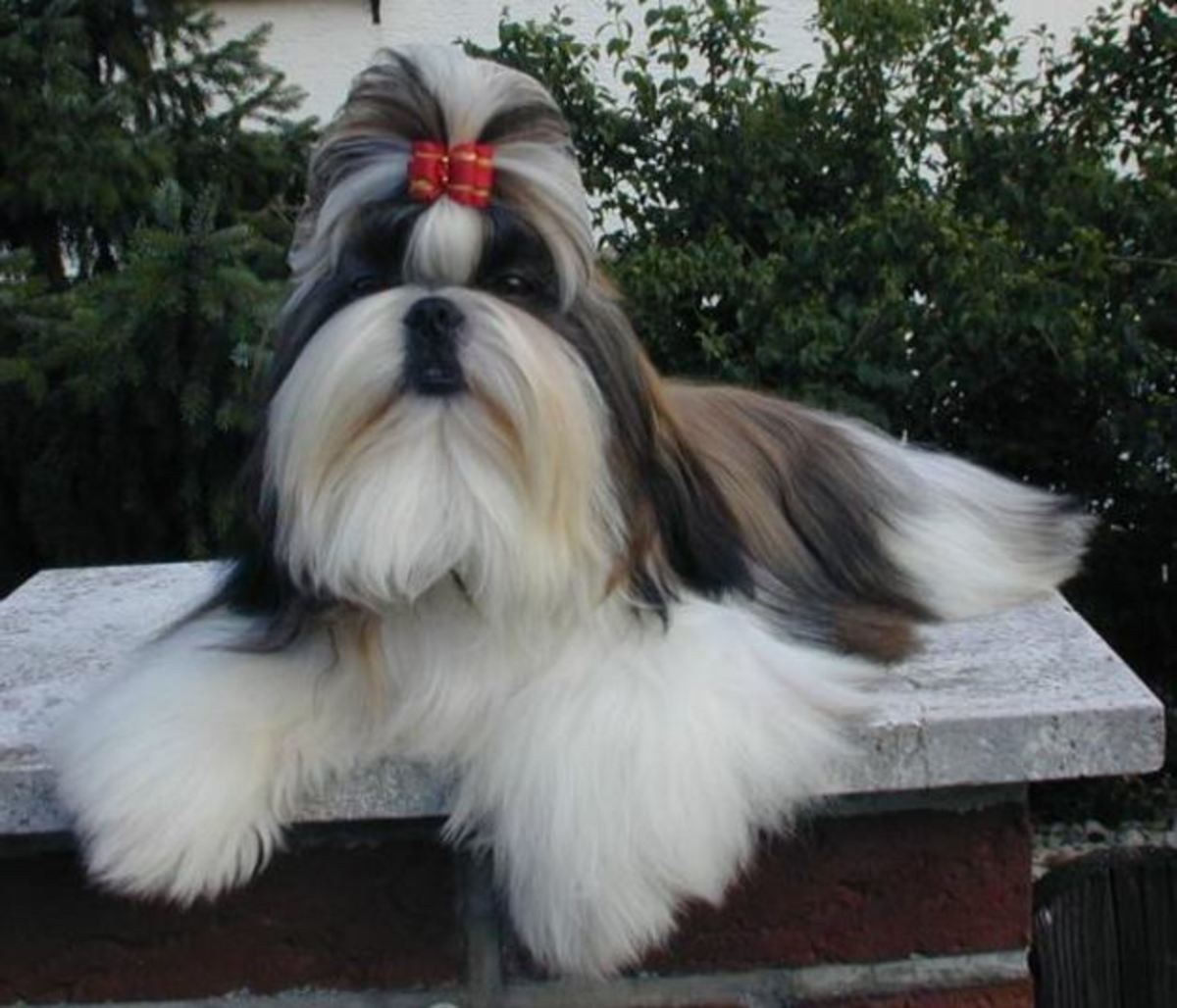 The top knot hairstyle is a popular look for dogs. The style consists of parting a dog's hair in the middle and then pulling the hair straight up and tying it off with a bow or rubber band.
It's a very cute look. But it can be difficult to get the style just right.
The first step is getting your dog used to having their head messed with. This is important because you'll be messing with their head quite a bit when styling their hair.
One way to do this is by playing games that involve rubbing your hands on their head.
For example, you could hold out your hand and ask them to touch it with their nose. When they do, give them a treat and rub behind their ears or scratch under their chin.
The next step is to start brushing your dog's hair in preparation for the hairstyle. You want to brush all of the knots out so that they are easier to work with later on. A good time to do this is when you're giving them their bath, as this will help remove any dirt that might be tangled up in the knots as well.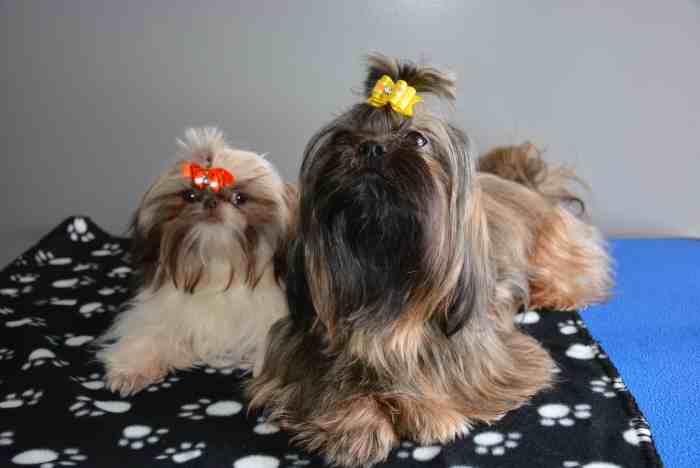 The top knot is a classic Asian hairstyle for dogs that's been around for centuries. It's a great look for anyone who wants an easy-care style, but it does require a bit of extra care to keep it looking nice.
The top knot is a short cut that looks best on small dogs with long, straight coats. It can be done with either a regular comb or scissors, and it's usually styled so that it falls just below the ears to frame the face.
---
How do dog groomers keep dogs still?
Keeping your dog still during a haircut can be one of the biggest challenges when styling your dog's hair. You will want to find the best way to keep them still and safe.
Dog groomers use a variety of methods to keep dogs still. Some methods include using a grooming arm, using a grooming table and using a hand-held loop.
Many groomers use a combination of these methods, depending on the dog's size and temperament. Typically, groomers will work with the dog until they are comfortable with the process.
The most important thing is to introduce them slowly to being groomed. It's much easier this way than trying to do it all in one go! You might want to start by just touching them gently with a comb or brush and giving them a treat every time they don't move away from it.
Don't ever scold or shout at your dog for trying to escape. This will only make things worse as they will associate getting their hair cut with something bad happening. You need to be firm but positive. Give them lots of praise and treats throughout the process and stop immediately if they bite or scratch you.
Here are some tips that are often used by groomers.
The first method is to have your dog on a table or counter top that does not move. This may be hard to find in your home but if you have it, this is probably the easiest way to keep your dog still. If you don't have either of these at home, you can try using a chair with a towel over it and then put something heavy on the towel so it doesn't slide away while grooming.
The next tip is to use an assistant, if you have someone at home who can help you, this will make everything go much faster. You may want to let this person hold down the body of the dog just so that they stay in place better for the haircutting process. If you don't have someone who can help you, there are other ways to get a good cut even if it takes longer than usual.
Last little suggestion i want to tell you is to use a grooming loop. This is a restraining method used by groomers and vets to hold your dog in place because it's safe, secure, and comfortable for them.
---
What happens if you don't groom your dog?
You might be thinking why it is necessary for your dog to get a haircut and why you should even care about his hair at all, but there are some good reasons for this.
The first reason is that there are certain breeds of dogs that have coats that need regular grooming if you want to maintain the health and strength of their coat. The second reason is that your dog's coat can contribute to how he behaves and how he looks in public. As we all know, dogs with poor grooming habits will often become aggressive or irritable because they feel uncomfortable with their fur being pulled or cut in a different way than they are used to.
A dog's fur serves many purposes. It protects them from the elements like heat, cold and moisture. It provides insulation and can be a defense mechanism against predators. It is also one of the most important diagnostic tools to determine health in a dog.
This is why it is so important to take care of your dog's fur. Not only does it keep your dog healthy and happy but it also keeps them looking their best so they can strut their stuff no matter where they go!
If you don't groom your dog, it can lead to negative consequences. The most common thing is that their fur can become matted, which is not only uncomfortable for them but can be painful too!
---
How often should a dog's hair be cut?
It's up to you whether you want to get your pet groomed monthly or every six weeks. The longer the hair, the more often it needs to be cut and styled. Short, tight hair will stay in place for months and doesn't need much maintenance. However, long hair can grow out of style quickly and may look matted if not trimmed regularly.
A dog's hair grows at an average rate of 1/2 inch per month. This means that a dog with 4 inches of hair will have 2 inches of new growth every 6 weeks. The longer the dog's hair, the more noticeable this is going to be because there will be more new growth on each side of the body than there would be if the dog were only sporting a short coat.
The texture of the hair also determines how often it should be cut. Fine-textured hair like that found on many Chihuahuas will hold its shape for several months and probably won't need regular trims unless you want to keep it very short. Coarse-textured hair like that on Doberman Pinschers tends to grow faster and also tends to stick up instead of lying flat, so it will need more frequent haircuts.