If you own a dog that is itching and scratching uncontrollably, you may have found yourself asking "why is my dog chewing himself raw?"
There are many reasons why this could be happening. The most common reason is fleas as they are very common in many american states, but there are also many other possible causes.
The good news is that there are a number of natural dog itching remedies.
What's the best dog itching remedy? It depends on what's causing your dog to itch! There are a variety of reasons why dogs itch and scratch. Dogs can have allergies, dry skin, fleas, or even stress that causes them to itch uncontrollably.
---
---
Reasons why your dog might be chewing himself
1) Fleas, ticks and mites
The most common cause of itching is fleas.
If you have a new puppy, or have recently adopted a dog and they're scratching themselves to pieces, it's likely that they have fleas.
An allergic reaction to fleas is called "flea allergy dermatitis" and it can be really bad.
Flea saliva can cause your pup to scratch, chew and bite themselves raw.
The best way to treat this is with a good quality flea treatment like Frontline or Advantage. These are both topical products that are applied once a month to kill the pests in your dog's skin and hair.
If your dog is itching, biting, scratching and licking himself more than usual, it could be a sign of a skin allergy.
Dog allergies can be caused by many different things: food, seasonal changes, flea bites and the environment. When dog owners see their dog itching excessively, they often panic and turn to powerful drugs or steroids.
Treatment for dog allergies includes antihistamines and fatty acid supplements (like Omega 3), which help reduce inflammation caused by allergic reactions. Dermatologists sometimes prescribe anti-inflammatory medications as well.
If you think your dog's allergy is caused by food, we recently made a list of the best dog foods for any kind of allergy! Click here to know them!
Dry skin in dogs can be highly uncomfortable and is caused by a variety of things. Most commonly, it is the result of a change in weather or environment.
Fleas and other parasites also cause dry skin in dogs, as do infections and allergic reactions to food or ingredients in dog care products.
Dry skin can also be the result of an underlying health condition, such as diabetes or thyroid disease. If you suspect that there is something else going on with your dog, make an appointment with his veterinarian for further diagnosis.
Itching behavior can also be caused by anxiety or stress in dogs. You see, when dogs get stressed or anxious they start to lick their paws or chew on themselves; and this creates an itch cycle which makes them do it over and over again!
Stress can be caused by many things: loud noises, change in routine, an unfamiliar place, a new person in the house or even a new pet. If you think that your dog is feeling stressed or anxious then try to find out why and make some changes where necessary.
---
My dog is always scratching but doesn't have fleas!
Fleas, ticks and mites are common culprits and are relatively easy to confirm with a flea comb or visual inspection.
Even if you never seen a parasite on your dog, they can still be responsible for your friend's itchy skin.
For dogs, fleas can be more than a simple aggravation. Some dogs are allergic to flea saliva and will develop a condition called Flea Allergy Dermatitis if bitten by just one flea.
This causes extreme itching and inflammation at the bite site. Even dogs without an allergy can develop severe skin irritation from multiple flea bites.
---
What can i put on my dog to relieve itching?
Most of the time, we cured our dogs itching problems with very fewer difficulties we imagined! Here's why we giving you four homemade solutions you can try straight away, before jumping to extreme conclusions.
Oatmeal Shampoo
Moisturizers ( with aloe vera or vitamin E)
Coconut Oil
Chamomile and green tea soaks
Home remedies for dog itching
Now that you know what is good to relieve itching on your dog, let's see how you can use them properly.
Oatmeal bath is a common remedy that works well to stop itching. Dogs can either soak in a tub with the oatmeal water or the dry oatmeal can be rubbed into their fur. A store bought oatmeal shampoo is also an option if you prefer not to use the real thing.
If your dog has a dry skin rash try using coconut oil on the affected area. Coconut oil is an all-natural antibiotic that not only moisturizes but also kills bacteria and fungus like yeast that may be causing the problem. It's also useful for treating flea bites and hot spots on dogs.
If your dog has itchy skin, you can also try to give him a chamomile or green tea bath to help soothe it.
This is great for dogs who suffer from eczema, flea allergies and other inflammation of the skin. To use, simply brew a strong cup of tea using organic chamomile flowers or green tea leaves, then allow it to cool completely before using.
You should not use this treatment more than once every three days and no more than three times per week even if your dog suffers from serious itching issues.
If you want to make a larger batch, brew several cups at once and store in an airtight container in the refrigerator until ready to use. You should not keep these soaks longer than two weeks before throwing them away.
---
Best dog shampoo for itching!
Here we come to the clue part of today's post, maybe you have tried all the "homemade remedies" we suggested you but your dog is still having troubles with his itchy skin.
Probably at this point, your vet adviced you to get a high quality shampoo for your dog, if so…you're in the right place!
We just came out with a little list of our favourite dog shampoos you can use against itching!
Pet MD Oatmeal & Aloe Dog Shampoo
Pet MD Oatmeal & Aloe Dog Shampoo is a great way to get rid of your pet's dry skin, itchy skin, and other skin irritations. We like that this shampoo is made in the USA and has a high-quality formula. It is also available in a 16-ounce bottle.
Pet MD Oatmeal & Aloe Dog Shampoo contains oatmeal, aloe, and vitamins A, D, and E.
It also contains tea tree oil and rosemary extract. This combination makes it ideal for treating dry skin and itchiness. The formula also helps soothe irritated skin, which helps reduce scratching. This can help prevent more serious problems from developing such as hot spots and infection.
The shampoo comes in an easy-to-use pump bottle. That makes it extremely easy to dispense the product, even when you are trying to wash a wriggly dog!
---
Arava Natural Medicated Dog Shampoo
Arava Natural Medicated Dog Shampoo is a veterinarian-strength formula made from therapeutic Dead Sea minerals and organic plant extracts.
It is used to treat skin problems such as dryness, itching, mange, eczema and other skin conditions.
Arava Natural Medicated Dog Shampoo is completely natural and does not contain harmful chemicals or pesticides. Arava's unique formula provides your dog with a healthy skin care experience by assisting in the healing process of damaged skin and thereby relieving itching and discomfort.
The salts from the Dead Sea are rich in magnesium, potassium, calcium chloride, bromides and sulfur.
When applied to the skin these minerals have the ability to purify, heal and restore the balance of your dog's skin and coat giving them a beautiful shiny look!
---
Vet's Best Allergy Relief
Vet's Best allergy shampoo helps to stop allergy symptoms at the source for all pets, including cats and dogs.
Vet's Best allergy relief shampoo is specially formulated for pets with allergies, dry skin and sensitive skin conditions.
Vet's best allergy relief shampoo includes key natural ingredients such as aloe vera, micro-colloidal oatmeal, and neem oil, which are known for their soothing and healing properties.
This soothing formula naturally cleanses and moisturizes skin without irritation or drying.
This shampoo is also pH balanced and will not affect topical flea medications.
Vet's Best Allergy Relief dog shampoo is also one of the most popular products of this kind on Amazon, with an overall rating of 4.4 out of 5 stars by more than 1,300 reviewers, and it is probably the best choice for the money aswell!
---
Pet MD Medicated shampoo
Pet MD Medicated Shampoo is a top-rated dog itching remedy that is medicated to help cure minor infections from bacteria, yeast and fungus.
Its antiseptic, antibacterial and antifungal properties help to soothe itchy skin and restore damaged coats. The shampoo contains micronized colloidal oatmeal, which is a natural moisturizer that alleviates dry skin.
It also has aloe vera gel and vitamin E that prevent further irritation by strengthening the skin barrier and helping it heal faster.
Pet MD Medicated Shampoo effectively treats flea allergy dermatitis, hot spots, pyoderma, ringworm and other fungal or bacterial infections. It can also be used on dogs with sensitive skin as well as those with normal skin.
---
Remedies for dog itchy ears
So what can you do to help your dog with itchy ears?
If you are a pet owner, you know how frustrating it can be when your pet has an ear infection. They can become very uncomfortable and even scratch their ears until they bleed. It is important to find a good solution to help them feel better.
The first time you see your dog scratching his ears, it's easy to feel concerned. After all, there are many reasons why your pooch may be itching.
The most common cause of dog ear itching is a condition known as otitis externa, or ear infection. These infections are caused by yeast and other organisms that thrive in warm, wet environments.
You may want to try adding some Omega 3 fatty acids to your dog's diet. You can either choose a food that contains Omega 3s, or give your dog cold-water fish like salmon. If you want know more about good foods for a healthy dog diet be sure to check out our favourite picks!
If you think that food is not the problem, try applying some calendula ointment.
This is a popular herbal remedy for itchy skin in dogs and cats. You can find calendula at most health food stores.
If you're looking for an all-natural way to cure dog itchy ears, consider making your own eardrops out of garlic oil. Garlic is a natural antifungal and antibacterial agent.
You can make garlic oil by melting a few tablespoons of coconut oil on low heat and adding crushed garlic cloves. Let the mixture simmer for about ten minutes, then strain the garlic out and let the oil cool before applying to your dog's ear, recommend to watch a tutorial first!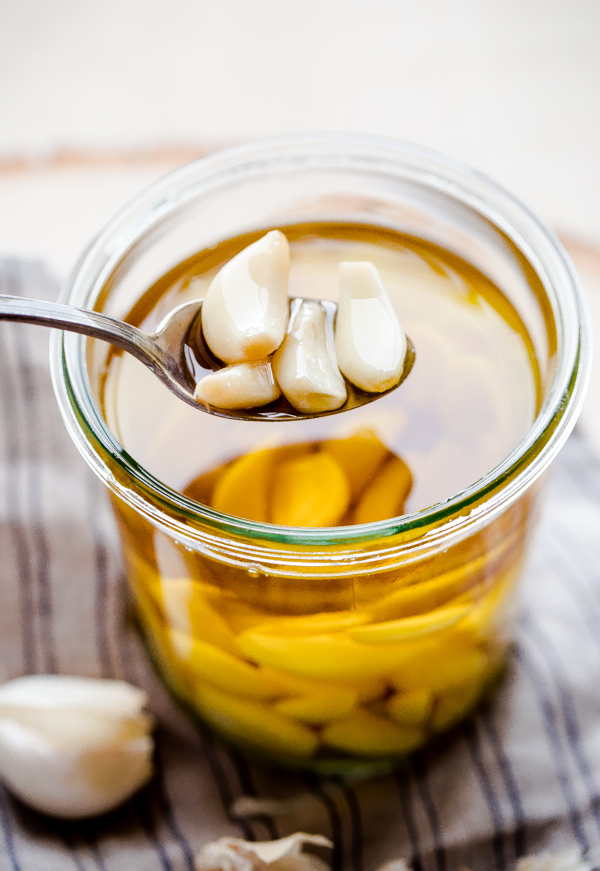 Apple Cider Vinegar (ACV) can also be a good natural viable solution.
Simply put a few drops in your dog's ear. This is an excellent solution for dogs with yeast infections in their ears. ACV can kill the yeast while balancing the ph level in the ear canal, eliminating odor and eliminating itching. For best results, use unfiltered apple cider vinegar with "the mother" (it should look cloudy).
Good old Coconut Oil.
Coconut Oil will help treat dry skin, speed healing and prevent infection. It also works well as a natural itch relief! Just rub a small amount on your dog's ear flap each day. For itchy ears due to allergies, you can also add a drop or two into your dog's ear canal every day. It will help soothe the itch and make your dog feel relieved.
Remedies for itchy paws in dogs
Owners of dogs with this habit notice that their pets are always chewing or licking the same paw or paws, and the area may be red, swollen and irritated. There are many reasons why a dog might be doing this.
When a dog does have an injury to his paw, he will lick at it for relief. This is a natural response for any animal. A small cut can cause a lot of discomfort, so the pint-sized pooch will lick away in an attempt to make it feel better.
The real problem lies when owners want to stop the licking and chewing because they believe it's making the wound worse.
In actuality, saliva contains enzymes and proteins that aid in healing wounds and reducing inflammation and irritation.
As said previously, food allergies are very common in dogs.
But there are also environmental allergies caused by things like grasses, pollen or dust mites. If your pet has developed an allergy to something he has been exposed to for years, you may not even realize that it's causing problems until you see him chewing on his paws or licking excessively at his body.
Dogs with allergies tend to experience skin irritations that can leave them scratching at the affected areas incessantly.
Another common cause of itchy paws is a yeast infection, which usually happens as a secondary infection to an allergy or injury.
especially dogs with floppy ears that trap moisture inside, are the most prone to yeast infection.
A yeast infection causes the paw pads to become thickened and discolored. They will often have a malodor too.
The treatment will depend on what caused the yeast infection in the first place.
You should consult your veterinarian about this condition, because it often requires prescription medication to treat effectively.
Treatments usually consists of antifungal medication.
Fleas are another common culprit. Check your pet for fleas; their eggs will be visible in the fur, and you may even find live fleas on him.
Also look for flea dirt — the black pepper-like specks that appear on the skin due to flea feces.
If you suspect fleas, bathe your pup with a flea shampoo, then follow up with a topical anti-flea product such as Frontline or Advantage.
---
Remedies for dog itchy butt
Oh the dreaded itchy butt, you know what I am talking about. Your dog has been running around like crazy with his tail tucked between his legs trying to scratch that itch on his bum.
Or maybe he has been walking around with a funny, stiff legged gait looking like he is doing a little dance because his butt is itchy.
Unfortunately, all of these remedies are temporary fixes, not cures.
If your dog has an itchy butt that just won't quit, then you need to take him to the vet to get checked out. There could be something going on that only the vet can see or treat.
If you think the situation is not that drastical, you can use the products and methods that are good for general itching issues, that we mentioned before.
An itchy butt (as we are calling it), can be easily caused by an allergy or fleas.
But as said, it can be a symptom of something way more serious,
If you notice that your pet is constantly scratching his bottom, or if he's scooting on the floor, he may have a problem with his anal glands.
Anal glands are two small sacs located on either side of the anus at about the 4:00 and 8:00 positions. They're full of oily liquid that has a very strong odor; when a dog defecates, the glands usually express just enough liquid to leave a distinctive scent on the stool.
Sometimes, though, they don't empty properly and become impacted with fluid. Your dog might then develop an infection in one or both glands (anal sacculitis).
He might also get an abscess in one or both glands, which is even more painful. The anal area will be red and swollen, and he'll lick it excessively.
Impacted anal glands are most common in small dogs, but they can occur in dogs of any breed or size. If your pet scoots on the floor or rubs his behind along furniture or carpeting, check to see if his anal area is irritated. If so, have him seen by your veterinarian so proper treatment.