Everyone wants their pets to be as beautiful and healthy as possible. Health is often more important than appearance, but a shiny coat is often a sign of good health.
No one wants to be the person with the dog that's covered in dandruff or has dull, dry fur. Nobody wants the shaggy dog that looks like it hasn't been groomed in months.
Our pets are our family members and we always want them to feel and look their best. Since dogs spend a lot of time outdoors, they can get some dirt on their coat and even suffer from dry skin.
Luckily, there are easy remedies that you can use to keep your dog's coat shiny and skin nourished.
If your puppy's coat is not as healthy as you want it to be, there are a few things you can do to help it. Some of these remedies are so simple that you may already have the ingredients lying around your house.
Many of these methods are often indicated also for dogs that suffer from itching.
If your dog has itching issues, you may want to look to our Itching Remedies article.
---
---
Use Coconut Oil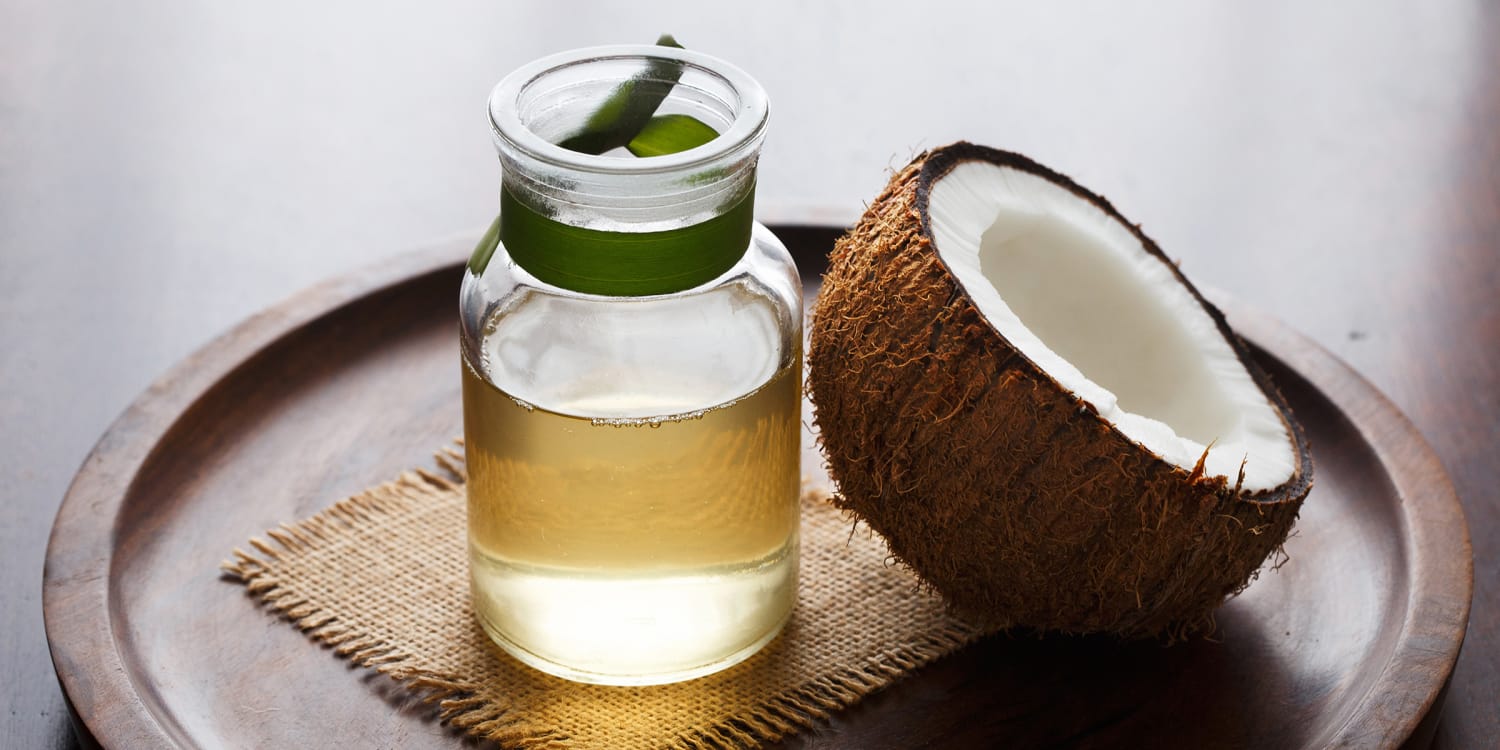 Coconut oil can improve your dog's skin and coat, help prevent infection, fight parasites, and more.
Coconut oil is beneficial to dogs experiencing dry or itchy skin, helps to improve the condition of their coats, and even helps control and reduce doggie odor.
There are "good" fats and "bad" fats in human nutrition, with much of the same applying to dogs.
Coconut oil is considered a "good fat" that is easily digested by dogs and cats because it contains short-chain fatty acids (SCFAs).
SCFAs are known for many health benefits including improving the appearance of coats.
There are a few ways you can use Coconut oil to benefit your dog
You can add a spoonful to your dog's food. The easiest way to add coconut oil to your dog's diet is simply adding a spoonful to his/her food at mealtime.
Start slowly though — a little goes a long way! Start with 1/4 teaspoon once per day for small dogs and increase to one tablespoon for large dogs.
You can also apply it directly on your dog's coat, and wait for it to be absorbed.
I suggest you to do it once or twice a week, not more.
The benefits of using Coconut Oil are multiple, it can also help a lot
---
Use Apple Cider Vinegar
Dog owners seem to be turning to apple cider vinegar for everything from fleas to sore feet, and some claim it helps with dandruff.
In addition to any possible health benefits, apple cider vinegar might help condition your dog's skin and coat. It has long been used as a home remedy for dry itchy skin in humans, and can do the same for dogs.
It's also supposed to make a dog's coat shinier and his breath fresher.
Dilute apple cider vinegar with equal parts water. After your dog's bath, pour the mixture on your pet's fur and massage it into his skin.
Don't rinse it off! Let your dog air-dry or pat him dry with a towel.
Vinegar should not be used undiluted on dogs because it will irritate their sensitive skin (and yours!).
Dilute by at least half with cool water. If you have very small dogs (or cats), dilute even more so that they're not overwhelmed by the smell of the vinegar.
If you prefer, you can also use it as a spray.
To make this natural treatment, simply mix equal parts apple cider vinegar and water in a plastic spray bottle. Shake well to combine, then spray directly onto your dog's coat. Be careful not to get too close to the face or eyes (especially if your dog likes to shake his head).
You can also soak a washcloth or cotton pad in the mixture and gently wipe down your dog's coat. This is especially useful for smaller dogs or those who wiggle when sprayed.
If your dog is allergic to vinegar, or if he reacts badly to it for some other reason, of course, don't use it on him!
---
Try an Oatmeal Bath
The easiest home remedy for a shiny dog coat is an oatmeal bath. Oatmeal can be bought at any major grocery store and has been used for centuries to naturally nourish the skin and coat of dogs.
All you need is half a cup of oatmeal and warm water.
Add the oatmeal to your dog's bath, let it sit for a few minutes, and let your dog soak in it. After your dog is done with the bath, dry him off using towels or a blow dryer on a cool setting.
The oatmeal will make your dog's coat look amazing, smell great, and feel unbelievably soft.
Oatmeal is an excellent natural moisturizer for dry skin and dandruff, and it's also gentle enough to use on your dog without irritating his skin.
Just mix ground oatmeal into your dog's shampoo (or use an all-natural shampoo that contains ground oatmeal), lather him up, then rinse well.
Oatmeal contains antioxidants and saponins, which help to fight irritation caused by allergies. It also helps maintain healthy skin and restore damaged skin by restoring its pH balance.
Using an oatmeal shampoo is particularly effective because it not only cleanses your dog's coat but also moisturizes it. Use the shampoo according to the label's instructions and rinse thoroughly when finished.
Oatmeal is a natural cleanser that attracts dirt like a magnet and removes impurities from the skin by binding with them.
---
Change to a Healthy Diet
A healthy diet for dogs does so much more than help them maintain a healthy weight — it can also keep their coat shiny, strong and attractive.
The food that you give to your dog should include proteins and fats as this will help in keeping the skin and coat of your dog healthy.
OMEGA 3 – 6 Fatty Acids are the ones often indicated.
Wheat is another ingredient that must be avoided in the diet of your dog as this can lead to skin allergies and shedding.
If you notice excessive shedding of your dog's coat then it is a sign that the diet of your dog is not right.
You need to change the food that you are giving to your dog. If you are not sure about the right kind of food for your dog then consult with a veterinarian. The vet will assess the health condition of your dog and prescribe a suitable diet.
Here are some of the best foods you can start implementing right away in your dog's diet to help your dog's coat look its best:
Fish. Feed your dog fatty fish like salmon once a week, which will provide essential fatty acids that promote healthy skin and coat.
Homemade Food. When you prepare your own dog food, you know exactly what's going in it. It's easy to add omega-3 fatty acids by tossing in walnuts and salmon.
Meat. The best way to maintain a shiny coat is by feeding a diet that truly mirrors what dogs would naturally eat in the wild – Meat.Real meat proteins are easier for dogs to metabolize and absorb.
We covered healthy foods for dogs more in depth in a recent article, check it out if you are interested.
---
Try Shiny Coat Supplements
You can also purchase shiny coat supplements at your local pet store or online. They're usually in the form of chewable tablets that taste like bacon or other flavors your dog will love.
You can also get them as oils or liquid drops that you add to your dog's food. The most common ingredients include omega-3 fatty acids, which are found in fish oil and flaxseed oil, and vitamin E, which is a powerful antioxidant.
Other ingredients may include biotin (vitamin B7) and zinc.
Some dogs are picky eaters and may not be willing to take their shiny coat supplement in tablet form. In this case, you can get it as liquid drops.
Add it to their food, or if they eat dry kibble, try adding it to some canned wet food and mixing it in with the dry food. (Even picky eaters will likely eat moistened dry food.)
You can also try adding a little broth or water to their dry food and mixing in the liquid supplement.
---
Brush your dog more often
If you want to ensure a shiny, healthy coat for your dog, then the obvious solution is brushing. Brushing dogs not only makes them look and feel great but it also helps to keep the coat free from dirt, debris and tangles. It also gives you an opportunity to check for any fleas or ticks.
If you've got a long-haired breed of dog, then it's important to brush them daily with a slicker brush or metal comb.
While shorter-haired breeds may not need as much attention, they will probably still benefit from being brushed once a week.
These are the main benefits of a more mindful brushing
It distributes the natural oils in your dog's fur, keeping the skin moisturized and preventing dryness
It promotes better blood circulation
It removes dirt, which could lead to infection if left in place
It prevents tangles and mats, which can be painful for dogs and make them more susceptible to skin conditions
It stimulates a healthy hair growth cycle
---
Regular Grooming
Grooming is an important part of a dog's life. A shiny coat is one of the signs of good health and regular grooming sessions are a great way to make sure it stays that way.
This will also help you control the amount of hair your dog sheds around the house.
Grooming your dog can be a relaxing bonding experience or an annoying chore, it all depends on how you do it.
Grooming your pet regularly not only helps you to bond with them but also allows you to check for any injuries or skin issues that might need treatment. It also helps your dog look and feel his best.
You might want to leave your dog to a groomer or groom it by yourself if your dog isn't too big.
Here you can also check some of our grooming tips.
---
Can dog food affect coat color?
Can dog food affect coat color? The answer is yes, it can. However, the question of whether dog food can affect a dog's coat color is not as simple as you might think.
The answer depends on which aspects of your dog's coat color you are concerned about.
Many people wonder if the right type of food can change their dog's coat color, but this is not the case.
However, the right kind of dog food can certainly help control shedding, which in turn may have some impact on your dog's coat color and general health.
Preservatives and dyes in most commercial dog foods can cause your dog's coat to become dull and lifeless. In order to have a healthy, shiny coat, you need to feed your dog a high quality diet.
Dogs have hair, not fur. Hair is porous, which means it absorbs whatever it comes in contact with.
This is why we use conditioner after shampooing our hair, to put back some of the moisture that the shampoo took out of our hair.
If you want your dog to have a shiny coat, then it starts with what you are feeding them. The better nutrition your dog receives, the healthier their skin and coat are going to be. A dull or dry coat is often a typical indication that something is wrong with their diet.
---
How to Darken Dog Coat
A dog's coat can become lighter for a variety of reasons, some medical, some environmental.
Some dogs are born with light coats that get progressively darker as they age, while others may lose the pigment in their coats due to disease.
A change from a dark coat to a light coat can be indicative of a health issue, so if your dog's coat has changed color over time, contact your veterinarian to make sure there isn't an underlying cause such as hypothyroidism or Cushing's disease.
If the vet finds your dog healthy, probably your pooch coat is only a bit dull or neglected.
if this is the case, the suggestions are the same as for any other dog coat!
Keep an eye on the diet
Brush your dog regularly
Use oatmeal, coconut oils, other moisturizers
Regular grooming