The best way to treat your dog's teeth is surely to prevent them from getting rotten in the first place.
Treats and chew toys that are designed for dental hygiene are available at pet supply stores and through veterinarians.
Chewing on these toys helps keep dogs' teeth clean and healthy, but they don't work in lieu of brushing your dog's teeth.
Chew toys should be used daily, and you should replace them every few weeks. When using a chew toy, make sure that it doesn't have any sharp edges or hard pieces that could damage your dog's mouth or cause an injury if swallowed.
If you're concerned about your dog's dental health, talk to your veterinarian about what steps you can take to ensure that he has healthy gums and strong teeth for many years to come!
Bad teeth can be a problem for dogs of any age, but they're most common in older dogs. As a dog ages, the gum tissue surrounding the teeth may recede, exposing the roots and making it easier for bacteria to infect them.
If your dog has bad teeth, you'll want to take him to the vet so she can assess his condition and recommend treatment options.
If he needs surgery to remove infected or damaged teeth, she may suggest sedating him first so she can perform the procedure safely.
Your vet will probably prescribe antibiotics for your dog after surgery and recommend that you brush his teeth daily to prevent further infections from occurring.
Most dogs will have a few bad teeth at some point in their lives. But if the problem is more than one tooth, or if it's an ongoing issue, you should get your dog checked by a vet to make sure there isn't something else going on.
The most important thing you want to do is brushing your dog's teeth daily. This will help prevent tartar build-up and reduce plaque buildup.
You can use a commercial pet toothpaste or make your own by combining baking soda with water.
If you're using a commercial pet toothpaste, don't worry about adding fluoride — it won't help your dog and may even cause problems with absorption of other medications or supplements.
Toothpaste containing chlorhexidine gluconate (CHG) usually works well for treating dental issues in dogs because it works so quickly against bacteria in the mouth without causing irritation like some other ingredients such as sodium lauryl sulfate (SLS).
The downside is that CHG-containing toothpastes can be expensive and might not be available at your local pharmacy or pet store.
So if your vet recommends using one of these products but you can't find it locally, ask them to recommend a similar product that contains CHG instead of SLS.
---
---
Should I pull my dog's rotten tooth?
In most cases, if the tooth has become loose, it will be better to pull it. If it's still attached, then you'll want to have your vet take a look at it. There is always a risk of infection when there is an exposed hole in the gum or bone.
The longer you wait to remove a loose tooth, the more likely it is that the gum will abscess and become infected. The abscess can spread to other areas of the mouth and even into other organs if left untreated long enough.
So if your dog's rotten tooth is causing him pain or discomfort, then by all means go ahead and have him pull it out.
If the tooth is just a little bit rotten and the rest of your dog's mouth is healthy, then you can just leave it alone. But if the whole tooth has rotted through or if there are several cavities in it, then it needs to come out right away.
The reason why you should pull your dog's rotten teeth is because they will eventually get worse and worse until they fall out on their own — or worse yet, break off in his mouth and cause further damage.
If a tooth breaks off under the gum line, then you may need to have him sedated so that an oral surgeon can remove it safely. The sooner you get rid of a rotten tooth, the better for your dog's overall health.
If your dog's tooth is cracked, then you should get him in to see a veterinarian as soon as possible. Don't try to pull the tooth yourself using pliers or other tools — this could result in more damage being done than good.
Your vet will probably have to sedate your dog before doing anything else and may have to put him under general anesthesia if the crack is too large or deep.
If there's no crack or breakage in any of your dog's teeth, then there's a chance they'll fall out on their own within a few days or weeks at most.
Most dogs' teeth fall out while they're sleeping; however, this isn't always true for every single dog out there so don't assume it will happen for sure.
---
How much does it cost to remove a dog's tooth?
Dogs' teeth are so important because they're used for eating and biting. But what happens when an animal's tooth breaks, cracks or wears down? In many cases, a veterinarian will recommend removing the damaged tooth. This procedure is called dental extraction.
The price of dental extraction varies depending on where you live and the type of procedure performed. On average, expect to pay between $40 and $200 for this service at an animal hospital or veterinary clinic. According to VCA Animal Hospitals and Pet Insurance, here's what you can expect:
A tooth extraction for an older dog with healthy teeth can cost between $100 and $500; one for a young puppy might be as cheap as $150; and one for an old cat could cost around $200.
However, the cost of removing a dog's tooth depends on the age of your pet, the location of the tooth, the type of dental procedure, it also can depend on that tooth health, so expect to pay more if your dog's teeth are going rotten for example.
The cost of removing a dog's tooth can depend on several factors, including where you live, how much your veterinarian charges per procedure, and whether he or she has to remove more than one tooth during the procedure.
If you are considering extracting your dog's teeth, it is important to consult with a veterinarian beforehand to determine whether extractions are necessary and if so, how many teeth will need to be removed.
Dog teeth can be removed if they are broken, cracked or fractured. The veterinarian will look at the tooth and determine if they can save it or if it needs to be removed.
If the tooth is not salvageable, the vet will remove it and then place a splint on the remaining tooth so it does not shift or move into place of its own accord. Dogs do not need to lose their teeth to be healthy, but it is important for them to eat properly so they don't develop other health problems.
The cost of a dog's tooth extraction depends on the type of tooth, where it is located and the severity of the condition. The most common places for canine teeth to become impacted are the back molars.
These can be very expensive because they require a lot of preparation to remove, and often require anesthesia.
---
What do you feed a dog with rotten teeth?
The first thing to do is to make sure that the dog doesn't have any other health issues that may be causing the problem. You should also take the dog to the vet for a check up and dental cleaning.
If there are no other health issues and you've had your dog cleaned by the vet, then you need to look into what food you should be feeding them.
There are also some things that you can do at home to help him out. You should start by giving him soft foods that are easy for him to chew and digest. If he still has some of his teeth, then the best option is dry kibble because he will be able to chew it easily without hurting himself.
If he doesn't have any teeth left, then you should use canned dog food instead of dry kibble. The main thing is that you want his teeth to stay clean so they don't get infected or cause any more damage than they already have done.
If your dog has lost all of the teeth in his mouth, then there's not much else you can do except give him soft foods until he gets them replaced with dentures or implants later on down the road when he's ready for them (most dogs don't accept dentures until they're around 10 years old).
If this happens, then try feeding him dehydrated treats like meaty bones or rawhide chews instead of dried out biscuits.
If your dog has rotten teeth, it's likely that she will also have other health problems. For example, if she is diabetic or has heart disease or kidney disease, you'll need to make sure that those conditions are well controlled before attempting to remove the bad teeth.
If your dog is overweight, try to help her lose some of her weight before attempting surgery on her mouth. You'll also want to make sure that she doesn't have any other medical problems before deciding whether or not to remove the bad teeth.
---
How can I naturally heal my dogs teeth?
A good way to heal your dog's teeth and improve overall health is by giving him or her some good old-fashioned homecooked food.
The easiest way to do this is by making your own dog food. Start out with a recipe that consists of high-quality meat, fruits and vegetables.
Then you can start adding other ingredients like yogurt, eggs and whole grains.
If you don't have time to make your own food, then you should consider switching to a commercial brand that uses human-grade ingredients. Just be sure not to give your dog any bones or rawhide since these can cause digestive blockages in dogs.
Feed him dry food instead of canned. Canned food contains more water than dry food, which can lead to more bacteria in the mouth. Dry food also has less sugar and starch than canned food does, which makes it harder for bacteria to thrive on it.
Give him chew toys made from antlers or other hard materials that he can gnaw on instead of giving him real bones (which can splinter). This will help scrape plaque off his teeth as well as improve his dental health by getting rid of any tartar buildup on them.
Another option is to use dental chews that have been specially designed for dogs with sensitive teeth and gums. These chews are made from natural ingredients like vegetable fiber, so they won't irritate your dog's mouth when he chews on them.
When it comes to your dog's teeth, brushing them is the most effective way to keep them clean. Brushing not only helps remove plaque and food debris, but also stimulates saliva flow that helps prevent tooth decay and periodontal disease.
Brush his teeth with a soft-bristled brush designed specifically for dogs (not human ones) after every meal.
You can find these at most pet stores or online retailers like Amazon or Petco; there's even one called the PetzLife Pet Toothbrush that comes with an LED light so you can see what tooth you are brushing. You can also get a dog toothpaste as easily.
---
Can I use peroxide on my dog's teeth?
Peroxide is a teeth whitening product that is used by humans. It can also be used on your dog's teeth. The peroxide will help to remove stains and plaque from the surface of your dog's teeth. This can help to prevent tartar buildup and bad breath in dogs.
Peroxide has been known to be effective in removing plaque and tartar from human teeth for many years, so it makes sense that it could work on dogs too. However, there are some things you should know before using this method on your dog's teeth.
Using Peroxide on dogs can be as simple as:
1) Brush your dog's teeth with a toothbrush or toothpaste designed for dogs.
2) Use peroxide to remove the stains from their teeth.
3) Use an antibacterial rinse before brushing if needed (this may not be necessary if they have no gum disease).
Unfortunately, dogs don't take care of their own dental hygiene as well as we do, this is why you need to be a little bit more careful.
They don't brush their teeth daily or floss every day. Their food choices also affect their oral health. Many dry dog foods contain sugar, which can cause plaque buildup on your dog's teeth and eventually lead to decay if left untreated.
The best way to keep your pet's teeth clean is by brushing them daily with an enzymatic toothpaste designed specifically for pets.
These toothpastes contain enzymes that break down plaque and tartar buildup on the surface of your dog's teeth while they're brushing.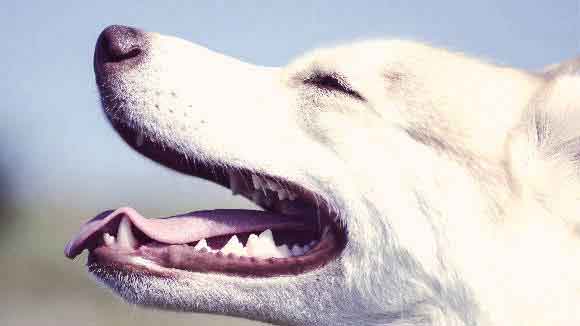 A rubber scraper should also be used every few days to remove any loose plaque and tartar accumulation from below the gum line where it's hard to reach with a toothbrush alone.
However, if your dog has a serious tooth problem, you can use hydrogen peroxide to kill bacteria and help relieve pain.
Hydrogen peroxide is also known as H2O2. It's an oxidizing agent that can be used as a disinfectant and antiseptic. It's a common ingredient in many household cleaning products.
In small amounts, hydrogen peroxide can be used safely on the teeth of both dogs and humans. But never use it on cats' teeth because it can cause serious injury or even death due to its toxicity for this species.
---
Can a tooth infection make a dog sick?
A tooth infection can make your dog sick. In fact, it may be the cause of his illness.
If you notice that your dog is not eating normally, seems lethargic or is experiencing pain when he eats, take him in for an examination immediately.
A tooth infection is a serious problem and should be treated as such. Left untreated, it can lead to more severe problems such as heart and liver damage.
The signs of a tooth infection include:
Bad breath
Drooling
Swelling around the jawbone
Tiredness and weakness
Canine teeth are made up of a hard enamel coating over the pulp cavity that houses the nerve and blood supply.
When this pulp cavity becomes infected, the bacteria can spread to other parts of the body. This is known as an acute abscess, or "pericoronitis."
Pericoronitis is not an uncommon condition in dogs, especially those with overcrowded teeth or poor dental health.
It usually affects young dogs who are teething or older dogs with periodontal disease (gum disease).
Pericoronitis does not usually cause any symptoms until the abscess ruptures, at which point your dog may experience sudden swelling and pain around his mouth.
If the infection does not rupture and drain on its own, it may need to be surgically drained by your veterinarian.
Gingivitis is inflammation of the gum tissue around the teeth, and it is another common occurrence when teeth are left unchecked.
It's caused by plaque and tartar build-up on the teeth. The plaque can harbor bacteria that cause inflammation, which then results in redness and swelling at the base of your dog's teeth.
Periodontitis is an advanced form of gingivitis that causes further destruction to the tissues surrounding the teeth. The gums become inflamed and recede from the surface of the roots, allowing bacteria to travel into your dog's bloodstream and spread throughout his body.
In some cases, this leads to abscesses or cysts in other areas of your dog's mouth or even his jaw joint (temporomandibular joint).
If left untreated, periodontal disease can lead to serious health issues including heart disease, kidney failure and liver disease — even cancer!
---
Will a rotten tooth just fall out?
The answer to this question depends on the type of tooth involved, but generally it is better to remove the tooth before it becomes abscessed.
If there is no pain, then your pet may be able to wait until the tooth falls out on its own. If the tooth is causing her pain, then you should have it removed.
A dog's teeth are similar to ours in that they can become infected or diseased and eventually fall out naturally or be extracted by a veterinarian if needed. The best way for us to know if our dog's teeth need attention is to examine them regularly at home and at each visit with our vet.
If a dog's tooth becomes infected, the infection can spread to the surrounding tissue and bone. This will cause the surrounding tissue to die, and this dead tissue can actually cause the tooth to loosen in its socket.
The best way to prevent this from happening is by brushing your dog's teeth regularly and giving him chew toys that help scrape away plaque from his teeth.
If you notice that one of your dog's teeth looks loose or if you can see a hole in the side of his mouth near one of his teeth, take him to see your vet right away. Your vet may be able to put an antibiotic gel on the sore area so it will heal more quickly.
Rotten teeth are a common problem in dogs. This may be due to poor dental hygiene, genetics, or a combination of both. To make matters worse, your dog may not even realize that anything is wrong with his teeth until it is too late.
If you notice any of the following signs, you should take your dog to the vet immediately:
Your dog has trouble chewing his food
Your dog's breath smells bad
His gums are swollen and red
His gums bleed when brushed or touched