Professional dog grooming is a big business. If you're wondering how long does it take to groom a dog, it depends on the breed, size and temperament of the dog as well as the type of service you are looking for.
Usually, bathing and drying can take from 1 to 2 hours while a full-service grooming appointment can last anywhere from 3 to 5 hours or more.
Dog owners who want a full-service grooming appointment should plan ahead as much as possible. A groomer's schedule can get very busy, so book in advance instead of waiting until the last minute.
With an appointment made several days in advance, you won't have to worry about any delays or cancellations on your end or theirs.
If you're new to professional dog grooming, be sure to ask questions about the process beforehand. For example, if your dog has anxiety issues around other dogs, mention that when scheduling your appointment so that they can provide special care for your pet as well as inform other clients about the situation.
This will help avoid any unnecessary delays during their visit and ensure that they leave feeling relaxed and clean!
If we are strictly talking about grooming, take this as a general guide.
Dogs under 10 kilos will take approximately 1 – 1 ½ hours
Dogs over 10 kilos will take approximately 2 – 2 ½ hours.
The larger breeds can take even longer, in some cases 3 hours or more.
---
How long does it take to groom and bathe a dog?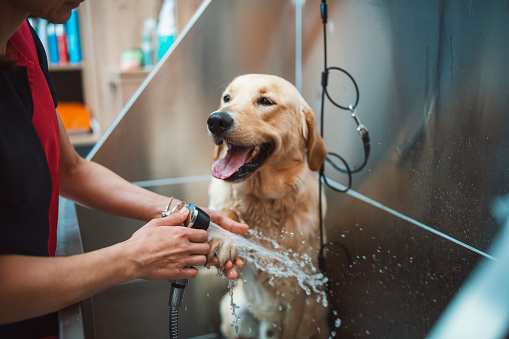 Some dogs need to be bathed more often than others, depending on the type of coat they have. While some dogs may only need to be bathed once every three months, other breeds may require a bath once every week.
If you take your dog to a professional groomer, they will likely require that the pet be bathed before they get there, so you can expect to add that time into the grooming process, either if you do that by yourself or not.
The actual time it takes for the groomer or whoever to do their job, again, depends on several factors, including:
Size of dog
Coat length
Type of coat (long or short hair)
On average, a small dog will take 30 minutes to bathe and brush out, and a large dog will take about 45 minutes.
If you have one small dog, it would take about 1 hour to groom. If you have two smaller dogs, it would take about an hour to an hour and a half to groom.
---
Why does grooming a dog take so long?
In a perfect world, your pampered pooch would be ready for pickup two hours after you dropped him off.
In reality, the typical grooming session takes closer to four hours (and not just because your dog is picky about his nail color).
And don't get us started on how long it takes to get an appointment — many groomers book out weeks in advance.
Why does grooming a dog take so long? Five Main Factors.
1.The bath: It depends on the size of the dog and the amount of mats and tangles in her coat, but most dogs need at least 20 minutes in the tub.
2.The Dry: Dogs don't have their own blow dryers, so this often takes longer than your hair does! Again, it varies by size; small dogs take less time than large dogs, but even small terriers require at least an hour to dry thoroughly.
3.The cut: A breed-specific haircut may require more time than a standard cut or shaving. Special tools may need to be used to keep the coat properly trimmed, especially when it comes to elaborate cuts such as Poodles' pompadours or Schnauzers' beard trims.
4.The temperament of the dog – does your dog behave bad or does it struggle to get distressed? This will make for a very slow groom if you have an uncooperative dog and would be stressful for both you and your dog so we may need more time with them and may charge extra for this. Some pets require sedation in order to be groomed safely.
5.The condition of the coat – a dirty matted coat will take longer to clean and brush out than a well maintained coat so this will add to the grooming time.
---
What are the steps to groom a dog?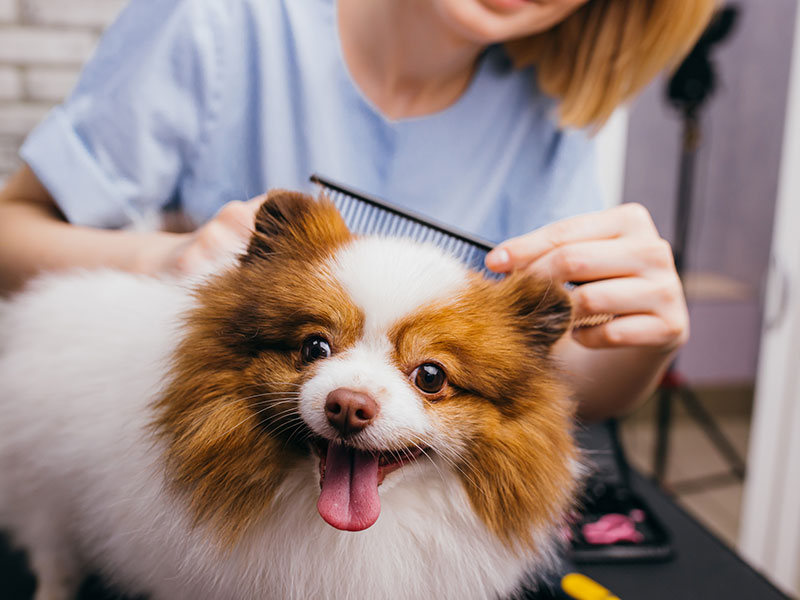 If you have a dog and wondered how grooming it yourself could be, here's how you can do it.
Dogs are one of the most popular pets in the world. But people still underestimate how important is to keep them clean.
However, all dogs need grooming to stay healthy, for the many reasons we mentioned.
If you want to keep your dog as a pet, you need to learn how to give him a proper bath, brush his teeth and coat, clip his nails, and clean his ears.
If you never really had behavioural problems with your dog and your dog isn't too big for you, following this few steps will help you become a better groomer.
1. Start with a bath and towel dry. Brush your dog's coat. Before you go near the water, brush your dog's coat to remove any loose hair. This prevents the hair from clogging the drain, and keeps it from spreading to other areas of your house. Look for a shampoo that is labeled as being gentle enough for frequent use. Some shampoos are formulated for specific skin problems like fleas or dandruff, so choose one that matches your dog's needs.Fill the bathtub with warm water. A baby bathtub is ideal because it has built-in support, but you can also use a kitchen sink or regular bathtub if it is large enough to hold your dog comfortably.
2. Clip the nails using a grinder or clippers Be very careful if you are not used to it, skip this step if you are not confident enough, you don't want to harm your dog. You need to be firm and gentle at the same time, watching some videos about it can help you.
3. Use scissors to trim the hair around the eyes, ears and paws
4. Comb out the coat and remove any tangles
6. Trim the butt and sanitary area
7. Clean up around the face with scissors
---
How to groom a dog that hates it
If you have a dog that hates grooming, the first thing to do is to get a professional groomer to clip and bathe your dog several times.
The reason for this is because they will do a better job than you can and they will be able to cut your dogs hair in such a fashion as to make it easier for you to groom it yourself next time.
Once you have had your dog bathed and clipped by your groomer, then it is time for you to start the training process.
For some dogs, just getting them used to being handled by someone other than their owner can be difficult.
Of course, there are some breeds that are not as likely to accept grooming from a stranger but there are many others that will accept it quite readily with only the need for some gentle handling and reassurance.
Start off by brushing your dog's fur as often as possible.
It is important that even if you are going to wash him yourself that you do so in an environment where he feels comfortable so make sure that he is comfortable with being brushed.
Start off by brushing his fur gently at first with something soft like a comb or brush then increase the pressure slowly until he seems completely comfortable with it. Once he has accepted the brushing on his coat then start trying different habits, brushing is really important to get used to the process.
Here there are other 4 suggestions for an easier time!
Start early in life: Train your dog as a puppy to accept being groomed. This will help it get used to the process, and accepts it as a normal part of life.
Make it fun: Reward your dog with treats and praise when it is calm during grooming. If the dog is allowed to walk away from the brush when it feels scared, it will learn that this is how you react if it behaves badly. Don't allow them to dictate how long they get brushed for, make sure they know you are in control.
Be patient: Start slowly and gradually increase the amount of time spent grooming each day. A dog who has hated being brushed its entire life may not suddenly become an angel at this point, so be prepared for some hard work at first.
Use clippers: If your dog's hair grows too long, use clippers instead of scissors to cut it down – this way there won't be any nicks or tangles
---
How to groom a dog with matted hair
Matted hair on your dog is a result of dead hair or dirt being trapped under the top layer of fur.
This topic surely needs a post on its own but we will try to cover it in short here.
The longer this matted hair is left on the dog's body, the more it tightens and becomes difficult to remove.
It is important to remove the matted hair as soon as possible, as it can cause pain for your pet, especially if the mats are located around the ears or underarms.
Before removing any matting from your dog's body, contact a professional groomer if you are unsure how to proceed.
Brush out any loose dirt or debris from your dog's coat using a slicker brush. A slicker brush has small pins that will help to loosen any dirt in your dog's coat.
Brush in the direction of your dog's hair growth, going over each area several times with the brush.
Get rid of tangles by using a dematting rake. This tool is specially designed to get rid of tangles without damaging your dog's fur.
Hold onto the tangled area and pull it apart into two sections with one hand while combing through it with the dematting rake in the other hand. Do not use scissors to cut through matted areas.