Has your relationship with your dog recently become strained? Maybe you find yourself constantly correcting them, or maybe they're just not listening.
Maybe it's even worse – maybe you find yourself feeling frustrated or resentful when you interact with your dog.
This is a common issue that many people face when they have dogs, and it's nothing to be ashamed of. But it is something that you should address as soon as possible – this is a very fixable problem that could get worse if left unchecked.
The good news is that communication between you and your dog can be improved relatively easily.
Most of us have heard the term "man's best friend" before and, if you are like me, you may have wondered how that dog became a man's best friend.
Dogs are not born knowing who their owners are and they do not naturally bond with humans. It takes a little bit of work on both sides to get to this level of friendship.
Another good news is that the things you need to do in order for you to establish a relationship with your dog are pretty simple and will help to increase the bond between the two of you over time.
Bonding takes place through positive experiences. That includes affectionate moments, games and adventures. It also means training.
Don't pound your dog into submission; rather teach him what he needs to know in ways that will build his confidence and trust in you.
The more time you spend with your dog, the better you'll be able to read his body language and moods. That will allow you to prevent problems before they arise, as well as intervene effectively when they do.
Stress-free time spent with your dog helps create a strong bond between the two of you — a bond that will help both of you live happier lives together.
---
Signs your dog doesn't trust you
The relationship between you and your dog is a crucial part of dog ownership. After all, you want to do right by your new furry friend, now don't you?
Your dog wants to be your companion, and there are many things that you can do to cultivate a healthy bond with him or her.
If your dog seems standoffish toward you, it may not be because they don't like you — it could be because they don't trust you.
A dog's demeanor and body language give off important clues as to how they're feeling.
Here are a few signs that your canine may not trust you, but don't worry!
You will find everything you need to know and some easy steps on how to repair the relationship with your pup in our next sections.
They look away when you make eye contact.
They don't respond to treats.
They stay at a distance.
They growl or snap at you.
They tuck their tail between their legs.
They pull on the leash.
They urinate during greetings or playtime.
They refuse to go outside
They look afraid of you
---
Tips on How to Repair Relationship with your Dog
You love your dog, but do they love you back? Do they love you as much as you think? Whether you have just adopted a new dog or want to strengthen an existing relationship with an old friend, there are tons of small things you can do to improve your bond with your furry companion.
For some dogs, it's easy to be friends. They are naturally friendly and outgoing and love everyone they meet.
For other dogs that haven't had the best start in life, it can be more difficult. They may be nervous or afraid of new people and situations.
Dogs that have been abused or neglected often have emotional baggage that need to be unpacked before a relationship can be built.
It takes time and patience but with a little effort, every dog can learn to trust again and have a loving relationship with their owner.
Tips for bonding with your dog!
Here are some key aspects you always need to focus on in order for you to build a strong bond with your dog:
1. Commitment: Dogs, like all living animals, rely on routine. It's essential that you commit to spending time with your dog each day.
2. Patience: It takes time to build a bond. The more time you spend with your dog, the stronger the bond will be. When training or playing games, patience is key. If you try to rush the process, both you and your dog will get frustrated.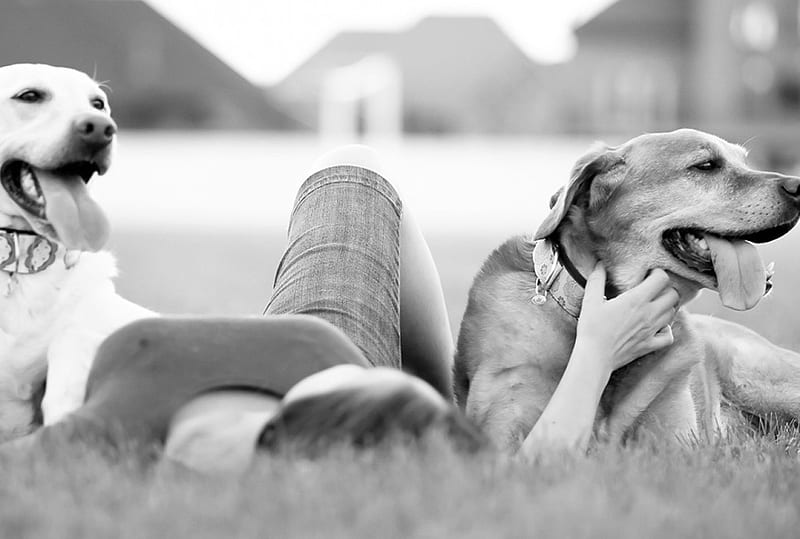 3. Exercise: Exercise is an important element of establishing a relationship with your dog. Physical activity relieves stress for both humans and dogs and provides opportunities for you to interact with one another in a fun environment.
4. Positive reinforcement: Reinforcing positive behavior through rewards, such as praise and treats, will encourage your dog in future interactions and build trust between the two of you. Be sensitive to your dog's signals about what he does and doesn't like, and only reward him when he responds positively to stimuli (for example, when he sits down during training instead of jumping up). Don't punish bad behavior — just ignore it or redirect his attention toward something else.
5. Playtime: Dogs love to play, they need to do it, if not with you with other dogs. It is just part of their growing and socializing growth and they just can't get enough of it!
6.Establish yourself as the alpha: Make sure your dog knows that you are the pack leader. Dogs are social creatures and they need a leader. They will feel more secure and safe if they know that you are in charge. You can show this by using your body language and being firm.
7. Learn to read your dog's body language: Understanding what your dog is trying to say is important when it comes to bonding with them. By reading their body language, you will know what they like or don't like and you can adjust how you play with them accordingly. You will also know when it is time to stop while they are still enjoying themselves. We will talk more about dog's body language later.
8. Play fetch: There's nothing more satisfying than watching a happy dog chase after a ball or stick and bring it back to you. Fetching is one of the best ways to build up trust between yourself and your dog because it shows that if he brings something back he also might trust you.There are multiple reasons why dogs love wood sticks and fetching so much, you can discover more!
9. Don't Pet Your Dog While He's Eating: If you reach into your dog's food bowl while he is eating or try to touch his food while it's still in the bowl, he may growl at you in response. This is an instinctive response that has nothing to do with whether or not he likes you. In order for a dog to feel safe around his owner and other humans, it is important that no one touches his food until he has finished eating and moved away from the bowl.
10. Watch Your Tone of Voice: If you talk too sternly or raise your voice to your dog, he may start to feel afraid and not want to be near you. It may seem perfectly normal to yell at your dog if he is misbehaving, but if you do this often enough, he will start to fear the times when you are around him.
---
Signs your Dog Trusts you
The bond between humans and dogs is one of the most interesting and important relationships that exist in nature.
While the exact origin of this relationship is unknown, it is obvious that dogs have been living among humans for thousands of years.
Over time, their physical appearance has evolved due to selective breeding by humans to suit our needs, and so has their psychology.
Dogs can understand our verbal cues, body language and even facial expressions. This has allowed them to interact with us on a level that no other animal can match.
However, despite our ability to communicate with them, not all dogs see us as friends or companions.
There are many factors that go into determining whether or not a dog trusts a person.
If you want your dog to trust you, then you'll need to pay close attention to these signs!
1.They follow you around.If your dog is following you around, it's a sign that they like your company and feel comfortable around you.
2.They show submissive behavior. Dogs will often show submissive behavior to their owners when they feel comfortable, such as rolling over on their back for belly rubs, exposing their tummy and throat, yawning in front of you, licking your face or hands, or sleeping near you.
3.They want to be close to you. When dogs feel comfortable with their owners, they may want to stay close by at all times. This can include sitting near or leaning against you while resting, sleeping in your room or curled up next to you while sleeping. They may also shadow you from room to room.
4. They never feel threatened. They do not growl or try to protect their food/toys etc. If a dog trusts you they will not feel threatened by your presence and feel no need to defend what is theirs.
5.Yawning When you yawn, your dog may yawn in response. This is called a "contagious yawn" and can be an indication that your dog feels a connection to you. If your dog looks "sleepy" and relaxed in front of you is definitely a sign of trust.
6.Making eye contact with you Dogs who are relaxed and happy will make eye contact with their humans frequently since they feel safe and secure in the relationship. If your dog looks at you with wide eyes, soft eyes or squinty eyes, these are all signs of comfort and trust.
7.Sleeping with you If you sleep with your dog, that's a sign of trust. However, it can also indicate separation anxiety. If your dog is prone to anxiety, or if the behavior only occurs when she's left alone for long periods of time, consider consulting a veterinarian or animal behaviorist.
---
How long does Dog Bonding take?
Unlike people, dogs don't give us subtle hints about their emotions. It's up to us to figure it out — and we can do this through reading their body language and tail position
The bonding process is a two-way street. You're not the only one who benefits from a relationship with your dog. Your dog needs your companionship as well. And it's up to you to ensure that your pet gets his or her needs met.
You may be wondering how long does dog bonding take? It depends on a variety of factors, such as your dog's age, temperament, past experiences and the amount of time you are able to spend together.
It's very common, especially in rescue dogs, for there to be initial hesitation when meeting you or your family. If a dog is not used to being around people, they will likely have some reservations about getting close to you. Some dogs take more time than others to warm up, so be patient!
If you are adopting an older dog from a shelter, the amount of time you spend together will really increase the rate at which your bond forms. This is true for any animal regardless of age: the more time you spend together, the quicker the bond will form.
If your dog has suffered a traumatic experience in the past, he may be afraid of people or other dogs. In these cases, you may need to work with a trainer or behaviorist to help rebuild his confidence. Because these issues can take some time to resolve, ask your vet for an estimate of how long it will take.