Dogs are known for their wet tongues hanging out of their mouths. In fact, many dog lovers consider it one of their most endearing characteristics.
But why do dogs keep their tongue out? There's actually a good reason behind their seemingly careless behavior.
Dogs don't sweat the same way we do. They don't have sweat glands all over their body like we do. Instead they have sweat glands only on the pads of their feet and nose.
That's not very helpful because dogs don't sweat through those areas as well as other parts of the body such as the underarms and groin area where we have a lot of sweat glands.
Instead they pant to cool themselves down and keep their temperature normal.
That's why you'll notice that when dogs pant, they'll stick out their tongue since it helps them to cool down faster – just like how we open windows to cool down a room.
The reason dogs stick out their tongues is because it helps them to breathe more easily. In addition to this, the tongue also helps regulate body temperature by evaporating saliva from inside their mouths when they pant or yawn.
Dogs are known for sticking out their tongues when they're running around or excited about something, but this behavior is also a sign that something may be wrong with your pet!
If you notice your dog sticks its tongue out all day long without any apparent reason (such as being hot outside), there's likely an underlying cause behind this behavior.
Your dog might be overheated, or just thirsty, sometimes excessive panting might be caused by something more serious, if it comes with other symptoms.
But most of the time, you should not get worried if your friend likes to stick his tongue out, it is just him being a dog.
Protruding tongues have been observed in many mammals, including some primates. However, dogs are the only animals who have developed the behavior to this extent.
Dogs can voluntarily stick their tongue out, which is a sign of pleasure when accompanied by other happy behavior like a wagging tail or pricked up ears.
A dog sticking his tongue out when at rest is probably just being a dog (and trying to keep cool), but if he sticks it out when you're petting him or playing with him, it's a good sign that he's enjoying himself.
The behavior is often accompanied by panting because they use their mouths to breathe and panting helps them cool down.
---
---
Why is my dog's tongue hanging out of his mouth?
The next time you see your dog's tongue sticking out, take a good look at its color.
If it's bright pink and relatively moist, the panting is probably an indication that your dog is hot. But if it appears dry and red or purple, there may be another cause.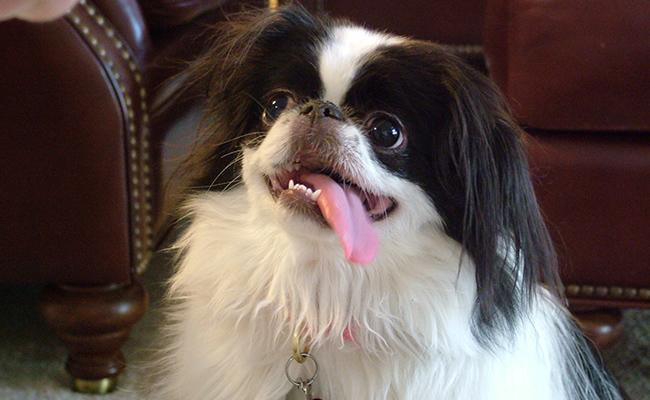 The tongue is a muscle attached to the floor of the mouth by a piece of tough tissue called the frenulum. This muscle can easily become infected when injured or when bacteria or viruses are introduced into the mouth.
What Causes Tongue Injuries?
Injuries to the tongue usually occur when the dog gets something caught in his mouth — like a stick, bone, or sharp object.
The tongue can also be cut if it is left hanging out of a moving car window (which is why you should always keep your dog's head inside with you).
Dogs with droopy tongues are also more prone to injury than those with normal-sized tongues.
Brachycephalic breeds such as Bulldogs, Pugs, and Boston Terriers have trouble keeping their tongues in their mouths because of their short snouts.
This can lead to cuts and scrapes on the tip and edges of the tongue. Because they hang out of their mouths all the time, they are susceptible to sunburn.
What is Hanging Tongue Syndrome?
Hanging tongue syndrome in dogs is exactly what it sounds like — when a dog's tongue protrudes from their mouth and hangs out of the side.
This can happen on just one side or both sides. It's commonly seen among brachycephalic breeds, such as Pugs and Shih Tzus, although any breed can experience it.
The medical term for this condition is macroglossia, which means an abnormally large tongue.
The cause of this condition varies between dogs; it can be due to some sort of trauma, infection or even genetics. In extreme cases, a tumor can also cause hanging tongue syndrome in dogs.
What Causes Hanging Tongue Syndrome?
Broadly speaking, there are two main causes for hanging tongue syndrome: congenital issues and injuries.
Some dogs may be born with certain conditions that make it challenging to close their mouths or retract their tongues properly. In such cases, they are certainly more prone to this syndrome compared to others.
The tongue is made up of muscles attached to bone in the front and the back of the mouth.
Hanging tongue syndrome occurs when these muscles are too weak to hold the tongue in place, leaving it to hang out of the mouth.
When this happens, saliva dries on the surface causing ulcerations. If left untreated, bacteria can enter through these sores creating an abscess or worse.
How to fix Hanging Tongue Syndrome in dogs
The good news is that most dogs with HTS will outgrow the condition without treatment. However, when a dog doesn't outgrow it, treatment usually involves oral surgery. The type of surgery depends on the severity of the problem.
For mild cases, doctors can remove the tissue manually using dental tools. For more severe cases, they may have to use a laser or other tool to cut away the tissue. In some cases, doctors may need to remove part of the jawbone.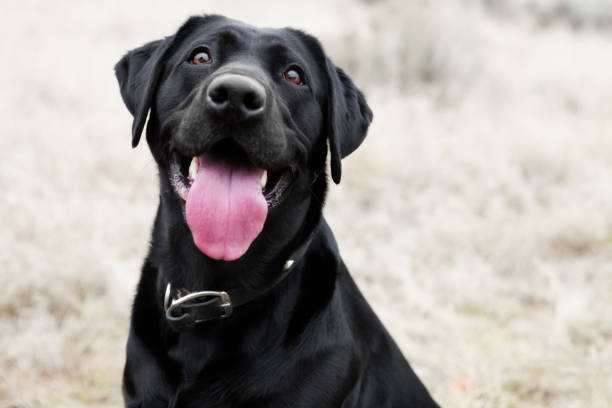 Post-surgery care is important for preventing infection and helping your dog heal properly. You'll also need to make sure your dog doesn't reinjure its tongue until it heals completely
Wrap your dog's tongue in non-stick gauze to prevent licking and infection while it heals.
Give your dog antibiotics as instructed by your veterinarian to prevent infection.
Give pain medication as instructed by your vet.
Monitor your dog for signs of discomfort such as whining, panting or agitation.
---
Why does my Dog Chew on his Tongue?
Dogs chew on their tongues for many reasons. It could be a sign of pain. It could be an indication they are chewing because they are bored, or it could be a sign of stress or separation anxiety.
Dogs may also chew on their tongues when they have oral issues, such as tooth decay or gum disease, or if they have a compulsive disorder.
If your dog chews on his tongue when he is left alone you may notice that he has other signs of separation anxiety, such as pacing, panting and whining.
Dogs who chew on their tongues because of boredom will cease the behavior when they receive attention and stimulation.
Dogs with compulsive disorders may chew on their tongue even when they are not bored or stressed. These dogs need special attention from their pet parents to help them overcome their obsessive behaviors.
There are a number of reasons why your dog might be chewing on his tongue. He may also have something stuck in his teeth, like food or a foreign object. He could have a sore tooth.
He could have something stuck between his teeth, or he could have an ulcer or also sore on his tongue.
If he has something lodged between his teeth, you should try to remove it if you can. If he has an ulcer or sore, your vet will need to treat him with antibiotics.
If he keeps chewing on his tongue even after you've checked for other causes, your vet will want to check him out to see why he's doing that and to make sure there's nothing wrong with him.
Chewing on the tongue can also be a symptom of digestive problems, such as stomach illness or sore gums.
If your dog is chewing on his tongue frequently, he may also have an infection of some kind that is causing itching.
The itchiness can be caused by:
An allergic reaction to food, medication, grass, or even shampoo
A fleabite that causes an allergic reaction at the bite site
A rash from licking a certain area due to allergies. This is called contact dermatitis.
It could also be a sign of other medical issues like:
Intestinal worms
Ear infection
Dental problem
Not every case is serious but if your dog is chewing on his tongue for longer than a few days, you should consult with your vet.
If you notice any swelling around the mouth or tongue, or if your dog seems lethargic or isn't eating, then take him to the vet immediately.
---
Do dogs bite their tongues?
Dogs do bite their tongues, just like humans do. Tongue-biting is a pretty traumatic experience for dogs who are unfamiliar with the taste of blood, which is why they're likely to panic when they realize what they've done.
Dogs bite their tongues in the same way that humans do — by accidentally biting down on them while yawning, sneezing or doing something else that makes them open their mouths, like barking.
Both humans and dogs are likely to bite their tongues more frequently when they're tired or groggy, which can happen if your dog has been sleeping or is sick.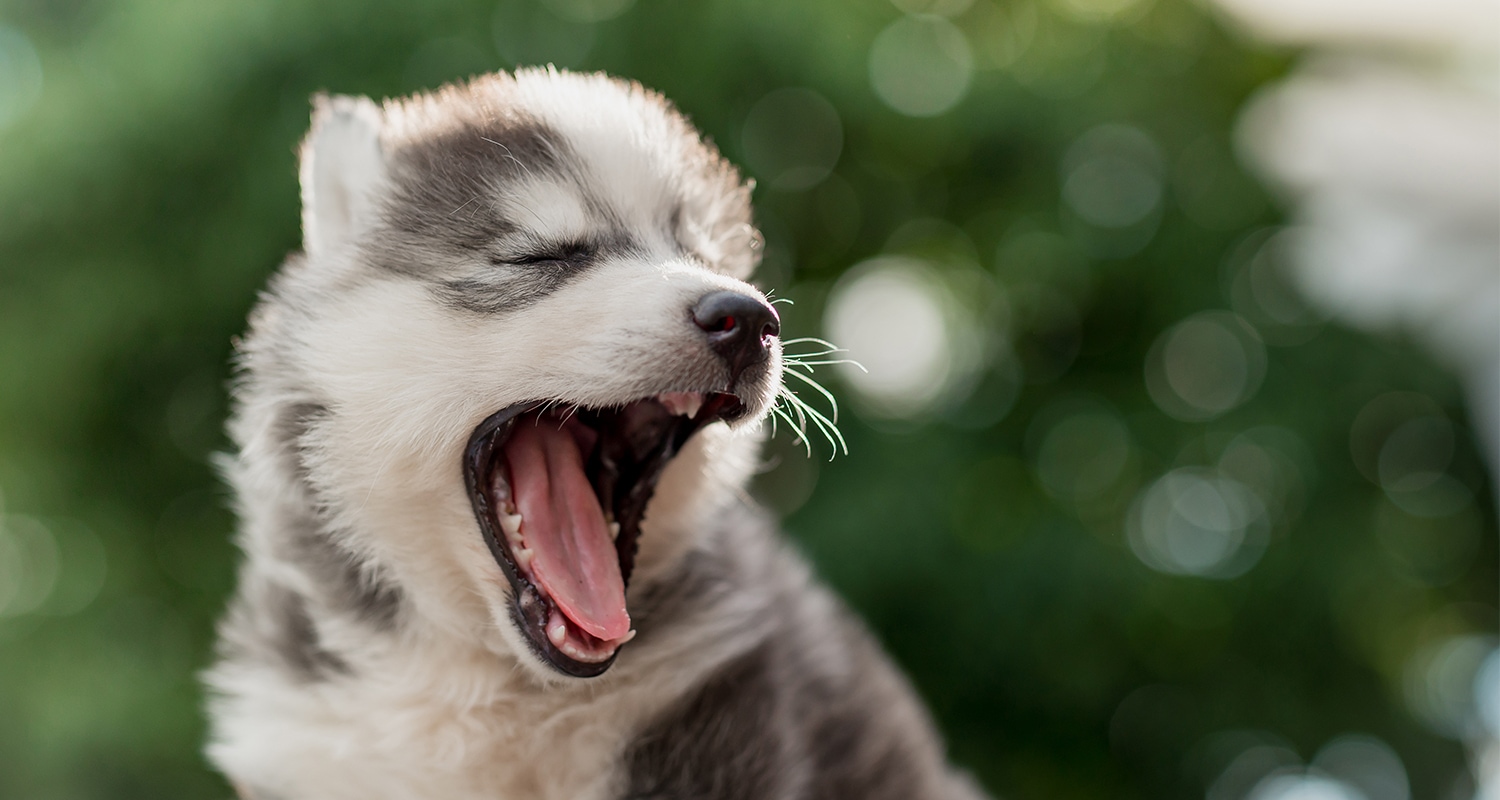 Most of the time, tongue-biting isn't a big deal for humans; we simply rinse out our mouths and maybe apply some antibacterial ointment to the affected area if it's bleeding.
For dogs, though, tongue-biting can be a more serious issue because they're not used to the sensation of biting through flesh and tasting blood. That can make them panic and may even cause them to vomit.
If your dog bites his tongue, don't try to look at the wound directly; it's best not to let him see you looking at it since he'll probably assume it's bad news if you're examining his mouth so closely, the most important thing you want to do is keeping them calm.
Dogs are generally good at avoiding that sort of thing. But they do have a larger tongue-to-mouth ratio than we do. And they do occasionally bite their tongues or the roof of their mouth.
If your dog is chowing down on some super-tasty food and bites its tongue or the roof of its mouth, you might see signs like drooling, pawing at the mouth and retching without throwing up.
If this happens, You might want take your dog to the vet so you can rule out any serious injuries that might need medical attention.
---
Why does my Dog Sleep with his Tongue out?
Dogs often dream just like we do and sleep with their tongues hanging out in order to cool down.
You may think it is odd that your dog sleeps with his tongue hanging out, but this is actually a very normal behavior.
In addition to this, dogs may also pant with their tongues hanging out in order to cool down and regulate their body temperature.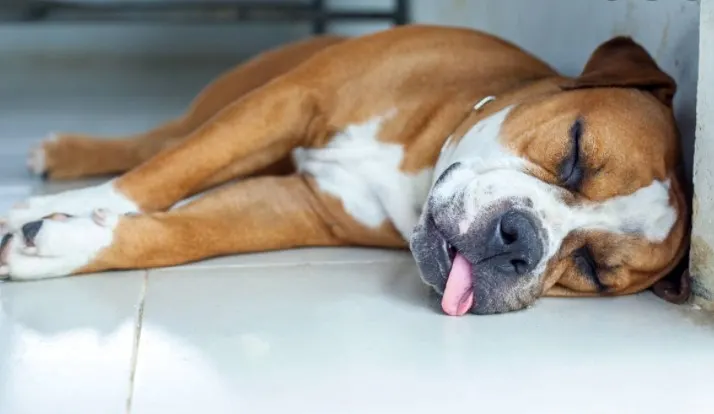 There are many different reasons why dogs sleep with their tongues out. The most common reason is that they are hot. As you probably know, dogs do not sweat the same way that humans do.
They have very few sweat glands on their bodies and these glands are only found on the bottom of their paws and nose.
Dogs use panting as a way to regulate their body temperature as well as to cool themselves down. Panting allows air to flow over their tongue and into the mouth, cooling them down much like a fan or an air conditioner can cool people down.
In addition to a dog's natural instinct to use panting as a cooling mechanism, there are many other reasons why dogs sleep with their tongues hanging out of the mouths.
One reason is that they have been playing hard and need to cool off after an exhausting game of fetch or a long walk around the neighborhood.
If your dog belongs to an active breed of dogs who were bred to work or stay outside it's more natural for them to sleep with their tongues hanging out.
Sometimes their tongues are simply too large to fit completely inside their mouths when they're relaxed. Basset Hounds, Bulldogs and Boxers are examples of breeds that commonly sleep with their tongues hanging out.
Might also be that your dog has a flat face breeds like Pugs and Boston Terriers have short snouts, which makes it difficult for them to breathe in general.